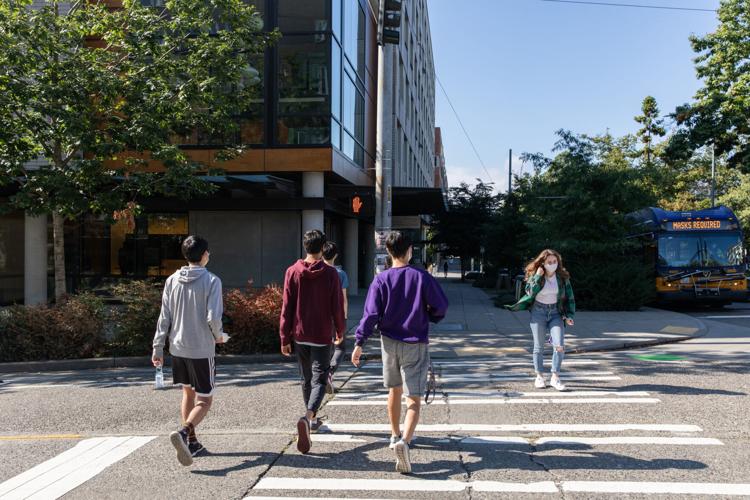 Before the COVID-19 pandemic hit, freshman Edi Xin had high hopes for the college experience. 
"For a while, I really pictured the whole 'best time of your life' thing," Xin said. "There was a lot I was looking forward to: meeting people randomly, just hanging out in lounge areas, and going to class in big lecture halls like in the movies."
Xin's experience in the dorms so far hasn't exactly been what they envisioned.
"Now [we] might as well not be on campus, and I don't really think it's worth being on campus right now," Xin said. "Hopefully once this quarter passes, I'll have some in person classes." 
With student housing occupancy down by more than 50%, Xin feels campus is much lonelier than they initially hoped, noting that even dorm buildings feel empty.
Since over 90% of classes are online, most freshmen on campus are taking classes entirely from their dorm rooms. This has made the academic transition to college more difficult for some. 
"I'm not getting the in-person class experience I expected, but I'm still getting the stress from classes," Xin said. "It's much harder to form study groups and make connections."
As a result, meeting virtually has become increasingly important. Xin said they've been using Discord and other social media platforms to connect with classmates.
Other freshmen, like Mitchell Levy, are enjoying their campus experience despite COVID-19 conditions.
Levy, a freshman computer science student, said he's happy to have any sort of campus experience, for both academic and social reasons.
"I spent a lot of time doing work from home during spring quarter of last school year," Levy said, noting that he took community college courses before coming to the UW. "I figured that even if most of campus was closed, I'd have access to more effective study spaces here on campus than I would at home."
Levy participated in Running Start at Lower Columbia College and graduated with an Associate of Arts degree. 
"I'm only going to have two, maybe three years on my bachelor's degree due to my time in Running Start," Levy said. "I want to actually get as much of the experience of a four-year degree as I can."
Overall, Levy is satisfied with dorm life so far, in spite of social distancing measures.
"As far as how it's lived up to expectations, it's been pretty good overall," Levy said. "I feel like the part of the experience that was most important to me is living on my own and easing into that independence and self-sufficiency that comes with not living at home, and the pandemic hasn't really affected that too much."
Like Xin, Levy's social interactions have been centered around social media and other online platforms.
For Kat, a freshman living on West Campus (who didn't want their last name published), dorm life has been a mixed bag.
"It feels deserted sometimes," Kat said. "I thought a lot more things would be happening around me than there are."
However, Kat remains cautiously optimistic about life on campus despite pandemic conditions.
"I think everyone is still excited," she said. "They just also know that it might not be what they expected for their first year."
Reach reporter Annie Denton at news@dailyuw.com. Twitter: @anniesdenton
Like what you're reading? Support high-quality student journalism by donating here.