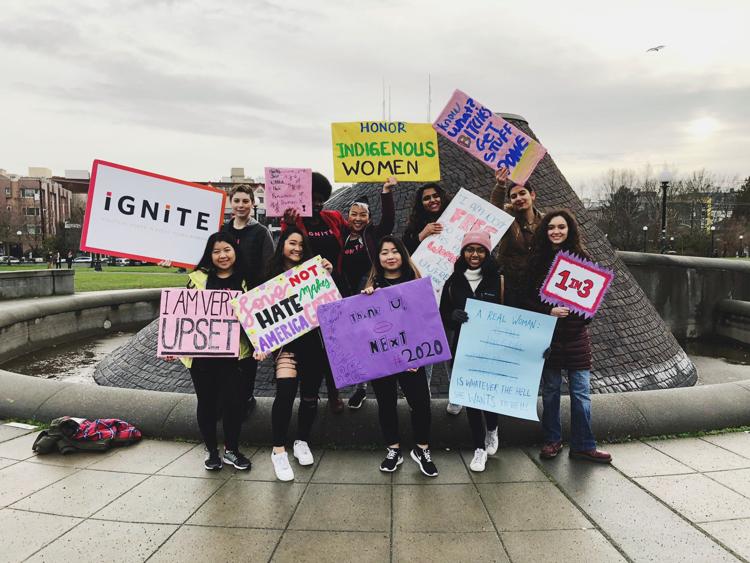 Two years ago, the UW created its own chapter of IGNITE, a non-partisan organization dedicated to supporting women in politics. Last year, the chapter officially became an RSO.
IGNITE is the largest non-partisan organization that supports women and is growing at a rapid pace, according to Fiona Murray, the Seattle fellow for IGNITE. The number of women IGNITE serves has doubled this year and the organization has spread from two states to 30 states in the last five years, Murray wrote in an email.
In pursuit of the IGNITE mission, the UW chapter has hosted several events dedicated to civic engagement for both men and women. Last year, the chapter held a polling party that encouraged students to register to vote.
According to Janani Iyer, co-president of the UW chapter of IGNITE, last year's polling party resulted in about 120 students registering to vote. IGNITE set up a table outside of Kane Hall that focused on giving students information about voting and igniting their interest in voting. Passing students could take a postcard, write down their reason for voting, and stick it to a poster.
"It was interactive and informative," Sara Wu, co-president of the UW chapter of IGNITE, said. "It kind of showed people the reasons why to vote." 
In addition, IGNITE UW lobbied against the tampon tax in Olympia earlier this year. 
"We were able to see the kind of impact those anecdotes and those feelings expressed by our club members were able to make on these legislators," Iyer said. "It's been really impactful."
IGNITE lends to the development of members by giving them unique access to women in politics. This gives both members and women in politics the chance to open up a conversation with one another.
"[I] see people speaking and sharing their journey of success and showing up and saying 'I can do this, so you can too,'" Murray said.
IGNITE is not aimed at a political agenda, but rather encouraging women of diverse backgrounds and beliefs to use their voices in the political realm.
"We discuss this with all our members during our first general meeting, is the question: who do you fight for? And who is your community?" Iyer said. "My hope is that IGNITE is able to create that environment where people who have different goals and different communities and different backgrounds are able to come and have a safe space to express their opinions and their ideas and they're able to take those ideas they expressed to local legislators to be able to have their stories told to the people who are going to make policy."
Wu described one event last year where IGNITE members learned how to start a campaign and how both university chapter members and national IGNITE members were impacted by the message of empowerment.
"One of the things that I remember was that there was this lady who was very, very passionate about running for school board [...] and I remember that our fellow was working with her and was talking to her about it and kind of giving her support and giving her advice," Wu said. "It was just very empowering that we were all there for the same reasons and we were all there to support each, for encouragement, for empowerment."
According to Iyer, what makes IGNITE so unique is that the community of empowered women is diverse in identity and beliefs. This opens up political conversation and encourages the civic engagement that IGNITE advocates for in its mission statement. Both IGNITE UW and the national chapter of IGNITE pursue this original model for women in politics.
IGNITE national will hold its next college counsel event about the importance of voting locally Oct. 26, which will include students from the UW and the University of Puget Sound chapters. The event will be held in the Samuel E. Kelly Ethnic Cultural Center Room 308 from 10:30 a.m. to 3 p.m. Tickets are required.
Reach reporter Abigail Taylor at news@dailyuw.com. Twitter: @abigail_taylor
Like what you're reading? Support high-quality student journalism by donating here.