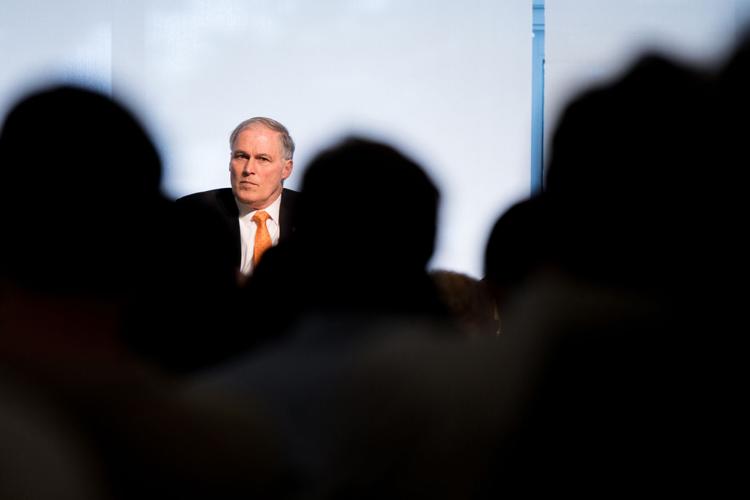 UW students, faculty, and community members gathered in the HUB Ballroom on March 6 to hear a panel discussion hosted by the Henry M. Jackson School of International Studies on climate change and national security.
The panel included Gov. Jay Inslee, Admiral William Fallon, Brigadier General Stephen Cheney, and former New Jersey Gov. Christine Todd Whitman. The latter three are all members of the American Security Project, a sponsor of the event, which is a nonpartisan organization focused on national security issues.
The panelists dove right into discussing the immediate and long-term challenges climate change poses to both strategic and tactical national security, as well as how to fix it.
"Climate change is a clear and present danger to the United States and the state of Washington," Inslee, who recently announced a climate-focused presidential bid, said.
The panelists detailed the ways our climate is drastically changing. Particularly, they noted an increased level of carbon dioxide in our atmosphere and a rise in sea levels from melting ice caps, both of which are caused by increased population growth and high levels of human energy consumption. Fallon added that all of these changes pose a threat to national security.
"A 1 meter rise in sea level will cause Bangladesh to lose 20 percent of their landmass and give you 20 to 30 million climate refugees," Cheney said. "Where are these 20 million people going?"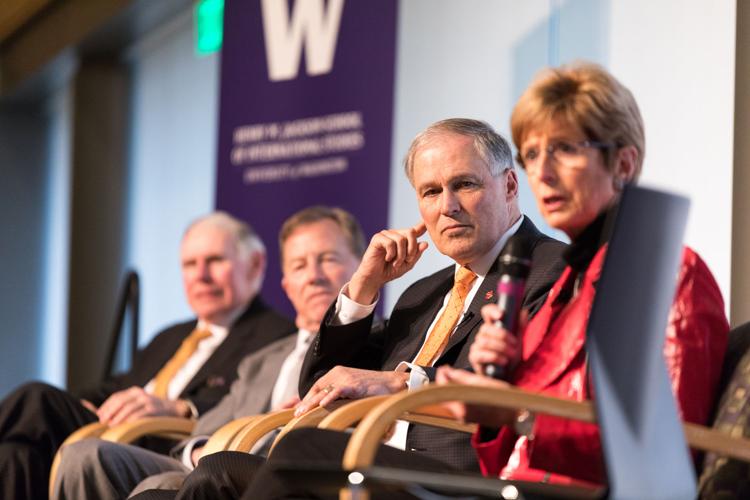 They would likely end up getting on boats and heading to Indonesia, where there is a significant ISIS presence, he explained.
Mass migrations of refugees will be climate change's greatest impact on global security, causing instability in places like Bangladesh and sub-Saharan Africa, and also places closer to the United States, such as Central America.
The panelists also detailed the direct effects climate change is having in the United States right now. They mentioned extremely high levels of childhood asthma, destruction at Camp Lejeune from Hurricane Florence, and the wildfire in Paradise, California, all of which create problems even beyond national security.
"When I went there a month and a half ago, drove through in the dark, it looked like an apocalypse movie in a Hollywood set," Inslee said, referring to the wildfire damage in Paradise. "Imagine what the national response would have been to that had that been caused by a direct terrorist threat."
Inslee argued that the response to combating climate change should be on par to that of terrorism due to the immediate and widespread destruction it has caused.
The final 15 minutes of the discussion was open to the audience for a Q&A. Audience members' questions focused on the solutions to the crisis, concerning both what will be needed and what it could cost the taxpayer.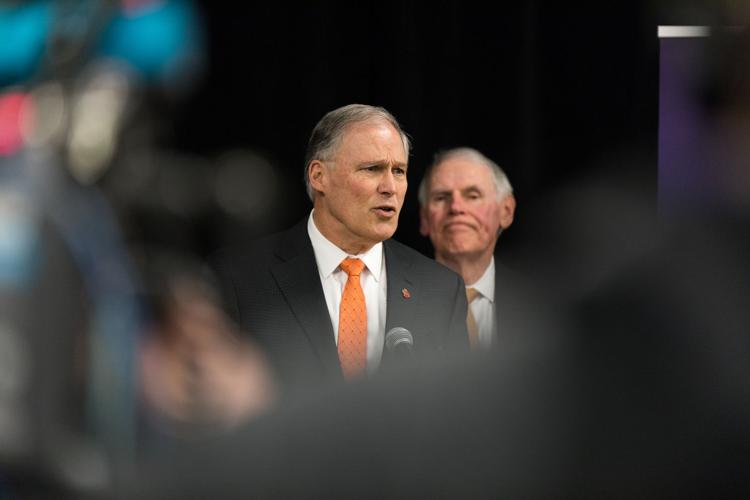 "We can't kid ourselves here," Whitman said. "It is at some point going to cost us, but we have to mitigate that."
In a press conference following the event, the panelists stressed that while there will be costs associated with addressing climate change, those have been blown out of proportion. Additionally, they emphasized their belief that increased medical costs, natural disaster relief, and the global instability associated with not addressing climate change will be far more expensive than combating it.
"One of the things that is forgotten in this, and I think this is important to say, is the enormous cost of inaction," Inslee said. "That's the thing that is most expensive."
The U.N. Intergovernmental Panel on Climate Change's 2018 report estimated that if climate change was left unaddressed, the cost of damages could reach $54 trillion globally.  
However, panelists expressed optimism for the future and the capability to address climate change.
"We have a history in this country of being enormously innovative," Whitman said.
The panelists agreed that responding to climate change will be a complicated undertaking, requiring leadership and collective action. However, ultimately, the panelists believed that American ingenuity and a growing sense of urgency, stemming from individuals, college campuses, and elected leaders could be sufficient in addressing the crisis.
"Huskies understand chemistry; I know they understand physics; I know they understand molecules and carbon dioxide," Inslee, a UW alumnus himself, said. "And I believe Huskies are going to join the rest of this nation in defeating climate change."
Reach contributing writer Thomas Newman at development@dailyuw.com. Twitter: @thomasn456
Like what you're reading? Support high-quality student journalism by donating here.