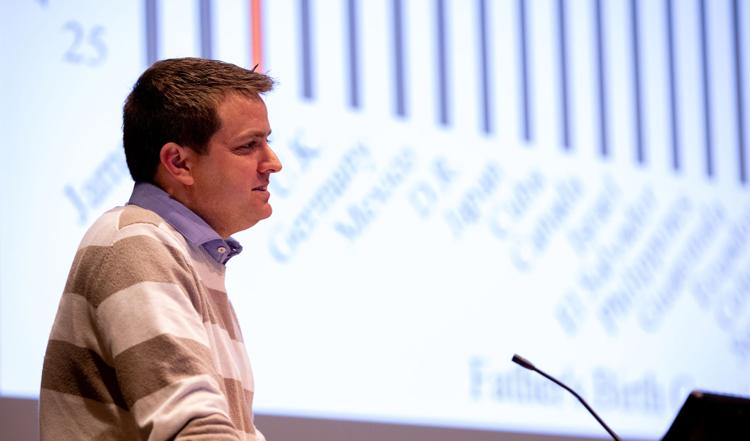 President Donald Trump has referred to immigrants as "criminals," an "invasion," and as coming from "shithole countries." Derogatory comments toward immigrants are not unique to our time, but rather have targeted different groups historically. 
With this context in mind, Peter Catron, an assistant professor in the sociology department and faculty affiliate of the Center for Studies in Demography and Ecology, gave a lecture Feb. 20 about the history of making it as an immigrant in America. 
As Catron explained, after the Civil Rights Movement advocated against racial discrimination in immigration, the migration flow to the United States has primarily been from Latin America and Asia. However, from the 1850s to the 1920s, the United States had, more or less, open borders, even after restrictions on Chinese immigration.
Similar to Trump's stance on immigrants today, reactions to immigrants have historically been extreme. Over 100 years ago, immigration was described as a peril. Some politicians argued that immigrants needed to have better skills and nativists believed immigrants should be restricted because they were believed to be incapable of assimilation to American society.
"History doesn't repeat itself exactly, but the playbook for arguing in favor of restriction is basically the same," Catron said. 
As a result of this nativist wave, there were quotas and a series of laws that forced migration to reflect the immigrant stock of the 1890s. 
Immigrants were able to fill some of the void for physical labor, as 40% of jobs at the time were within the manufacturing industry, according to Catron.
Despite employers' need for immigrants in the workforce, they weren't immune to nativist thinking, believing that immigrants were only fit for physical labor, and that their inability to assimilate should prevent them from occupying managerial positions. Overall, immigrants fueled the rise of manufacturing, allowing occupational mobility for white people born in the United States, Catron argued.
Employers also felt that it was their duty to require their workers to be citizens in order to get promoted. Even in Seattle, during World War I, bosses believed it was their patriotic duty to take jobs away from noncitizens, because only citizens were required to go to war. Laws were also passed to prevent noncitizens from certain occupations. 
As citizenship became more and more needed to make a living, it simultaneously became more difficult to naturalize. Nativists aimed to make it the hardest for southern and eastern Europeans, so migrants had to be able to speak English, answer civics questions, and pay a fee. 
While the skill level of immigrants did somewhat predict how much money they made in the United States, what about their children? Past and present assumptions state that assimilation is unlikely, but Catron argued it happens after one generation. 
Catron described multiple studies showing that immigrants do assimilate economically, don't commit crimes, create jobs for Americans, and fuel the labor market. He argued that behind their words, nativists are racially motivated.
"What the restriction movement is doing is arguing that they want certain ethnic groups and not others, based on their preferred racial [and ethnic] skin tones," Catron said.
Reach reporter Kaya Bramble at news@dailyuw.com. Twitter: @KayaBramble
Like what you're reading? Support high-quality student journalism by donating here.