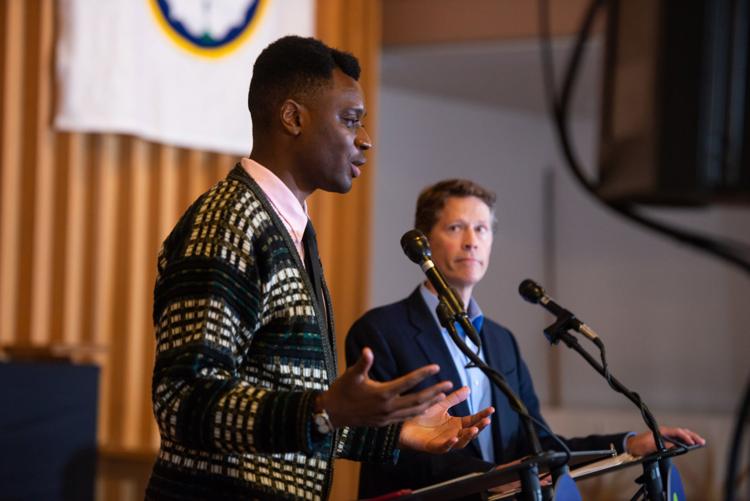 Experienced moderate Alex Pedersen and the young Democratic Socialist Shaun Scott, both District 4 Seattle City Council candidates, faced off Saturday in a debate on issues ranging from housing and transportation to the environment and the future of the Ave.
At the Saturday afternoon forum at University Lutheran Church, Scott called sweeps of homeless encampments a "failed policy" and instead stressed the need for more supportive housing and safe consumption sites for drug users. 
Pedersen, on the other hand, argued that "it's not helping anybody to let people live like that outside," voicing support for the city's team in charge of the sweeps and opposed safe consumption sites.
Pedersen, a former legislative aide to then-councilmember and Budget Committee Chair Tim Burgess, said the city has to "get its fiscal house in order" by auditing departments for money that could be used for the homelessness response and called for statewide progressive tax revenues. 
"We're seeing spending go up, but we're not seeing the results we should, so audits should just be a part of fiscal responsibility," Pedersen, who has built his campaign around the need for accountability at the council, said.
34-year-old Scott, who has previously said he would bring back the failed head tax on big business to fund homelessness services, argued that the city has the power to enact a plethora of progressive taxes, including a tax on mansion sales and real estate speculation tax.
On the environment, Scott argued that the time for climate panic is now and said Seattle can help, for example, by building more housing that cuts down on long car commutes. Pedersen, whose urgency on climate change was questioned by his competitor, ran down a list of policy priorities that included converting city vehicle fleets to lower emission vehicles sooner and phasing out gas-powered leaf blowers.
Both candidates called for greater bike infrastructure in District 4, which includes the U-District, Roosevelt, Wallingford, and northeast Seattle, and called out the dangers of 35th Ave, which runs from University Village past Northgate. 
"We have to get real about putting bike lanes on major arterial roads because lives are really at stake as a result of this issue," Scott said.
Both candidates said they want more affordable housing in the university's 10-year, 6 million square foot master plan, which includes 450 units. Scott noted the need for accommodations for child care facilities and Pedersen argued that the university needed to provide more transportation options to get people to the light rail. 
Both Scott and Pedersen said they opposed upzoning on the Ave, but diverged on the future of the cultural hub. The Democratic Socialist took it one step further with his call for commercial rent control with the aim of protecting small businesses on the Ave, which his competitor does not support. 
Inspired by Pioneer Square's Occidental Avenue, Scott hopes to pedestrianize the street, saying "in general, we want to get to a point where I think the Ave and other streets and major arterials throughout the city are only explored outside of cars." Pedersen wants to keep it safe, affordable, and vibrant.
"We need to do that by not disrupting the system there," Pedersen said.
In general, Pedersen tried to appeal to voters at the Seattle City Club-hosted debate with his experience, while Scott tried to prove his progressive mettle. 
While Pedersen played up his time in politics, citing his work in the U.S. Department of Housing and Urban Development during the Clinton administration three times in the hourlong debate, Scott repeatedly name-dropped the endorsements he's received in his run for the council, including the 43rd Legislative District Democrats, the Transit Riders Union, and activist and 2017 mayoral candidate Cary Moon
Ballots for the general election will be mailed out Oct. 16 and drop boxes will open the next day. They won't close until the evening of Nov. 5. Voters will have a chance to listen to the candidates in several more forums before the race is decided.
Reach reporter Jake Goldstein-Street at news@dailyuw.com. Twitter: @GoldsteinStreet
Like what you're reading? Support high-quality student journalism by donating here.