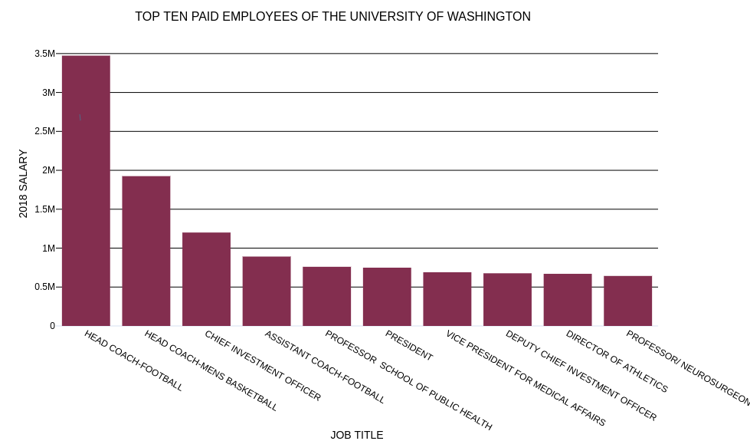 This October, UW President Ana Mari Cauce received a five-year contract extension, which includes a 2.5% pay increase for this year. Cauce's base salary, not including annual deferred compensation, retirement account contributions, and an annual automobile allowance, is now $766,140— 9.7 times more than the minimum 12-month salary of a UW professor. 
As of September 2019, UW professors who receive their salary over 12 months are guaranteed a minimum monthly rate of $6,568, or $78,816 for the year. But on rare occasions, professors can make up to three-quarters of a million dollars. 
Christopher Murray, a professor at the School of Public Health, is the highest-paid professor at the UW, making $760,300 in 2018. 
The average salaries of professors in different academic departments can have significant variation as well. For this analysis, data was acquired from the State of Washington Legislative Evaluation and Accountability Program website, specifically the 2018 salaries of UW employees whose titles were exclusively "professor."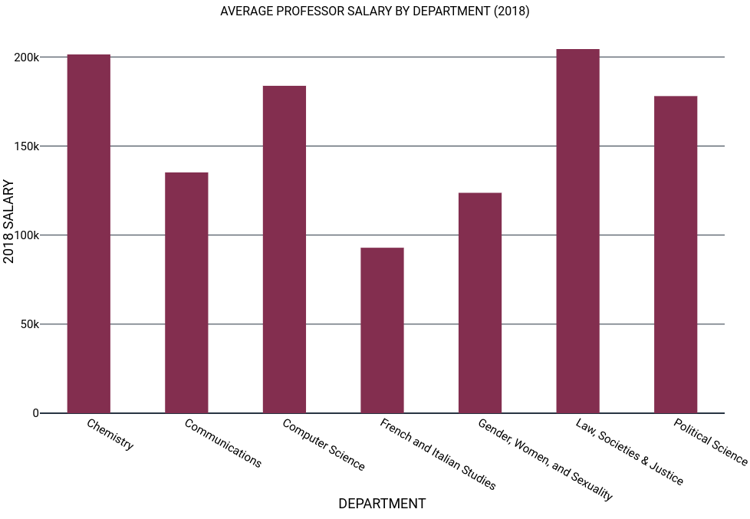 One such salary gap can be seen between the CSE and French and Italian studies departments, where the average salaries, rounded to the nearest dollar, were $183,806 and $92,900 respectively.
Likewise, the chemistry department's average salary was $201,414, 1.63 times the average salary of the department of gender, women, and sexuality studies, which was $123,733.
In these two examples, the department with the much larger average salary is part of the STEM field. However, many departments from non-STEM fields have average salaries that are virtually on par with the CSE and chemistry departments. For example, professors in the political science and law, societies, and justice departments respectively earned an average of $178,033 and $204,433 in 2018.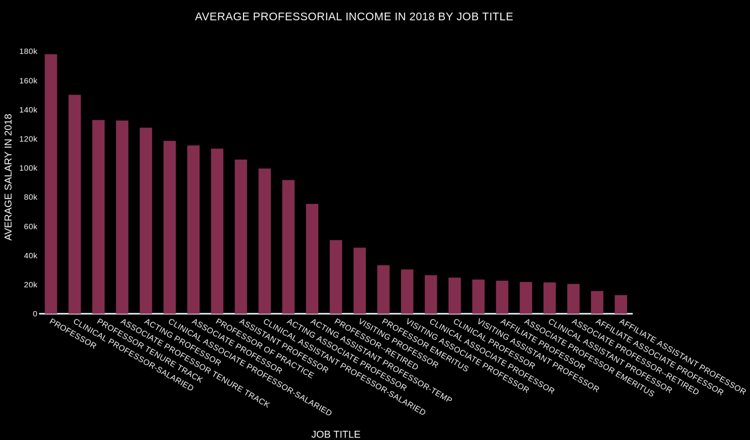 According to Chronicle Data, full-time professors at the UW made an average of $144,302 during the 2017-2018 academic year. This is the highest average of all public universities and colleges in the state. Washington State University, Seattle University, and Gonzaga University all trail with average salaries just above $120,000.
The average salary for UW associate and assistant professors is significantly below that of full-time professors, registering at $108,648 and $99,898. Full-time UW lecturers average $76,096.
High salaries, however, don't go as far in Seattle as they might in other places. According to the Cost of Living Index of 2017, Seattle was the sixth most expensive city in the United States.
According to the U.S. Department of Housing and Urban Development, a salary of $72,250 is considered low-income for a family of three in King County. For an individual, that mark is $56,200. 
Andrea Otanez, a senior lecturer in the communications department, commutes from outside of King County. She moved away three years ago for a variety of reasons, but the high cost of living was certainly a factor. Otanez earned $68,700 in 2018.
"It's a privilege that I can afford that commute," Otanez said. "Because it's not cheap, but it is definitely cheaper than living in Seattle." 
The highest-paid employee at the UW is football coach Chris Petersen, who made $3,473,300 in 2018. 
Web editor Peyton Blackmer contributed data analysis to this article.
Reach reporter Thomas Newman at news@dailyuw.com. Twitter: @thomasn456
Like what you're reading? Support high-quality student journalism by donating here.