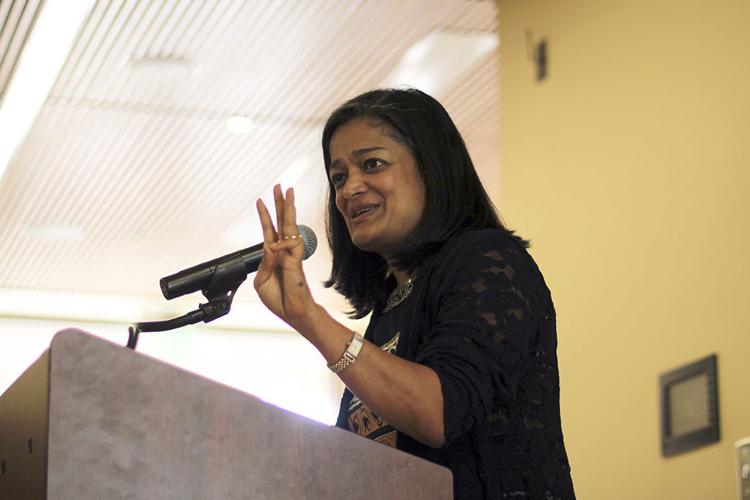 Most people know their work, but maybe not their group. 
They were instrumental in mobilizing progressives to stop the repeal of the Affordable Care Act and worked to turn the House of Representatives blue a year ago.
The organization, called Indivisible, was founded in the wake of President Trump's shocking election almost three years ago. Indivisible's goal is to form a national coalition to stop Trump's agenda and to obstruct Republican ability to pass different policies.
Its founders, Leah Greenberg and Ezra Levin, spouses and former congressional staffers, came to University Temple United Methodist Church with Rep. Pramila Jayapal on Sunday night to talk to an audience of local progressives and explain the current erosion of America's democracy, which they note started long before 2016.
"The opposition party wins when they can block the party in power from doing anything," Greenberg said. "And that means that government overall is breaking down; the ability of the federal government to deliver change in any meaningful way is just not working anymore."
Greenberg, 33, said that the only time in her life where there was major progressive change was during the Obama administration when Democrats held strong majorities in both chambers of Congress. 
"Is it any wonder that millennials and people who are coming after them are starting to lose faith in democracy when democracy has almost never actually been responsive to their needs?" Greenberg added. 
The crowd at the event Sunday was, for the most part, made up of older people. Before it started, one woman turned to her friend and asked, "Where are the millennials?"
Greenberg sees Trump not as an aberration, but as a symbol of a broader problem with disenfranchisement, as 70% of the population will live in 13 states in just 20 years.
"The 30% of the population that is more rural, more white, and more conservative will have 74 senators and, by connection, they're going to have permanent control of the courts," Greenberg said. "That is where we're headed without change and we are going to have a shot in 2021 at enfranchising millions of new people and possibly admitting new states … and changing that natural trajectory."
Greenberg called for filibuster reform, which she thinks would make passing big-picture progressive legislation, like Medicare for All and comprehensive climate change measures, more possible.
The recent local elections in Seattle also briefly came up, with Jayapal saying that the city had just elected its most progressive city council in history, rebuking big contributions from Amazon to losing candidates.
"It really backfired," Jayapal, co-chair of the Congressional Progressive Caucus, said. "People understood that this is what we're talking about, this is what a rigged democracy is."
"This is not just a thumb on the scale of democracy; it's a fistful of cash on the scales of democracy."
Responding to an audience question from a 7-year-old, Greenberg summed up the times Americans live in: "Exciting and painful and terrifying and also exciting."
Reach reporter Jake Goldstein-Street at news@dailyuw.com. Twitter: @GoldsteinStreet
Like what you're reading? Support high-quality student journalism by donating here.