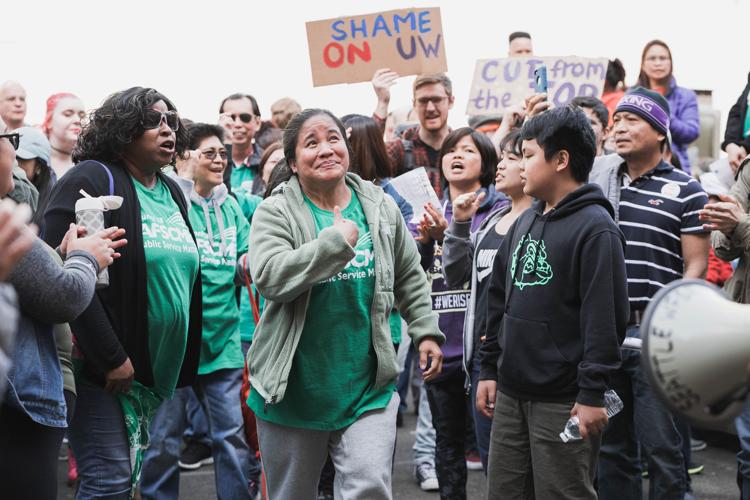 In a small room decked in posters reading "Stand up for justice," and "There is nothing patriotic about racism," inside of the Washington State Labor Council building, a group of roughly 20 unionized workers from Washington state gathered for an open discussion Thursday, Jan. 22 to discuss the UW's insufficient labor wages, closing laundry facility, and to make plans for an upcoming strike against injustices on the facility's workers.
In late November 2018, UW Medicine decided to close the Mount Baker laundry facility, which is responsible for cleaning linens for the school's hospitals, potentially putting 100 or more unionized employees out of work in March.
This group was a mixture of both former and current members of the Washington Federation of State Employees (WFSE), a coalition that represents the UW's low-wage employees. Present were also a number of community-member activists from Organized Workers for Labor Solidarity (OWLS).
The meeting began with a speech by John Frazier, president of WFSE Local 3488 at Harborview Medical Center. He spoke of the strife UW Laundry workers face, describing how WFSE has been fighting to keep the laundry facility open, and how most employees are hardworking and from immigrant backgrounds.
Consolidated laundry has been cited as a financial burden for the UW, and will be fully outsourced in March to Auburn-based Hospital Central Services Association. Frazier expressed that the workers who faced news of its closing are stressed, overworked, and despairing.
"When I drive in, I don't have a parking spot, when I drive in, I don't get $250,000," Frazier said, referencing the stark difference between salaries of UW administrators and of the workers he represents.
According to Frazier, though there was public outrage, the UW administration took little action following the announcement of the laundry facility's closure. Despite the efforts of a 200-person town hall organized in early December to raise awareness, and state-level approval of wage increases, the UW has claimed it cannot implement them due to issues of operating costs, among others.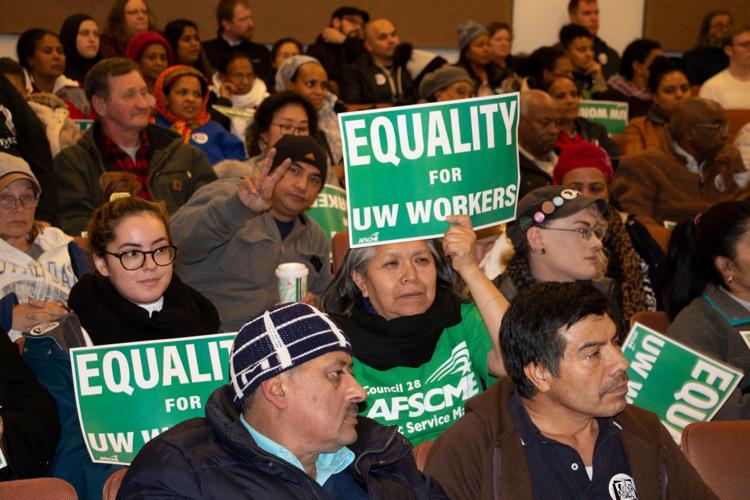 Frazier spoke of the financial difficulties most UW workers face.
"They have always said 2 percent take it or leave it because they know we won't do anything," he said. "Most people at the U[W] have two jobs. The UW's only advice when they find out is to quit our other job, however, salaries from the university don't make that viable."
Another speaker at the meeting was Salvador Castillo, a long-term UW employee, worker activist and organizer. He cited apparent racist mistreatment and the mindset of replaceability toward the long-term laundry workers at the UW.
"It's because we are immigrants. There are no benefits for employees. Last year, they tried to hire a private company and privatize. Since 2003, we have stopped them," Castillo said. "We need retaliation, but we need to do it together. They [the UW] have been able to break rules because they have no policies. We need to stand up and make the UW accountable if we are going to win this, because it's going to be a benefit for everyone."
The third speaker was Mufasa Getahun, a truck driver at the UW's Rainier Valley laundry facility. After arriving in the United States as a refugee from Ethiopia in the 1980s, working at the laundry helped him raise his three children, one of whom is now a Ph.D. candidate at the UW.
"In the laundry, people have been working for 30 to 45 years. They are family," Getahun said. "The laundry is closed because of racism. For the last 47 years, management on the top didn't do their job."
WFSE Local 1488 President Paula Lukaszek explained that they will have to discuss the new biennial state budget currently being negotiated by the legislature, which will decide whether they will fund a new contract. Lukaszek identified putting pressure on the UW in order to get a labor contract to Olympia as one of the union's major goals.
Since 2003, Lukaszek has worked as a plumber at the UW where she alone, a small woman with short gray hair, is in charge of the plumbing for 98 buildings on campus.
"UW is a large and evil employer. They gave us a low baller 2 percent [wage increase]. They are not even keeping up with inflation … We have never rejected an offer before," Lukaszek said. "This time we are not accepting it. People at our townhall last year came and talked about how they couldn't make it working full time for the state; many were still on food stamps."
Lukaszek extended gratefulness for student support at the UW, citing organizations including the United Students Against Sweatshops (USAS), and expressed the need for publicity.
Even at the end of the meeting, information about new injustices sprang up.
Getahun mentioned that the laundry gives only six months guaranteed work, regardless of workers' duration of employment. The difficulty of many of the situations faced, ones dealing with mortality and the safety of workers led Frazier to tears, and to the realization, again, that these duplicitous deals are the norm for UW workers.
The workers appeared nervous; many said it was their first time striking.
"They [UW administrators] don't want an article that says, 'Management can't bully its workers.'" Frazier said, "It's OK to be afraid. We have to show people you have a right to stand up for what is right. Giving people respect doesn't cost money, but UW can't do that."
Reach reporter Riley Grace Borden at new@dailyuw.com. Twitter: @grayswansite
Like what you're reading? Support high-quality student journalism by donating here.