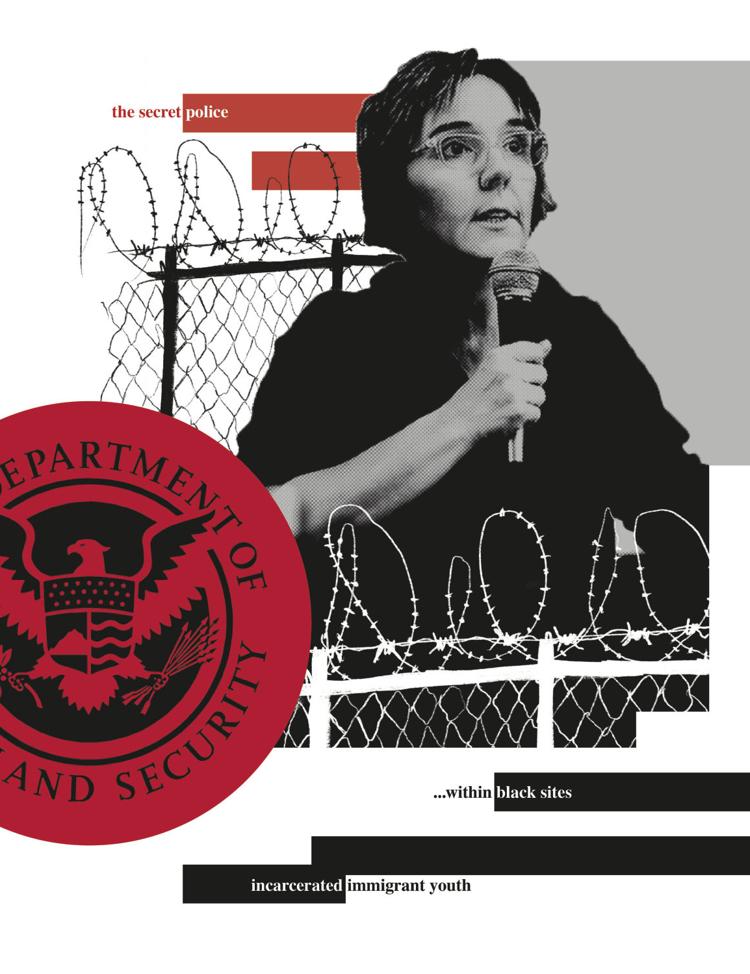 A few hours south of Seattle is the Cowlitz County Youth Services Center, where U.S. Immigration and Customs Enforcement (ICE) is holding a number of undocumented youth. 
Their identities and reasons for being detained are mostly unknown.
The Human Rights at Home project, an initiative started by the UW Center for Human Rights (CHR) in 2016, discovered the existence of such facilities last year while researching the activity of ICE in Washington state.
"Nobody seems to even be paying attention to the fact that these are children's lives that are ticking away in a secret jail," director of the UW CHR Angelina Godoy said in a tweet Sunday.
Currently, three youth detention centers are known to be holding minors beyond the 72 hours permitted by the Flores Settlement Agreement: The Cowlitz County Youth Services Center in Washington state, the Northern Oregon Regional Correctional Facility (NORCOR)'s juvenile division, and the Abraxas Academy in Pennsylvania.
The agreement, which was established in 1997 under the 1987 Flores v. Reno court case, created standards for the treatment of incarcerated immigrant minors.
The Immigration and Naturalization Service must place minors in a safe and sanitary environment that includes toilets and sinks, food and drinking water, medical assistance, supervision, and contact with family members, among other requirements.
Additionally, the detention centers don't appear on online maps of ICE facilities and detainees cannot be located using the official federal detainee locator, which only applies to adults. Reports concerning the conditions of the facilities are also unavailable.
The CHR has referred to these facilities as "black sites" and accused ICE of operating as "secret police."
When Godoy — who is also a professor of international studies and law, societies, and justice — requested information from Cowlitz County about the youth detained there, the county initially agreed to comply. That is, until ICE blocked Godoy's request, citing a federal law that prohibits the release of information pertaining to those detained by ICE.
The CHR has issued hundreds of freedom of information and public records requests, which are an essential tool for their research, according to CHR project coordinator Phil Neff.
Records requests were often ignored or denied based on exemptions that the CHR called "capricious." In September of last year, the UW filed a lawsuit in federal court under the Freedom of Information Act against the Department of Homeland Security, citing Customs and Border Protection and ICE as defendants.
What little information they were able to obtain about the detention center in Cowlitz County showed that some detainees had been there for almost a year, Neff said. Unaccompanied minors are usually turned over to the Office of Refugee Resettlement within 72 hours. However, at these facilities, ICE can detain minors for an extended period of time and in jail-like conditions.
During an interview on Anderson Cooper's "Full Circle" in late October, Godoy explained that, per the contract that ICE has with the county, all that is known about youth detained at these facilities is that they "may have committed a chargeable offense" in the judgment of ICE.
"That's a very different thing than having been convicted in a court of law," Godoy told Cooper. "This represents a fundamental challenge to due process to which all people are entitled to under the U.S. Constitution — not only U.S. citizens."
The attempt by ICE to deny Godoy the information she sought spurred Cowlitz County to file a motion for declaratory judgment in state court to determine what action they should take, according to the CHR website. ICE has since moved the case to federal court, with Godoy and the UW named as defendants.
According to the CHR website, "ICE is not alleging we have engaged in wrongdoing. But by seeking to fight us in federal court, they are compelling us to either withdraw the records request or engage in a battle to defend our right to the information about these unaccompanied children."
In a series of tweets, Godoy criticized ICE for a lack of transparency and questioned their interpretation of laws.
She posted a photo of what appears to be a list from NORCOR of crimes committed by detainees, their release dates from detention, as well as their country of origin. Godoy believed some of the crimes listed were not real.
"ICE considers a range of things criminal that aren't even crimes," she tweeted, referring to a crime listed as "sodomy." 
Godoy said she learned about the experience of two detainees in Cowlitz County: a Guatemalan boy taken from his family in Massachusetts and a Salvadoran girl who is the mother of a 1-year-old child. Neither of them understood why they were transported to Cowlitz County or what would happen to them.
Referring to the testimony of a former detainee in Cowlitz County, Godoy described an environment where detained children have engaged in self-harm and endured harsh forms of punishment. For example, some have been placed in solitary confinement and strapped to a chair, where they are monitored by multiple security cameras.
According to an Intergovernmental Service Agreement for Housing Federal Detainees document, Cowlitz County makes $136 per day on a detainee.
Once a detainee turns 18 years old, they are transferred to the Northwest Detention Center in Tacoma to be deported.
"Families fear endangering themselves or their kids if they speak out," Godoy tweeted. "And ICE is suing to make sure the info never gets out. This has to stop."
Godoy did not respond to requests for comment. 
Reach reporter Alexander Tufel at investigations@dailyuw.com. Twitter: @alexander_tufel
Have a story you think should be told? Email tips to investigations@dailyuw.com.
Like what you're reading? Support high-quality student journalism by donating here.