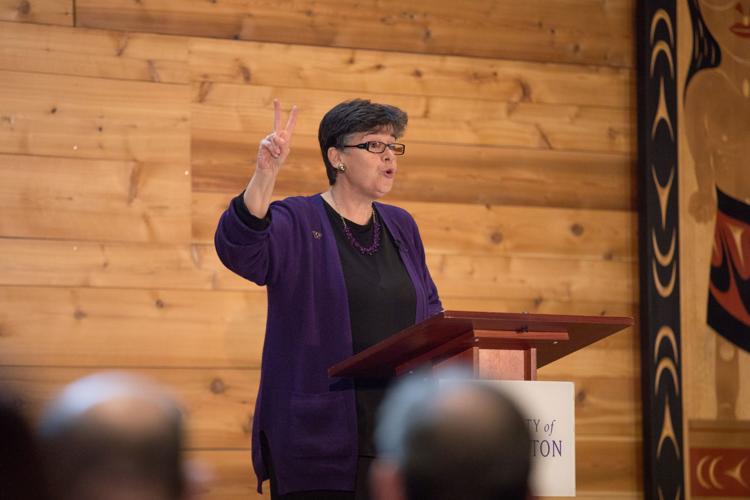 "Democracy cannot succeed unless those who express their choice are prepared to choose wisely. The real safeguard of democracy, therefore, is education," President Ana Mari Cauce  said, reciting the words of Franklin D. Roosevelt. 
In her annual address Tuesday, Oct. 15, Cauce discussed the impact and opportunities the UW creates in addition to its role in democracy as a public research university. 
Before Cauce took to the podium, however, the address began with a brief introduction from the Faculty Senate Chair Joseph Janes, who acknowledged Cauce's commitments to equity, quality, and inclusion, ensuring the access and excellence of both students and faculty.
Cauce began her address by thanking everyone for listening. 
"I always look forward to this Annual Address because it gives me the privilege and the opportunity to talk with you, our University of Washington community, about the things we care about most," Cauce said. "And that's our public mission and our impact — locally, nationally, and globally."
Cauce highlighted the university's excellence in providing a return on investment. For Cauce, this demonstrates how graduates are prepared for top employment opportunities and, as a majority of graduates stay in Washington state, contribute to building the workforce that the state needs. 
Cauce also noted that the value of the UW's education is not measured solely on starting salary, but the ability for graduates to pursue careers they find meaningful, and their contributions as engaged community members. 
With this, Cauce's speech turned to highlight the pathways of opportunity the UW creates for students, noting that just over a third of UW students are the first in their families to attend college. 
But these opportunities depend on public support. Cauce thanked both the alumni and non-alumni donors who have and continue to affect change through the scholarship and research at the UW.  
Cauce acknowledged the hard work and improvement the university has ahead, encouraging everyone to take the university-wide Climate Survey by Nov. 8 to help the university understand where it needs to improve. 
In light of the array of local elections, Cauce believes this is a time for us to consider how our work serves to uphold democracy.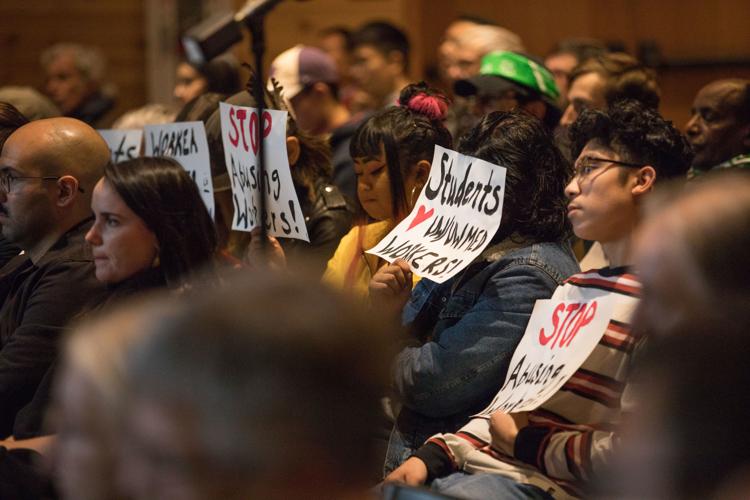 With the influx of information and with little to distinguish from reliable reports and "fear-mongering misinformation," Cauce believes that the UW plays a unique role in the foundations of our democracy by preparing students to make wise and educated decisions.
According to Cauce, real-world problems are threatening our collective understanding of the objective truths and claimed that as a public research university we must acquire research for these issues, underlining the important work of countless individual scholars at centers of research as "essential to examining the systems, laws, and traditions that form our democratic society." 
As a public university, the UW serves in issues of public interest, especially on those that demand difficult conversations. For Cauce, the ability to engage in these conversations is not only important to democracy but without them, we deprive ourselves of "peaceful paths for change." 
"We are a campus that can bring people together, that can have difficult conversations, not just amongst ourselves, but with members of the larger community," Cauce said.
During questions after Cauce's address, in addition to questions of affordability posed by medical residents, audience members asked about UW Consolidated Laundry and labor and worker rights.
Cauce acknowledged the difficult decision and said that the university has "made good" on their commitment to finding other jobs at the university for those who wished to stay.
However, further questions brought up the issue that workers have been laid-off while on probation, and Cauce was asked to meet in person to address these issues. 
Cauce ensured them she would meet with the group on a later date and talked with them briefly after her address. 
Reach reporter Andrew Ronstadt at news@dailyuw.com. Twitter: @AndrewRonstadt
Like what you're reading? Support high-quality journalism by donating here.