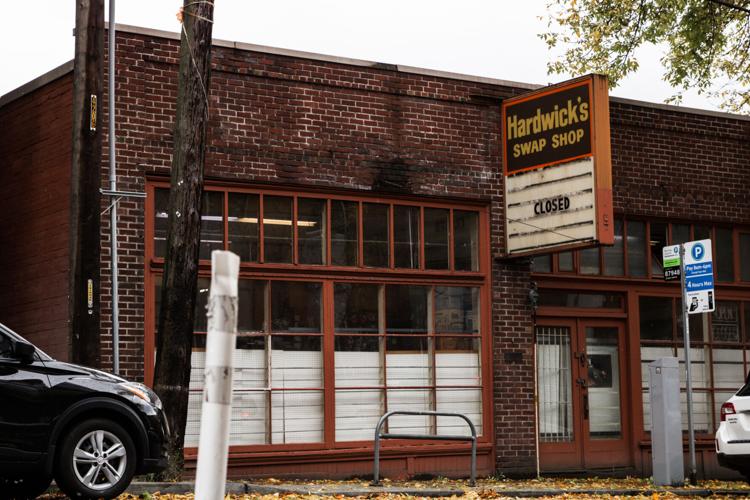 After 88 years and four generations in business, the U-District's Hardwick & Sons has finally closed its doors at the corner of Roosevelt Way Northeast and Northeast 42nd Street. 
Originally opened as a secondhand store, Hardwick's evolved into a hardware store with an eclectic mix of inventory, featuring items like "Japanese pruning saws and Italian riffler rasps."
"With all the other stores like Lowe's and True Value, there was definitely a need to differentiate ourselves from the crowd," Dane Lindsay, a longtime employee at Hardwick's, said. "It's madness to even try to imitate them, so why not really dig in with good tools and unique items from all over the world?"
Since its opening in 1932, the store developed its unique style of crowded aisles with pegboards displaying a large array of merchandise, as well as items dangling from the ceiling, all of which make it stand out from its competition.
"We have similar items to [big-box hardware stores], but we've focused a lot on tools and fasteners," Dean Hardwick, the third-generation owner of the store, said. "For some oddball things, the big box store will send people down to us. They generally aren't too heavy in tools."
Hardwick was keen to share his family's history in the area and how the store was shaped by his passion for art. In addition to being the brains behind the business, Hardwick wrote the signs and tags seen around the store by hand and built and designed various displays.
"Here we tried to create something new and different," Hardwick said. "I used my artistic abilities to make what you see today."
Though he enjoyed operating the store, Hardwick decided to close up shop because he couldn't keep up with the increasing costs of operating in Seattle. As a result, the property was sold last year to a group of Bellevue-based developers for $17.26 million, according to King County assessor's records, and will soon be the site of a 22-story high-rise. 
"In the last two years, I've had to support [the business] out of my own pocket, so it's been negative," Hardwick said. 
Furthermore, the pandemic has made it more difficult for the family-owned business, but sales began to pick back up with the impending closing date.
Hardwick's closing follows a pattern of businesses leaving the U-District as a result of increasing rent prices, property taxation, and zoning regulations. This comes at a time of new development in the area, with 12 high-rise towers planned for the next 10 years, as well as the opening of a new Link light rail station.
"Seattle has changed quite a bit," Hardwick said. "It's no longer a working town, as far as people working with their hands. It used to be an artsy town, a blue-collar town. It wasn't as money-driven as it is now."
Increased competition from big-box stores like the Home Depot and Lowe's, along with shifts in consumer spending habits, has brought on changes in the local retail landscape, with stores like Hardwick's being unable to keep up.
However, this will not be the end of Hardwick & Sons.
With plans already in the works since he sold his property, Dean Hardwick and his son have already begun building a new Hardwick's, which is slated to be completed and opened by February 2021 in Post Falls, Idaho.
"Because of regulations, the store cannot be as cozy as it was before," he said. "But it will still be a destination for tools and fasteners."
As for his final thoughts on Seattle, Hardwick expressed disappointment about the current local business landscape.
"I think it is extremely sad that the city has turned into what it is now," he said. "I know I'm not going to come back for it."
Reach reporter Timothy Phung at news@dailyuw.com. Twitter: @TimPhung
Like what you're reading? Support high-quality student journalism by donating here.