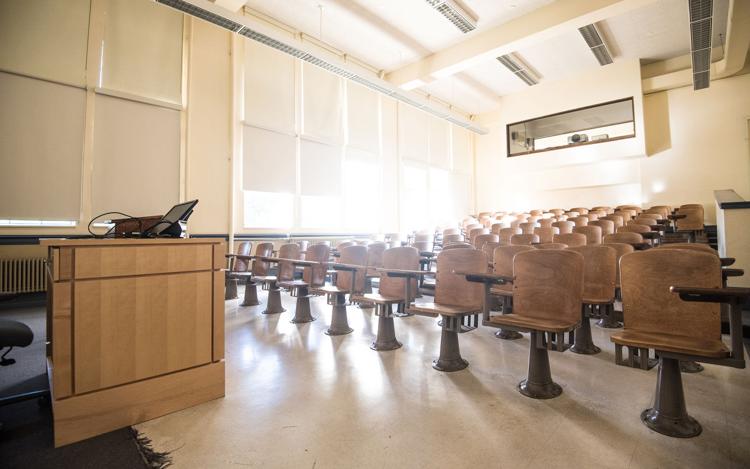 This week is a trial run for political science professor Mark Smith. With in-person class meetings suspended because of the novel coronavirus outbreak, Smith isn't holding out hope for business as usual when spring quarter begins.
"I'm expecting that we'll be doing online teaching for spring quarter," Smith said in an email.
The campus is expected to reopen March 30, but university spokesperson Victor Balta said the UW is monitoring the situation closely and will inform the student population accordingly if that decision changes. 
President Ana Mari Cauce said in an email to the campus community Wednesday evening that students can expect a decision on the format of classes for next quarter by March 20.
As a result, some professors across campus are creating contingency plans in the event that school does not reopen as planned and classes have to remain online for an extended period of time. 
Devin Naar, an associate professor of history who is teaching a class on Mediterranean migrations for the first time, is workshopping ways to instruct if in-person classes don't resume as scheduled. He could see delivering lectures with Zoom or Panopto, splitting up small discussion groups with Zoom, and using more remote and multimedia resources to teach the course. The UW recently procured a $200,000 license to make Zoom Pro video conferencing free for all faculty and students. 
Similarly, James Long, an associate professor of political science, said he's concerned about how the lack of in-person interaction will affect the format of his class, which is highly discussion-based. Most of his readings and class assignments are not compatible with an online setting and would require a massive course overhaul. 
President Ana Mari Cauce said in a March 6 press conference that the university is working through scenarios of what it would be like to do "distance education" for a week or two after the break, but didn't elaborate on what that might look like.
"Instructors are being strongly encouraged to develop academic and business continuity plans that consider longer term disruptions, such as a late start or broad online instruction for Spring Quarter, in case they are needed," Balta said in an email.
History professor Margaret O'Mara also said she's revising assignments to "take advantage of the online environment" for her graduate-level seminar, while noting some of the equity issues that arise with a fully tech-based class.
"One important consideration will be recognizing that everyone's tech capacities are different at home depending on where 'home' is," she said in an email. "UW dorms with campus bandwidth, or homes and apartments that don't have the same wifi capacity. Same goes for computer access."
O'Mara said she was "planning ahead, just in case it's needed."
It's unclear what an online course would look like for more participatory classes, like science classes with lab sessions or arts classes with performances or more hands-on projects.
Classes such as chemistry and biology rely heavily on labs that cannot be done online so easily. An online quarter might result in these labs being canceled, which can affect future academic goals for many students who intend on applying to medical school or jobs in research fields, both of which require lab experience. 
Kyle Thayer, who teaches one of the introductory informatics classes, says he is creating a tentative plan for moving the class online in a way that will still maintain engagement. 
UW Medicine staff, faculty, and employees can get tested for the novel coronavirus without even leaving their cars.
Another concern for many professors is what the quarter will look like if other public schools and childcare services in the city were to close because COVID-19 continues to spread. 
"My biggest worry is that if and when our daycare gets closed, how will I both keep my young children entertained and get my school work done," Thayer said in an email. 
Researchers expect the number of cases locally to continue to rise, with one UW researcher suggesting there could be hundreds more with COVID-19 in Washington already based on a genetic analysis.
"There's no way to know for sure, of course, but I doubt the rate of new infections drops precipitously in the next three weeks," Smith said. "I'd love to be proven wrong."
Reach News Editor Jake Goldstein-Street and Science Editor Ash Shah at news@dailyuw.com. Twitter: @GoldsteinStreet @itsashshah
Like what you're reading? Support high-quality student journalism by donating here.