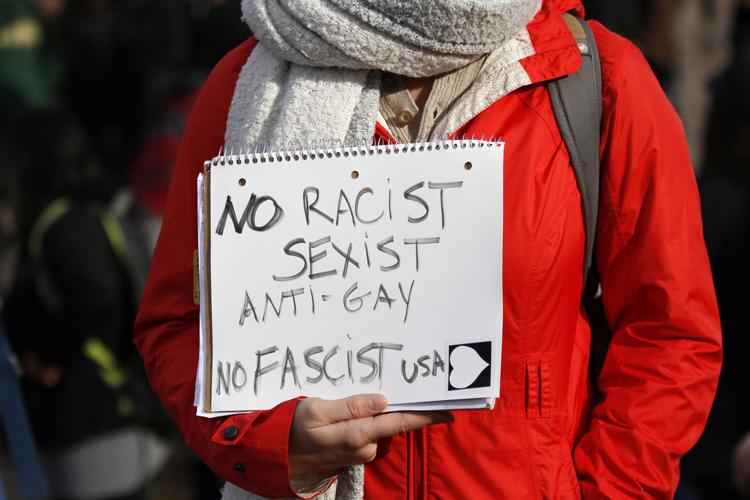 On Saturday afternoon, about 30 people gathered in front of Seattle Central College in Capitol Hill with baby Trump balloons and a banner reading "Trump/Pence #OutNow," as they chanted repeats of "out now." This was the second day of Refuse Fascism's rallying in Seattle, in the midst of the ongoing impeachment inquiry into President Donald Trump.
Impeachment has been a divisive issue in the years since Trump began his presidency. First called for in 2017 by Rep. Maxine Waters (D-CA 43) and pushed for by some members of Congress, the House is now formally pursuing impeachment efforts. 
Refuse Fascism is a grassroots movement on the national level, specifically seeking the impeachment of President Trump, stating on their website that "The Trump/Pence regime poses a catastrophic danger to humanity."
The protests began in Los Angeles and New York City on Oct. 19, and they spread nationwide Oct. 26, including one that took place on the Ave last week. Saturday's rally took place in 14 different locations nationwide, including the one at Capitol Hill. The national Refuse Fascism movement emphasizes their plan to "act together in mass, sustained, non-violent nationwide protests that continue until the Trump/Pence regime is removed from power."
At Saturday's rally at Capitol Hill, organizer Margo Heights emphasized the goal of impeachment, but also cited more specific motivations behind the events.
"We're doing this for the thousands of children who have been ripped from their families … for the black and brown people who are going to be the targets of even more brutal police terror," Heights said. "The women who will be forced into motherhood, who will die from illegal abortions. All these people suffering now, that's why we do this."
The display at the rally also included a lineup of 17 portraits of victims of police brutality in just the last two months. They included those such as Atatiana Jefferson and Christopher Whitfield and repeated their names, chanting "say her name" and "say his name."
According to Heights, the general idea of saying "'no' to a police state" is something that was being emphasized at all the rallies throughout the country this past Saturday.
"We want to remember the people who've been killed by police in the last year," Heights said. "More unarmed people are being murdered by police than ever before, and yet, where is the outrage?" 
Through marching, Heights said that she hoped to break through the passiveness of the customers at the street shops and cafes. In the effort of doing so, protesters periodically would yell "join us" at the bystanders.
The reception of others on the street as the protesters marched through was generally positive, with some cheering and a couple neighboring cars honking in support. 
"It's my hope that being out here and protesting, if nothing else, can gain political support and our representatives will see 'man, the people really want these guys out' and it might pressure them to act a bit," UW student Mika, who requested to be identified only by their first name, said. "I think that doing something is better than not."
Reach contributing writer Deborah Kwon at development@dailyuw.com. Twitter: @debskwo
Like what you're reading? Support high-quality student journalism by donating here.