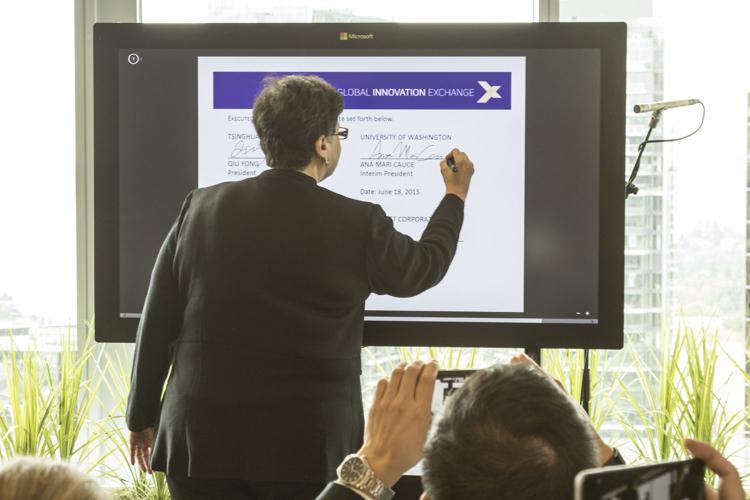 Though COVID-19 has presented an unexpected challenge, the Global Innovation Exchange (GIX) is still moving forward with program expansion. 
Launched in 2015, GIX was founded with a vision of fostering innovation across international boundaries. It was the first time a Chinese research university established a physical presence in the United States and since then, the program has met its goals: graduating two cohorts, partnering with Microsoft, and building a new home base. 
Interim executive director Shwetak Patel announced in late February that GIX had begun the search for a full-time executive director. This is part of a process to build a standalone leadership entity for GIX, which is currently run by the UW and Tsinghua University.
With an independent leadership body, the program hopes to have greater agility to keep pace with changes in the tech world. 
GIX offers two degree programs for students. The 15-month master of science in technology innovation is based at the UW. The 21-month degree program gives students the option of continuing their studies at Tsinghua University for an additional six months for a masters of science in engineering (data science and information technology) and to receive a dual degree from both universities.
The program emphasizes project-based learning, in which students quickly develop deliverable engineering projects in groups of three or four.
Additional training programs have been planned alongside structural changes, including a robotics track for the master of science in technology innovation coming fall. 
Independent leadership will give GIX flexibility in how it can operate, allow new opportunities to expand, and give it the freedom to scale. GIX is still moving forward with those changes, despite uncertain times. 
"I think for most of the folks on the staff and the faculty, it's been pretty seamless," Linda Wagner, the director of academic programs for GIX, said. "[GIX has] a strong dedicated focus on serving the students, and that really doesn't change."
Academic programs have continued to move forward as well, with continuous adjustments made to streamline remote learning strategies.
"We're trying to make sure we find ways to connect our faculty and staff and students," Wagner said. "We're keeping in touch every day to make sure this is still a really great learning experience."
For many students, though, the transition has been hard, especially given the program's emphasis on hands-on projects. 
"It's been difficult," Paulo Gonçalves, a master's student in the technology innovation program, said. "We normally spend a lot of time doing hardware in the lab … a lot of the objectives for courses have had to be changed." 
Remote learning has been especially challenging for international students. Half of the students are from the United States or China and the other half hail from another eight countries. Many have returned to their home countries, where family obligations and differences in time zones pose a challenge.
GIX is working to alleviate these challenges, through adjustments to class times and potential coordination with Tsinghua University.
"It's been a challenge," Patel said. "We're trying to be as supportive as possible to all the students."
Patel, however, also sees an opportunity and hopes that students will take advantage of this time to develop critical skills for the workforce. Managing remote work and conflicting time zones are realities of the modern tech industry.
"We're using this as a mechanism for a teaching opportunity," Patel said. "Some of the students have seized the opportunity and said 'Hey, how can we help?'"
Part of the current strategy involves adopting projects that involve more accessible technologies. Instead of building on hardware platforms, students are doing projects on smartphones, to which most students have easy access.
Some hands-on aspects of the program have been able to continue. The program's makerspace has been invaluable following the suspension of in-person classes in March.
Through remote communication with essential staff at the makerspace, GIX students can send in plans, which are then implemented and shipped back. 
Earlier this month, GIX students assisted in production of personal protective equipment for UW medical staff, including face shields and no-touch door handles. 
"Our students have been amazing in their spirit and staying connected and doing good creative work," Wagner said. "Like all of us, they're eager to get back to the makerspace in person. The biggest thing is to find ways to keep people connected and interacting with each other."
Reach contributing writer Annie Denton at news@dailyuw.com. Twitter: @annie_s_denton
Like what you're reading? Support high-quality student journalism by donating here.