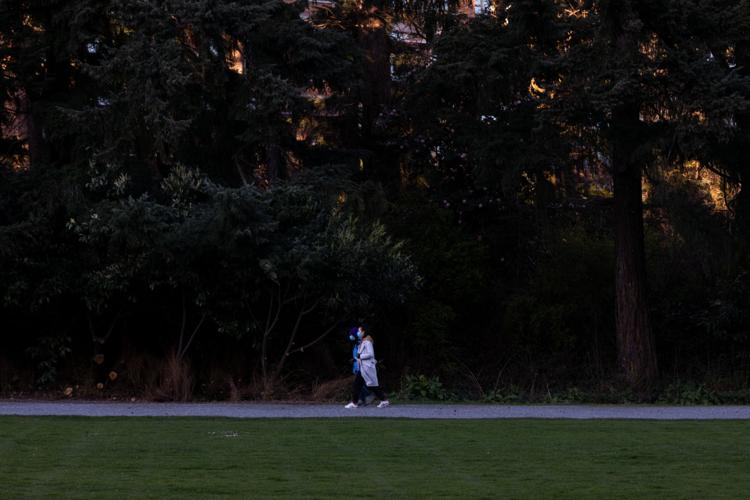 Over the course of the COVID-19 pandemic, it's been difficult to procure enough disposable masks for Housing & Food Services (HFS) custodial, dining, and housing teams still working on campus. In response, a group of students and staff members have come together at The MILL to sew cloth face masks that can be washed and reused.
Derrick Van Kirk, the instructional shop technician, said the project started about a month ago when he was approached by a facilities manager about making reusable cloth masks.
"The inspiration to put this project together came from the desire to activate our makerspaces that were otherwise sitting silent," Van Kirk said. "I also wanted to give some of our staff an opportunity to come in to work and get hours that they would have not had otherwise."
After recruiting students and facilities and housing staff, Van Kirk set up a socially-distanced production line at The MILL where four to eight people have been coming in each day to work on masks. 
"It's been really nice to be able to get out of the house and interact with other people," Zoe Nelson, a senior who's involved in this project, said. "Working in a socially distancing production line has actually been really easy because we're in a big enough space where we can be far apart from one another, but still work on different parts and communicate."
Stations for pressing, cutting, and sewing were set up across The MILL, and the team has been using bed sheets that HFS had on hand to minimize cost, as well as fabric and thread donations they've received. Nelson said they are also working on creating different sizes so people can get the best possible fit.
About 60 masks are produced each day and picked up the next morning to be washed and distributed to HFS staff, and as of May 3, the group has made about 600. The goal is to get that number to at least 900 and Van Kirk said they will continue to make masks as long as there is a need for them.
The work they are doing has also caught the attention of other groups and departments.
"We're starting to get other [inquiries] about making masks for them for purchase," Van Kirk said. "This hasn't been fleshed out as of yet, but the idea is to continue to fabricate as many as possible and if we can generate a bit of revenue to cover staff hourly costs, that's even better."
This project also brings to light the importance of having makerspaces on campus. During normal times, the HFS makerspaces — including Dabble Lab at Area 01, The 8, and The MILL — had long hours, which required staffing.
Prior to the move to online instruction, there were over 75 student staff members. Van Kirk said since many students aren't living on campus this quarter, it's been difficult to continue managing the makerspaces.
Although student demand for them exists, Van Kirk said they are also hard to fund and keep open. At the end of 2019, the CoMotion Makerspace in Fluke Hall shut down due to budget uncertainties. 
"Makerspaces don't generate much revenue, but have very expensive equipment to maintain," Van Kirk said. "It's a difficult position to be in and we're lucky that HFS understands the need to have these spaces on campus."
Jenna Batchelder, a senior who has been working at The MILL since it opened in 2018, said makerspaces are invaluable as they allow students interested in various fields to collaborate with one other and explore using different tools. 
"Hopefully, once in-person classes resume, social distancing and cleanliness measures can be implemented in the space so that students can go back to using it as a creative workspace," Batchelder said.
As the team continues to make more face masks, Van Kirk said it's amazing to know the makerspaces are contributing important work during this time of crisis
This is not the first time that they have contributed to the COVID-19 relief effort. In April, 3D printers across the makerspaces made durable face shields for healthcare workers at UW Medicine. 
"I never dreamed of something like a pandemic to mobilize our spaces, but I always wanted us to do more and contribute to the UW community as a whole," Van Kirk said. "This has given us an opportunity to do that."
Reach reporter Shannon Hong at news@dailyuw.com. Twitter: @shannonjhhong
Like what you're reading? Support high-quality student journalism by donating here.