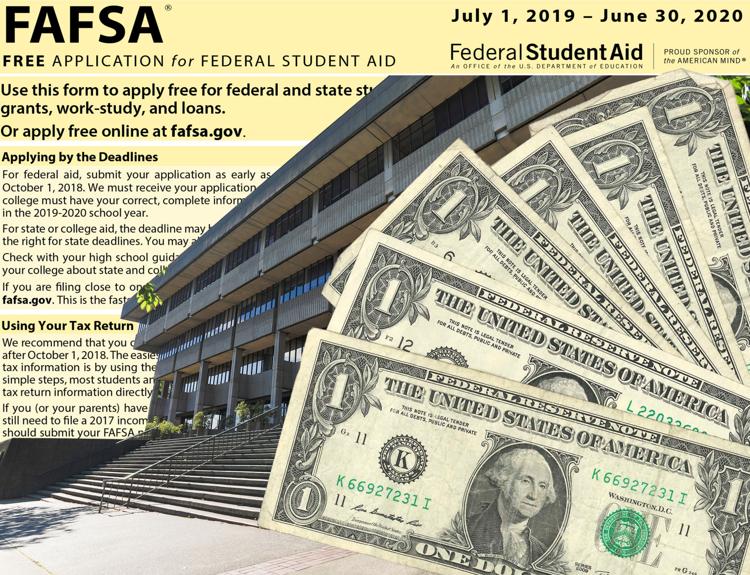 1.56 trillion dollars. 
To most, a trillion is a number that is difficult to comprehend as anything other than simply "a lot."
As students or faculty at the UW, we are all probably familiar with this figure by now. $1.56 trillion represents the national student loan debt, and it's the highest it has ever been. 
This debt crisis has catapulted the conversation about free college into living rooms and coffee shops around the country. In 2018, UW President Ana Mari Cauce defended the price of higher education and highlighted the UW's financial aid programs.
"Talk about free college, it already exists," Cauce said. 
President Cauce made this statement in reference to a program called the Husky Promise, started in 2007. The program guarantees full coverage of tuition for qualifying students. If federal and state grants don't cover the full cost of tuition, the Husky Promise pulls together institutional grants and scholarships to bridge the gap. Because these are not loans, none of them need to be paid back. The Husky Promise covers around 10,000 students at all three campuses.
However, this program only covers tuition costs and only applies to Washington state residents. For the 2018-2019 school year, tuition costs were $11,207 in state. The total costs including tuition, fees, and living expenses was $27,638, according to the National Center for Educational Statistics, for an in-state student living on campus at the UW. For out of state, this was $53,019.
Despite the Husky Promise, students still have enormous costs to cover after tuition.
A recent study by LendEDU shows that the average student debt per borrower at the UW in 2017 was $19,880, up 23.48% from 2007. This is slightly below the average debt per student borrower in Washington state as a whole, factoring in fifteen other major universities, which stood at $22,941. 
Washington sits well below the highest mark set by Pennsylvania with an average of $35,988, up 51.3% since 2007, and just slightly above Utah, which achieved the lowest average at $17,887, up 35.5% since 2007. 
However, $19,880 is nothing to scoff at and the prodigious percentage increases in all three states are undeniably terrifying. How are people at UW ending up with this debt?
Currently, nearly 60% of UW undergraduates rely on financial aid. The university provides about $400 million worth each year, $250 million of which is scholarships and grant funds. 
Of first-year students in 2017-2018, 61% received financial aid. Of those, 48% received grants or scholarships totaling $40,730,662; on average receiving $12,756. Twenty-six percent of that group received loan aid. Almost all were federal loans, totaling $9,518,834 and averaging $5,525 per borrower.
With 26% of students still needing to take out loans, free college may be further than some think at the UW, and certainly nationwide. Since June 2009, the national student debt has more than doubled from $675 billion to where it now stands at nearly $1.6 trillion. As a result, candidates for the 2020 democratic nomination are pushing the idea of free college to the forefront of their platforms.
The proposals are varied, with Sen. Bernie Sanders urging for a complete wipeout of all student debt and tuition-free college going forward, while Sen. Elizabeth Warren proposes an income-based debt relief program.
Former Vice President Joe Biden has yet to outline a specific plan, but has in the past expressed his belief that "we need to commit to 16 years of free public education for all our children." 
Sen. Cory Booker has shown support by co-sponsoring the Debt Free College Act and has proposed a program of government bonds given to newborns that could help low-income families pay for their children's college education.
Mayor Pete Buttigieg has proposed plans to make public college free for low-and middle-income families through both state and federal partnerships and an expansion of the Pell Grant. 
As the 2019-2020 school year kicks off, students are cleaning out their wallets at the bookstore, at dining halls, and everywhere in between. Those feeling the growing weight of nationwide student debt await an effective solution. 
Reach contributing writer Frankie Stoner at development@dailyuw.com. Twitter: @franki_stonr 
Like what you're reading? Support high-quality student journalism by donating here.