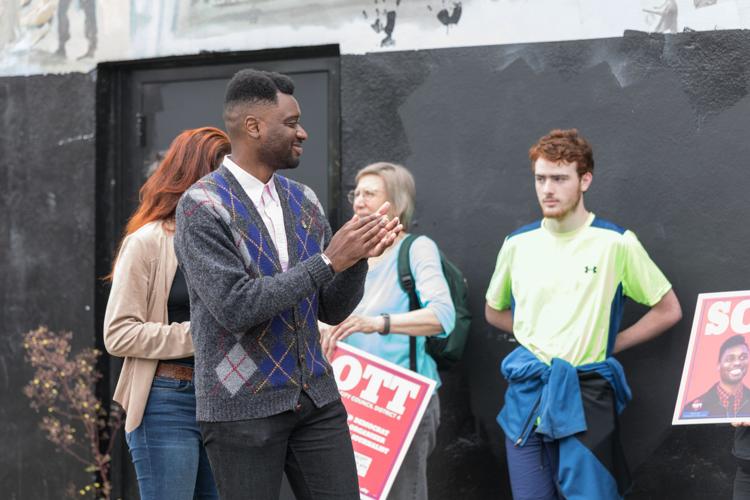 District 4 candidate Shaun Scott held a press conference where he discussed racial injustice, police accountability, and discriminatory sex work laws. 
With the Seattle City Council primary elections approaching this August and the general elections coming this November, Seattle's candidates are busy campaigning for their political agendas and sharing their vision for the city. 
On Tuesday, Scott gathered with supporters at the corner of Roosevelt Way Northeast and Northeast 66th Street to discuss police accountability to combat unconstitutional and racist police practices, aiming to ultimately create an environment of inclusivity in Seattle. 
Standing in front of the Seattle history mural with his supporters behind him, Scott spoke openly about the history of the racial disparities that were locked into the city at its conception.
"Back in February of 1865, one of the first acts of the newly incorporated city council was the expulsion of native people from Seattle city limits," Scott said.
This ordinance made it illegal for all native people to be parked on any roadway or alley within the newly incorporated City of Seattle.
Scott also illuminated the racial inequalities that continue today — highlighting the fact that people of color are overrepresented in our homeless population, are more likely to be stopped by the police, and over-criminalized. Scott emphasized that this election cycle can provide an opportunity to break away from both the recent and past history of institutional racism in Seattle.
Policing, in particular, was the main source of institutional racism that Scott focused on. Right now, Seattle is out of compliance with the Seattle Consent Decree. 
The consent decree was established after the police murder of John T. Williams, a Native American woodcarver, and calls for "the restoration of constitutional policing through substantial and far-reaching reform." Seven years after the establishment of the consent decree, Charleena Lyles was also killed by the Seattle police in District 4. 
"This is what the new face of white supremacy and the new face of police brutality in the city of Seattle look like," Scott said. 
According to Scott, it is for these reasons that we need "candidates who will take a strong stance against this recent history of Seattle and create a police force with a protective-serve mentality rather than a warrior mentality."
Scott continued to discuss the police accountability in light of the deadline of July 15 given by Judge James Robart for Seattle to outline a plan for getting the police department into compliance with the federal consent decree. 
Scott further emphasized that as we push for more affordable, public, and social housing in Seattle, that those in the low-income, black, and brown communities who have been displaced for decades can return to Seattle without being met by an "unaccountable, out-of-control police force."
Scott then introduced Savannah Sly, a representative of the Sex Worker's Outreach Project Seattle (SWOP). Sly discussed the importance of the rights and the safety of people in the sex trade and the need to decriminalize sex work. As a sex worker herself, Sly spoke as a representative of SWOP and on a more personal level as someone who has been directly affected by these issues. 
"The anti-prostitution laws that were meant to protect me and my co-workers from exploitation actually served to empower my greedy, abusive manager," Sly said. "Criminalization and stigma empowered my pimp and severely decreased my access to justice and safety." 
Sly denounced the laws that criminalize all aspects of the sex trade, saying that these laws not only govern what an individual can or cannot do with their body but disproportionately impact people of color, trans women, and immigrants. 
"Decriminalization means many things for people in the sex trade," Sly said. Safe access to 911 services, access to legal recourse, and heinous crimes such as assault, rape, child abuse, and sex trafficking remaining punishable by law were all included. 
Sly closed her discussion by thanking Scott for approaching the issue with "careful and thoughtful consideration." 
"I'm using my platform as a candidate, and hopefully as a city council member, to shine a light on what it is we can do to make Seattle a racially inclusive and class inclusive city," Scott said in his closing remarks.
Reach reporter Andrew Ronstadt at News@dailyuw.com. Twitter: @AndrewRonstadt
Like what you're reading? Support high-quality journalism by donating here.