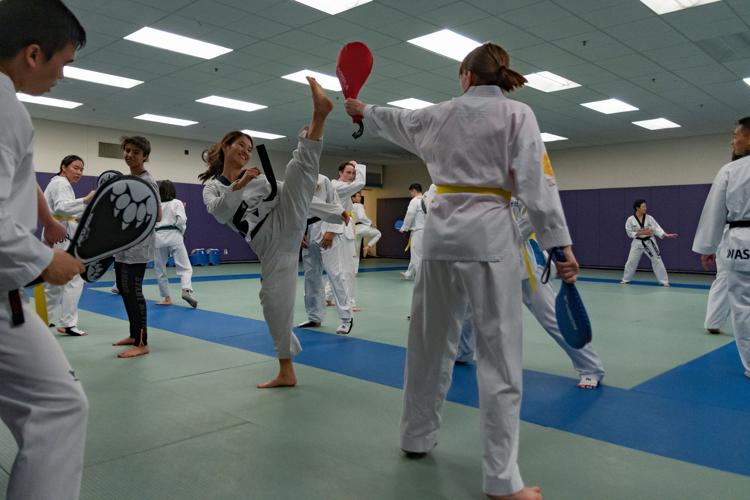 A rush of bare feet against a padded floor. A thunderous yell followed by the snap of a kick striking a training paddle. The smell of fresh sweat.
This is what a typical class is like at the Husky Taekwondo Club, which has in recent years boosted membership and sent students across the country to compete in national tournaments.
The program teaches the World Taekwondo style of taekwondo, the most prevalent version and the one used in Olympic events.
Leon Preston, previously a graduate student at UW, took over the university's taekwondo program in the mid-70s. During his decades of teaching, the club has produced a number of national and international champions.
Preston, a 58-year-old eighth-degree black belt and a recently retired faculty member at the UW School of Social Work, discovered taekwondo as a teenager. Mostly preoccupied with sports such as basketball, football and track, Preston practiced taekwondo during his summers, mostly for the novelty of it.
"They called it 'Korean karate' in those days," Preston said.
When he enrolled in the UW and discovered the university's taekwondo club, he chose to commit himself to the martial art and has practiced it for the past 40 years.
Since then, he has been active in teaching, conducting seminars, and preparing athletes to compete in championships and Olympic events.
Four years ago, Preston, who has taught his own classes since he took over the club, transitioned to student-based instruction while retaining control of the curriculum. This proved problematic, given that students lost interest or graduated, requiring a frequent rotation of new teachers.
The club did not receive a permanent instructor until over a year ago, when Viet Tran, a Stanford graduate and fourth-degree black belt, came to practice as a guest. After acting as a teacher assistant for several classes he became the full-time coach of the team.
"When I first got here it was about 20 people," Tran said. "Now, we have 50 members in the club and we have another 15 — almost 20 — in the beginners' class."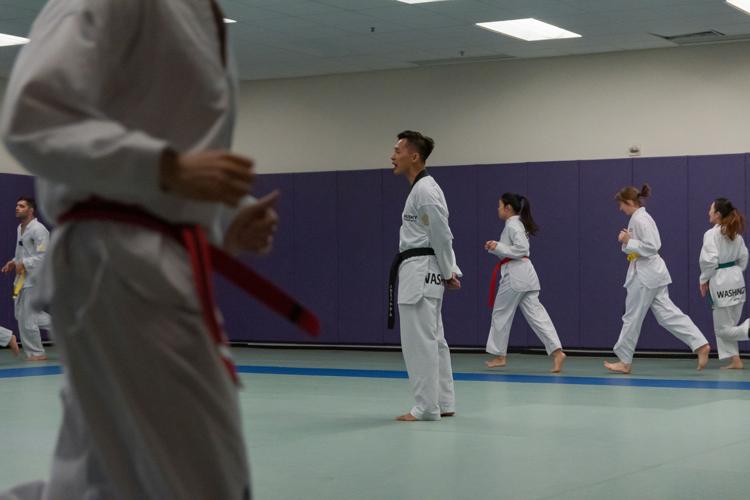 Tran began practicing taekwondo at age six, shortly after he and his family moved from Vietnam to Corpus Christi, Texas as refugees.
Tran, now 32, recalled the discrimination he and his brother received from their school peers.
"My brother used to get spat on, on the playground," Tran said. "People would call us chinks all the time."
The harassment turned violent one day when he and his brother were attacked by a group of children. His father insisted that his sons learn to defend themselves and enrolled them in the taekwondo school next to the Chinese restaurant where he worked.
Tran began competing nationally in middle school through the Amateur Athletic Union championships, winning multiple medals. In 2001, he was selected for the Junior National Team, where he competed in Argentina and won gold.
While at Stanford, Tran competed with the university's club, which sent him to tournaments in England and Japan.
Under Tran's mentorship, the UW sent 23 competitors to a championship at the University of Texas at Austin last April, hosted by the National Collegiate Taekwondo Association (NCTA).
Tran's team won sixth overall out of almost 30 colleges.
"We actually came out to be the West Coast's second strongest program, so I'm really proud of that," Tran said.
UW student Botao Shan, a green belt and the club's vice-president, won first place in a sparring match with a blue belt — one rank above him. He also won second place against another blue belt in poomsae, a series of choreographed movements.
"Going into the competition I was very confident," Shan said.
He credits that courage to the intense preparation that he and other students endured before the competition, training every day of the week for a month.
The NCTA was so impressed with the UW team, Tran said, that the organization asked the club to host the next tournament in 2020.
"I think it would be a huge honor," he said. "It would be just amazing for the overall Northwest taekwondo community to see it and be a part of."
The UW does not offer nearly as much funding for their taekwondo program as Stanford, Tran said. The club compensates with private donations, which have proven essential for its operation.
"Competition fees, equipment, all that stuff adds up really fast," he said.
Preston is pleased with the direction the club has taken since Tran began teaching. Over the years he has seen the experience of UW students enriched when they join the club and learn a martial art that, he says, goes beyond competitions and self-defense.
"Taekwondo isn't just a kicking and punching skill," Preston said. "It's a vehicle for developing life skills."
Reach reporter Alexander Tufel at news@dailyuw.com. Twitter: @alexUWDAILY
Like what you're reading? Support high-quality student journalism by donating here.