Angelina Godoy, director of the Center for Human Rights (CHR) at the UW, triumphantly walked through the Smith Hall mezzanine for a meeting with her undergraduate researchers Tuesday afternoon.
Minutes earlier, she had received a call from the office of King County Executive Dow Constantine alerting her that later that day, the County would issue an executive order to "stop the flights."
The flights, she explained, were part of deportation procedures for U.S. Immigration and Customs Enforcement Air (ICE Air) from King County International Airport, also known as Boeing Field, located approximately five miles south of downtown Seattle.
When Godoy told Sasha Jenkins, the editor on the first ICE Air report published by the UW in winter quarter, Jenkins' eyes lit up and she nearly lept out of her seat with excitement.
Their findings had made a difference. Jenkins and her undergraduate cohort in the Jackson School of International Studies senior project, also known as Task Force, had spent months combing through the information the CHR had obtained, including one dataset that included 1.73 million records of ICE Air flights. They used these findings as a basis to construct an 82-page report and policy recommendations.
What Task Force Team D and the CHR found painted a harrowing image of the inner workings of ICE Air, which has largely been shrouded in bureaucracy, a lack of regulation, and virtually no oversight or accountability for harm to deportees, the UWCHR reported.
The findings were presented at a CHR event in Thomson Hall Wednesday evening.
–––––
In an interview earlier Tuesday morning, when asked: "Is Boeing Field deporting Cambodian genocide survivors?" –– without missing a beat –– Godoy nodded her head yes.
Refugees who fled to the United States in the 1970s to escape the genocide in Cambodia were among the 34,400 people on 466 deportation flights transported through Boeing Field in the last nine years, Godoy said.
The report additionally states that at least 2,615 passengers have been deported from King County without the opportunity to see a judge first.
Since deportees have few options to report mistreatment during specific flights or general deportation proceedings, information from inside of these flights is rare.
In one 2017 failed flight from El Paso, Texas to Somalia that contained immigrants deported from King County, passengers were "allegedly beaten, kicked, threatened, denied access to the bathroom, and placed in full-body restraints," according to the CHR report. The flight was unable to land for unreported reasons, forcing it to return, which allowed the deportees to make sworn testimonies to attorneys about what occurred onboard that flight.
"That exemplified the extent of the violence that could happen through this process," Jenkins said, as well as "how secretive of a process it is."
In one example on the Boeing Field tarmac, a Salvadoran man described "being subjected to rough physical treatment and degrading insults by the guards supervising the boarding process. The guards referred to deportees as "scum" and accused them of "stealing jobs," as written in the report.
In another flight departing from Mesa, Arizona that The Guardian reported on in 2016, 85 Bangladeshis, Nepalis, and Indians were put in what the deportees called "body bags" –– referred to as "The Wrap" by ICE.  Other detainees reported being punched, kicked, and tased.
The Task Force report included additional screenshots of ICE's policy regarding restraints on minors on ICE Air flights, which was heavily redacted before being shared with the CHR.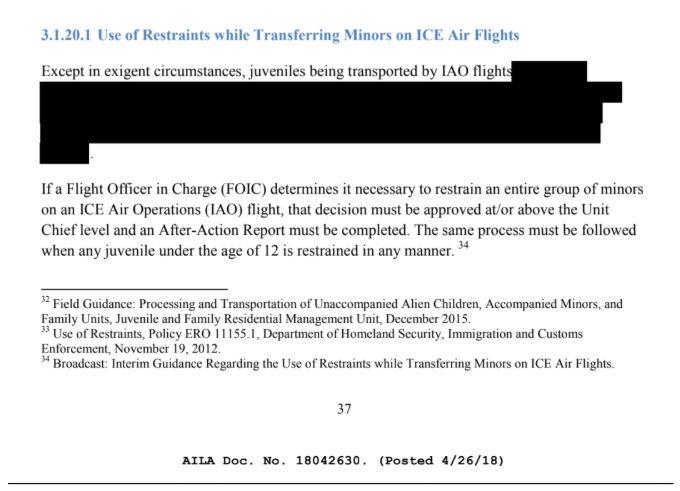 "It's a very telling use of redaction to conceal," Godoy said.
"But even absent acts of egregious physical violence, deportations from King County raise the same human rights concerns as flights elsewhere in the country: they separate families, amplify the impacts of racial disproportionalities in policing, and may remand people to unsafe places," the report said.
In the event Wednesday, Godoy similarly implored people to not allow the episodes of extreme violence to obscure the inherent violence that deportation entails, that "deportation is itself a form of violence."
While Constantine stated the goal of the County Executive's office was to ban deportation flights of immigrants from the publicly owned airport Boeing Field in Tuesday's executive order, Godoy reminded the audience that these flights will still continue.
"There was one yesterday. There will probably be one next week."
–––––
What happened aboard these flights is largely kept secret through a series of protections offered by the different layers of contracts and subcontracts.
"The bulk of ICE Air contracts are handled through a single 'mega-contract,' if you will," Godoy said. "So there's a single broker that's in charge of coordinating all of these national and international flights."
Classic Air Charter (CAC) currently has that contract, which is valued at $646 million, according to the report, which states that the County does profit indirectly "from operating the deportation machine."
Under this massive contract, CAC subcontracts a bulk of the flights to other private companies to facilitate the actual flights, according to Godoy. Through these different layers of contracts, each member of the chain has been protected from liability in some way.
According to the reports, a large majority of flights that go through Boeing Field are domestic transfers, indicating that passengers are bounced around the country before they are deported to their final destinations. And while ICE removes more passengers from King County than it brings in, many are brought to Tacoma "presumably to fill beds at the GEO Group's Northwest Detention Center in Tacoma, which per the terms of its contract, is guaranteed a quota of 800 prisoners per day."
"ICE is operating like a secret police," Godoy said. "They claim they do not have to report what they are doing. They routinely engage in false reporting, or misleading reporting."
Godoy and the CHR issued a report in 2018 on ICE's general false and misleading reporting, which helped prepare the Center for an uphill battle against secrecy shrouding ICE with respect to the flights.
"Any attempt at oversite needs to tackle that big problem in ICE which is the lack of respect for transparency that's necessary in a democratic society," Godoy said.
–––––
"It's really rewarding," Colin Newton, an undergraduate researcher from the Task Force team, said of King County's response to the findings.
But while Newton, Jenkins, and their team already received their grades for the 82-page report, they have decided that their work is far from over.
Godoy and Jenkins share the view that the executive order is a step in the right direction, away from the mere rhetoric that supports the rights of immigrants and toward real enacted policy that makes King County a refuge for immigrants. But both believe Seattle needs to put more action into backing this rhetoric.
At the event Wednesday, Godoy said Constantine's executive order "embraces a beautiful vision … but it's very short on specifics."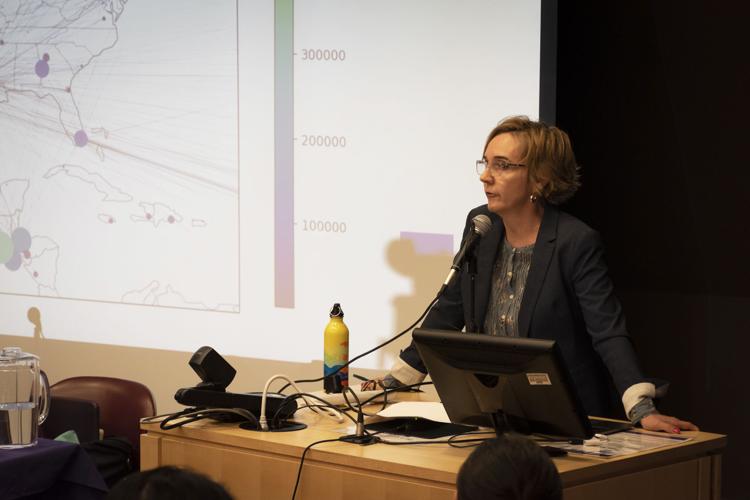 "The Executive Order is the first of its kind in the nation," Godoy continued. "It's on us now to not let up until we stop the flights and show the rest of the country how it's done."
Zina Carroll, another member of Task Force Team D, agreed: "It doesn't directly stop deportation flights," she said, adding that she expects much pushback from the Federal Aviation Administration and ICE.
Maru Mora-Villalpando, an immigration rights activist and leader of La Resistencia, also spoke at the event. She said deportees currently detained at the King County Detention Center told her they were constantly finding maggots and hair in their food.
"ICE sells this place as the top facility in the nation," Mora-Villalpando said, and asked the audience to imagine what's happening at other immigrant detention facilities across the nation. She said this is why it's so important to hold those in power like Constantine to his word.
Each Task Force team presents the findings of their report and the corresponding policy recommendations to an evaluator. Task Force D's evaluators were Mora-Villalpando and Nikkita Oliver, a Seattle community organizer, attorney, and former mayoral candidate.
Oliver asked the students how they could remain accountable to their work, "How can you as people in this academic institution ... make sure that this academic report you've done can actually make a difference?"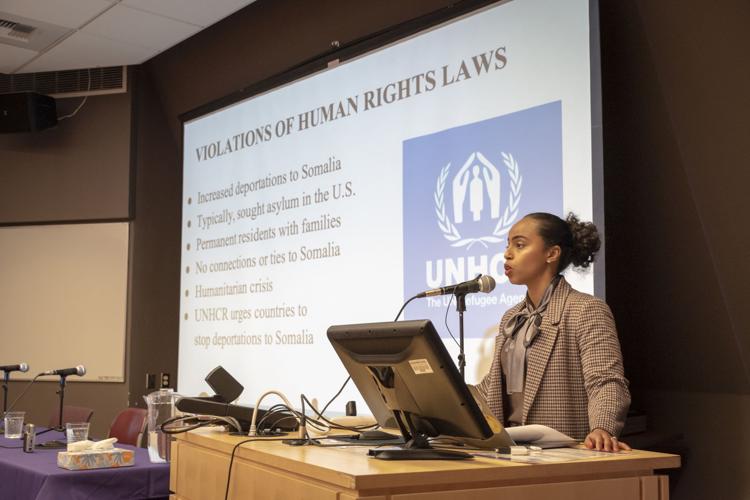 Mora-Villalpando and Oliver advised them to build a toolkit –– a five page mini-report that they could disseminate more broadly to activist groups –– so that researchers and activists across the country can examine their own community's deportation tactics.
Most importantly, however, is making the knowledge and resources available to those who need it most.
"We hope to provide a more accessible way for people who have been impacted by deportations to comprehend the research and use it for their own understanding," Grace Stephenson, of Task Force Team D, said.
Cover photo: Detainees are loaded onto a Swift Air charter flight at King County International Airport (Boeing Field) in Seattle, WA for a February 26 ICE Air flight under callsign RPN 529. Still image from video by Alex Montalvo and Wadii Boughdir for UWCHR.
Reach health & wellness editor Manisha Jha at wellness@dailyuw.com. Twitter: @manishajha_
Like what you're reading? Support high-quality student journalism by donating here.