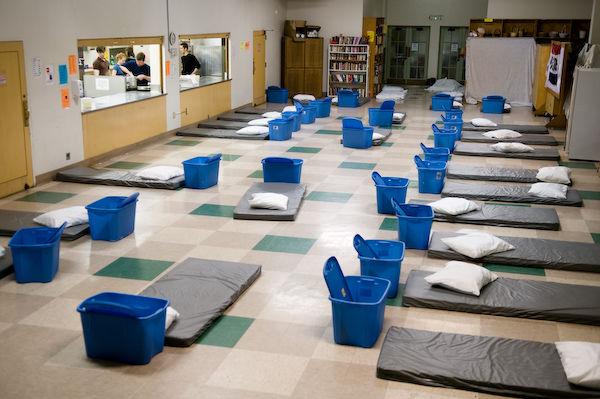 The Student Safety Advisory Board (SSAB) met with representatives from ROOTS Young Adult Shelter on Friday, Nov. 8, to discuss the shelter's plan to move into an old frat house, Alpha Epsilon Pi, on 19th and 45th, between the months of April and June next year. 
The meeting, held at the UW Police Department (UWPD), gave ROOTS the opportunity to outline logistics and answer any questions from the public.
ROOTS, a shelter for homeless individuals between the ages of 18-25, is Washington state's largest emergency shelter for young adults experiencing homelessness.
University Temple United Methodist Church on 43rd and 15th has housed ROOTS for 20 years, but the building is set to be demolished at the beginning of 2021. ROOTS has been in search of a new location for a year and a half with fears looming that they may have to shut their doors. The new location was bought and secured this last September and can accommodate around 45 people.
Kelty Pierce, ASUW President and Brianna Asman, director of campus partnerships were both in attendance, leading the conversation with their questions regarding renovations, services offered, and next steps.
ROOTS will be stationed just off Greek Row once renovations are finished. The date is dependent upon the scheduling of renovations and the cost to renovate the old fraternity house.
ROOTS volunteer services manager Jordan Beaudry described the struggles of running the shelter with limited resources.
"Being an emergency shelter is tough, a lot of times we're treating the symptoms of trauma and oppression that come up in guest lives throughout the day, so we're in damage control mode a lot," Beaudry said.
To help them with being able to provide these resources, ROOTS has been trying to partner with other community organizations and potentially have them operating out of the new location. Although ROOTS is in the early stages of finding these partnerships, they hope to provide greater medical and mental health services.
Beaudry explained that ROOTS now has the opportunity to expand daytime and drop in programs. 
Although the Greek community has given a mixed reaction to ROOTS' relocation, Beaudry expressed optimism about the move.
"The meetings we have been going to have been going really well," Beaudry said. "The sorority moms clapped for us when we left… so we're optimistic to be building those bridges."
UWPD could not comment due to the gag order still in place across the department.
Reach contributing writer Stevie Riepe at development@dailyuw.com. Twitter: @StevieRiepe
Like what you're reading? Support high-quality student journalism by donating here.