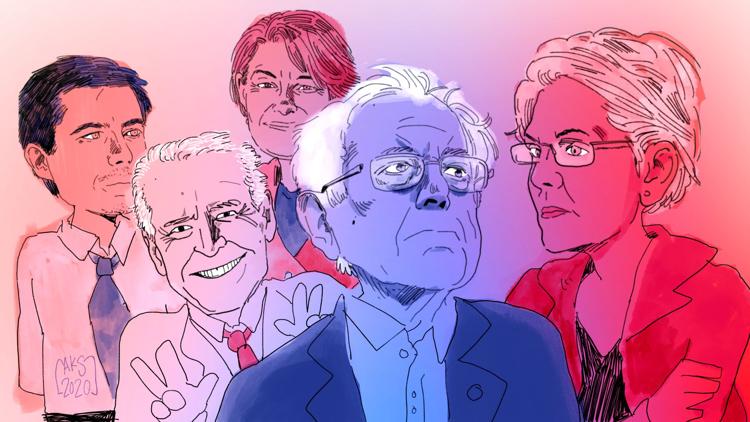 In Iowa on Feb. 3, voting in the Democratic presidential nominating contest officially began. 
With just over a month until the Washington state Democratic primary election taking place March 10, and ballots going out in a couple weeks, here are the breakdowns of the leading candidates' higher education plans. 
Sen. Bernie Sanders
Vermont Sen. Bernie Sanders' "College for All" plan would make public higher education tuition free and cancel all student loan debt. 
Sanders' plan would provide tuition and debt-free education at a variety of higher education institutions. This includes public trade schools, community colleges, and public universities. 
This plan would also make higher education more accessible to people of color and low-income students. It would make all historically black colleges and universities (HBCU) and minority serving institutions tuition and debt-free. Additionally, it would expand the Pell Grant and allow it to cover non-tuition costs, including housing. 
American's collective $1.6 trillion in student loan debt would be canceled under this plan. Any future student loans will have their interest rates capped at 1.88%, down from the current 5% average. 
Sanders, currently the front-runner in the Democratic primary, would pay for this $2.2 trillion plan by placing a tax on Wall Street stock trades. 
Mayor Pete Buttigieg
Mayor Pete Buttigieg's "American Opportunity Agenda" would provide a tuition-free college education for "all who need it." Under his plan, every student whose annual family income falls below $100,000 would be able to attend a public university tuition-free. For those whose family income falls below $150,000, the government would provide "substantial" tuition subsidies. This portion of Buttigieg's plan would cost $500 million. 
His plan would also provide $50 billion, over 10 years, to HBCUs and minority serving institutions. It would also create a $1 billion community college fund to help provide academic coaching, child care, and transportation at these institutions. 
Buttigeig's proposal also increases Pell Grant funding by $120 billion, and would increase the maximum annual reward by $1,000. This would be an increase from about $6,000 to $7,000 annually. 
Lastly, Buttigieg's plan would be automatically enrolled into income-based loan repayment plans if they are having difficulty making their student loan payments. After 20 years of paying into these plans, the loans would be canceled tax-free. 
Sen. Elizabeth Warren
Like Sanders, Sen. Elizabeth Warren is in favor of free public higher education for everyone. Her "Affordable Higher Education for All" plan is two-pronged. 
Firstly, it would make two-year and four-year public colleges completely tuition-free for any American (although it is unclear if this includes undocumented residents). Her plan also emphasizes making higher education "truly universal." This would include creating a fund for HBCUs, banning federal funding for for-profit institutions, and providing additional federal funding for institutions that show significantly improved graduation rates for students of color and low-income students.
The second prong of Warren's plan is student loan debt cancellation. Her plan would cancel some amount of debt for 95% of Americans with student loans. According to the plan, more than 75% of all Americans with student loans would see their debt completely erased.
The total cost of Warren's plan would be $1.25 trillion over 10 years. She plans to pay for it with a wealth tax on "ultra-millionaires," those with fortunes amounting to more than $50 million. 
Former Vice President Joe Biden
Former Vice President Joe Biden's "Plan for Education Beyond High School" aims to take several steps in partnership with states to make higher education more affordable. 
The first part of Biden's plan would invest heavily in community colleges. In addition to providing a tuition-free community college education, Biden's proposal would also provide significant funds to the colleges to enhance student's success. This includes a $50 billion investment in workforce training at community colleges and $8 billion to update colleges' health, safety, and technology. 
Biden's plan would also make attending four-year universities less expensive. Like the other moderate candidates, his plan would increase the maximum Pell Grant reward, making double the current annual award available for low-income students. 
Lastly, a Biden administration would invest $70 billion to historically Black colleges and universities and minority serving institutions. This money will go to fully-funding these historically underfunded institutions, investing in new facilities and infrastructure, and more.
This plan would cost $7.5 billion over 10 years and would be paid for by closing the "stepped-up basis loophole," a tax credit given to wealthy families who do not make enough to be subject to the estate tax, and limiting itemized deductions to 28% for wealthy Americans. 
Sen. Amy Klobuchar
Sen. Amy Klobuchar's higher education plan is focused on making four year universities less expensive while also increasing opportunities for community college degrees and technical certificates.
Her "Many Paths to Success" post-secondary education plan would not make four-year public universities tuition-free. It would, however, make affording university tuition easier. Her plan would raise the eligible family income for Pell Grants to $100,000 per year. The current family income for most Pell Grant recipients is below $30,000. Klobuchar's plan would also double the maximum available Pell Grant award to $12,000 annually.
The "Many Paths to Success" plan would make one- and two-year community college degrees and technical certificates tuition free. Her proposal would invest three federal dollars for every $1 a state invests toward tuition for these programs. Additionally, the plan has a stated goal of doubling the number of apprenticeships nationwide. 
Lastly, Klobuchar's plan would expand the Public Service Loan Forgiveness program and allow students to refinance their student loans. 
Klobuchar will pay for her plan by increasing the capital gains tax for the top two income brackets, instituting a 30% effective tax rate for personal incomes over $1 million, and limiting the capital gain deferral allowable through like-kind exchanges. 
Reach reporter Thomas Newman at news@dailyuw.com. Twitter: @thomasn456
Like what you're reading? Support high-quality student journalism by donating here.