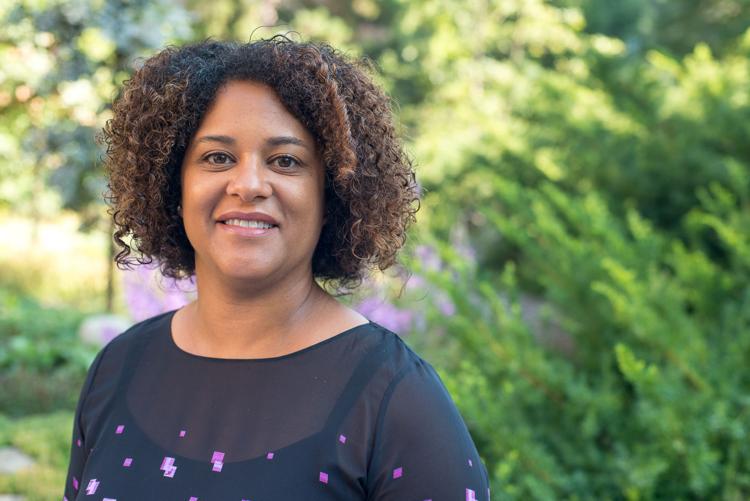 The fictional character "Silent Bob" has graced screens for almost three decades, fulfilling precisely the role his name suggests, staying silent through most of the movies he appears in. The character's bit, though, is that when Bob does speak, it's surprisingly thoughtful and logical.
This is how Giuliana Conti, president of the Graduate and Professional Student Senate (GPSS), described the Graduate School's new dean, Joy Williamson-Lott.
"She just listens, and then she talks, and when she talks," Conti paused to think of the right way to explain the new dean's methods. "I don't know if you're familiar with 'Jay and Silent Bob' … it's a generational thing maybe. It's a movie where Bob is silent the entire movie but when he talks it's like super epically profound."
Conti turned back to Williamson-Lott's leadership style:
"So she processes everyone's feelings and she acknowledges how people feel," Conti said. "But then she'll take the meat of it and turn that into the next steps moving forward, which will help the Graduate School progress."
In an interview with The Daily, Conti lavished praise on Williamson-Lott and her early approach to the position, expressing optimism for her ability to correct the problems Conti has seen up close as a Ph.D. student and GPSS president.
In particular, the way she is "student-centered" makes Conti hopeful that as dean, Williamson-Lott will be a partner in improving the campus culture for graduate students. According to Conti, graduate students are not always treated as professionals and aren't targeted by the university with the welcoming messaging that undergraduates are.
"We stand in the shadow of undergrads," Conti said. "I think it is unfortunate because we teach, we conduct research, and I think a large part of our invisibility is the different identities we occupy."
Conti explained that, as students predominantly in their late 20s to early 40s, the range of experiences and identities is wide among graduate students. For example, many student-parents are challenged in being integrated on campus, outside of their academics.
In an earlier interview, Williamson-Lott acknowledged that many graduate and professional students may feel as though the UW campus is not tailored toward them.
"When people say 'the Husky Experience,' I don't want that to just mean undergraduates," Williamson-Lott said. "Undergraduates are a vital part of the institution, of course, but this institution could not run … without our graduate students."
Conti also pointed to queer or racial minority students who are further marginalized due to attrition rates to the graduate level. Recruitment and retainment of diverse student populations is an issue facing graduate and professional programs at the UW, according to Conti. She feels Williamson-Lott's background and research could lead to improvements in this regard.
This was another area Conti felt the Graduate School could step in. Given its role coordinating applications across the university, Conti hopes the Graduate School will mandate that all departments review applications holistically. 
Prior to her appointment, announced in early July, Williamson-Lott has been an associate dean and professor in the College of Education. Her research focuses on race, particularly the experience of African-Americans, and the relationship between social movements and institutions of higher education.
"I'm a historian of education by training, and so historians are all about context," Williamson-Lott said. "So I like to know more than less about situations, particularly prior to decision making."
Gerald Baldasty, previous university provost and dean of the Graduate School from 2008 to 2012, also praised her appointment. Having worked with her in the past, Baldasty credited the new dean with "collaborative leadership" that will lend itself to her success.
The dean of the Graduate School's typical campus partners includes the provost, vice-provosts, president, and many of the other deans. But Williamson-Lott also spoke of the importance of having student voices at the table. She doesn't think a dean can do their job without them — a change already being noticed and appreciated by Conti.
From Conti to Baldasty to Williamson-Lott — all recognized cost as the greatest issue posed to graduate and professional students.
Williamson-Lott called funding a major issue, one she'll certainly have to tackle as dean given securing grants is another responsibility of the Graduate School. She pointed to a new initiative launched earlier this year by Provost Mark Richards to recruit support for doctoral students.
However, Williamson-Lott added, "I also think master's students would benefit from financial support. So what I think the Graduate School will be doing is to increase our endowment," which she said is used mostly for student support.
Regarding costs, Conti offered regulating tuition costs as one area where the Graduate School could step up to help its students. She explained some departments' tuition is unreasonably high in comparison with the wage or salary its graduates can expect.
Beyond costs, Williamson-Lott mentioned improving access to mental health services and "professional development" services for students.
When The Daily spoke to Dean Williamson-Lott in August, she declined to offer specific proposals or agenda items for her tenure as dean. Conti said this mindset of wanting to familiarize herself with the school before imposing her will on it was something she appreciated about Williamson-Lott as a candidate for the position.
The Graduate School is currently in its "strategic planning session," according to Conti, and will have a more firm agenda for the year following their retreat scheduled for Oct. 1.
Reach Development Editor Devon McBride at news@dailyuw.com. Twitter: @DevonM98
Like what you're reading? Support high-quality student journalism by donating here.