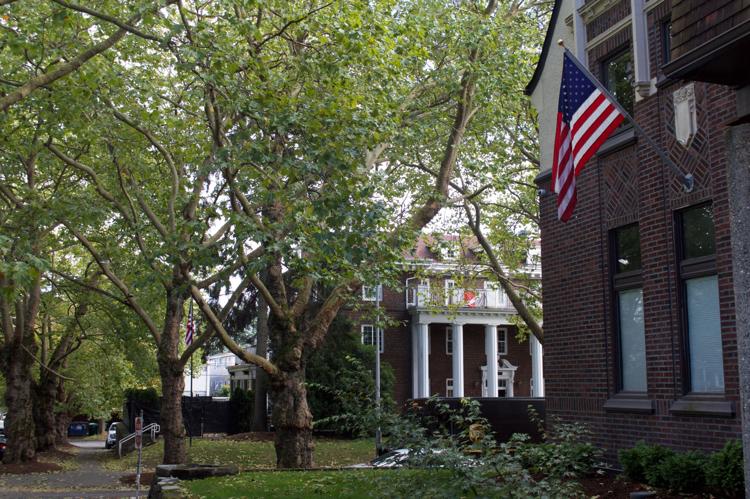 Coronavirus cases on the UW's Greek Row have jumped again to 348 after weeks of stagnation, as of Wednesday morning, according to the university.
These cases have affected almost half of all fraternity and sorority chapters just north of the UW's campus, with 21 of the 45 chapters reporting coronavirus infections. Of those, 14 are sororities and seven are fraternities. 
The jump of 17 new cases Tuesday included 14 cases county health officials reported to the university that had not been previously identified as being connected to the ongoing outbreak.
The first cases in the outbreak were reported Sept. 11 as Greek Community members moved back to campus. There was then a spike in late September and early October, with hundreds of cases as classes started Sept. 30.
This is the second batch of cases to hit Greek Row as an outbreak earlier this summer resulted in 154 cases. The total number of students in fraternities and sororities to be infected between the two outbreaks is 500.
Over 12,000 UW community members have been tested as part of the university's Husky Coronavirus Testing Program, with 1.3% testing positive, according to the university's environmental health and safety (EHS) department. In the last seven days, just 0.4% of those tested have come back positive.
In a message to Interfraternity Council (IFC) and Panhellenic members in early October, vice president for student life Denzil Suite and Public Health – Seattle & King County director Patty Hayes explained how the university would be taking disciplinary action against students or houses for failing to comply with public health guidelines. 
The message notes that students are limited to gatherings of no more than five people outside of their household unit; in the case of fraternities and sororities, a household unit refers to the group in a shared sleeping space, not the entire house.
Students who are reported to be repeatedly in violation of university guidelines by gathering in large groups or disregarding COVID-19 prevention guidelines may be subject to a disciplinary investigation through the UW Student Code of Conduct.
"Outcomes of the process may result in disciplinary sanctions which range from reprimand to suspension or dismissal from the University," the message reads.
One IFC fraternity was placed on IFC Probation, and another was placed on suspension, in mid-October due to violation of COVID-19 guidelines, according to IFC president Erik Johnson.
In total, the university has had 754 coronavirus cases dating back to early March, with almost all of them on the Seattle campus, according to UW EHS. Of the Seattle cases, 653 have been students, 64 have been staff members, and nine have been faculty members.
Reach News Editors Ash Shah and Jake Goldstein-Street at news@dailyuw.com. Twitter: @itsashshah @GoldsteinStreet 
Like what you're reading? Support high-quality student journalism by donating here.