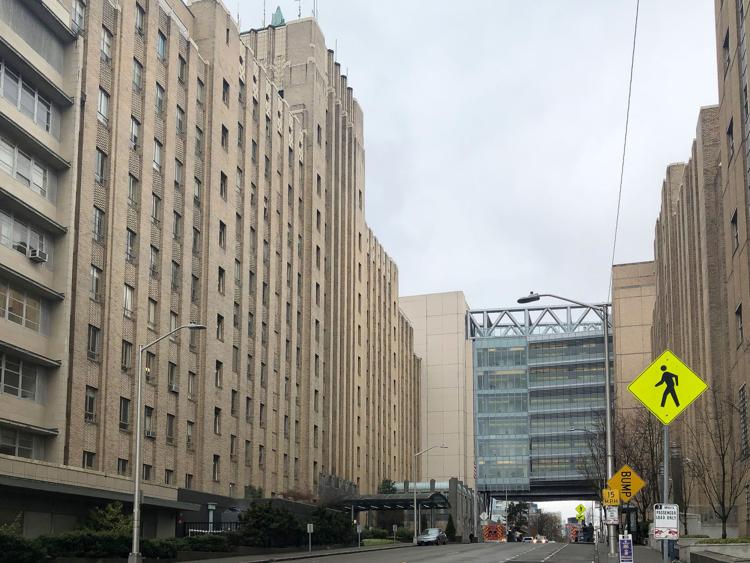 King County voters will be asked on the Nov. 3 ballot to approve Proposition 1, a $1.74 billion bond measure for improvements over the next 20 years to Harborview Medical Center. 
The measure includes $952 million for a new tower, $79 million for a new outpatient behavioral health building, and more than $700 million for seismic upgrades and other building renovations. 
The measure requires a 60% approval rate to pass. If approved, it would cost the owner of a $600,000 home about $61 per year.
The county owns the hospital, but it is managed by UW Medicine and receives no government subsidies. The last bond Harborview received was approved almost 20 years ago, for $194 million.
No statement in opposition to this year's bond measure was submitted to the King County voters' pamphlet, and there is no formal opposition campaign. 
Harborview, located in First Hill, is the only Level 1 trauma center for Washington, Montana, Idaho, and Alaska, and is King County's only public hospital. 
"As the Level 1 trauma center, Harborview really does serve everybody," Dr. John Lynch, the medical director of infection prevention and control at Harborview Medical Center, said. "Our treatments are second to none. But right now, our facilities don't match the excellence of our treatment."
The hospital has 413 beds, but only 40 are in single-bed rooms. Half of those are reserved for psychiatric patients.
Harborview operates at almost 100% capacity and the hospital lacks surge capacity for large-scale medical emergencies, according to Lynch.
"Our hallways are full of patients," Lynch said. "We've grown way beyond our capacity."
Prior to the COVID-19 pandemic, up to 50 beds were unusable on a given day to meet patient isolation and infection control standards. COVID-19 has exacerbated these issues and emphasized the need for Harborview to modernize its infrastructure, proponents of the bond measure say.
Most rooms contain at least two beds, which are usually separated by curtains. Many of those beds are currently unusable, as patients must be separated for infection control. Some hallways have to be used as overflow space for patients. Single rooms through the bond would provide better infection control and more privacy for patients.
"COVID-19 has brought to light that we as a county were not prepared for a pandemic," Harborview trustee Clayton Lewis said. "Our number one hospital can't continue to operate with these arcane rooms. It's an extraordinary burden on staff to address all the necessary infection control protocols in such a constrained space."
Many of Harborview's other facilities are in need of improvement. 
Harborview's Center Tower and Harborview Hall were built in the 1930s and are not earthquake-proof. The Center Tower is connected to all the other buildings on the main campus. In the event of a large earthquake, the entire medical center could be destabilized. 
"We are disaster control for the entire region," Lewis said. "It's on us to make sure people are sent to the areas where they can receive the most appropriate care. A large earthquake would be devastating."
The bond would provide funds for seismic upgrades to both buildings and add 150 respite beds in Harborview Hall.
Currently, many patients cannot be discharged because they don't have a place to live, even though they don't necessarily need a hospital. Putting people experiencing homelessness on the street simply increases risk of being unsheltered again. A respite location would help unclog the system.   
"We've outgrown our space, and our patients spill over into the main emergency department," Dr. Mark Snowden, chief of psychiatric affairs at Harborview, said. "It's not a good place for psychiatric patients, and it's not what the main emergency department was designed for."
The new behavioral health building would allow for expansion of the outpatient program. Right now, many patients end up in the emergency department because it's the only location open 24/7. The crisis unit would give vulnerable populations an alternate space without having to go to the emergency department.
"This vote is a great opportunity for the voting public of King County to say, 'We're standing by Harborview for this generation,'" Lynch said. "Everyone knows someone who's received treatment at Harborview."
Reach reporter Annie Denton at news@dailyuw.com. Twitter: @anniesdenton
Like what you're reading? Support high-quality student journalism by donating here.