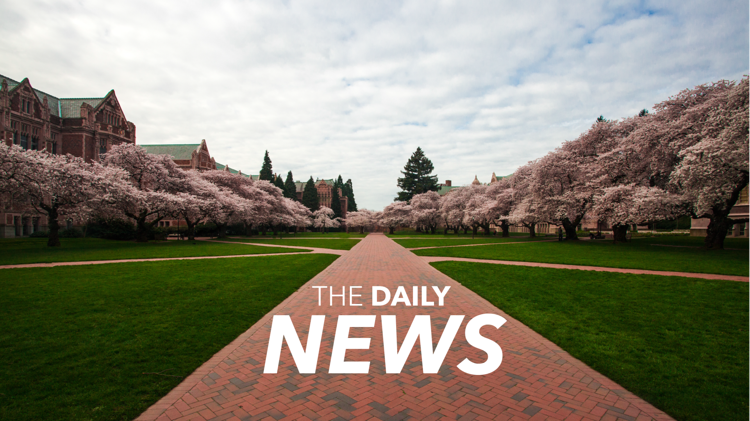 There will be no in-person class meetings for all of spring quarter as the novel coronavirus continues to grow both in Washington and across the country, the UW announced Wednesday.
"Spring quarter will begin as scheduled on March 30, with remote instruction that will continue through the end of the quarter," President Ana Mari Cauce wrote. "As country-wide social distancing requirements continue to increase and evolve daily, we believe this is the best course of action for reducing uncertainty and anxiety and establishing a reliable, high-quality method of instruction and academic progress for UW students through the spring."
The quarter will end as scheduled June 12 and there will be no change to financial aid for spring quarter.
The UW has created a page with answers to a variety of questions students may have about next quarter.
This decision comes after an order already by Gov. Jay Inslee to push the possibility of in-person classes to at least Apr. 24, a few weeks into the spring quarter which begins March 30.
Now the UW is joining schools across the nation making similar moves toward months of remote instruction.
Officials see the cancelation of in-person lectures and class meetings in both K-12 schools and universities as a valuable form of social distancing meant to blunt the spread of the virus that has nearly 1,200 confirmed cases in the state, as of Wednesday, according to the state Department of Health.
There were 15 confirmed cases of COVID-19, the disease caused by the coronavirus, in the UW community, as of Wednesday. The university believes the risk of transmission from these cases is low.
A faculty member, Dr. Stephen Schwartz of the department of pathology, died Wednesday from the virus.
The message also states there will be no written assignments due in the first week of class to ease the transition.
"Your instructors will also connect you with resources to support this transition, including online advising to support your questions about academic progress," Cauce wrote. "As important, we will be developing online resources focusing on wellness and on how to maintain community and prevent isolation as we work together virtually to cope with the challenges of this ongoing public health crisis."
Professors and departments have been preparing for this possibility since Cauce's announcement that the last week of instruction of winter quarter and finals would be conducted remotely, becoming one of the first schools in the country to make such a move.
Cauce notes some classes won't translate as well to online learning and says the university will be flexible with schedule shifts and hopes to increase course offerings during summer and fall quarters to make sure graduation requirements are met.
Judith Clark, the director of academic advising for the School of Art + Art History + Design, said they've been thinking about how to best move their classes online for spring quarter since the end of in-person instruction earlier this month.
"We are all working to develop on-line classes that will offer UW students the same academic challenges and superior learning that we offer every quarter in our classrooms and studios," Clark said in an email. 
Residence halls operated by Housing & Food Services (HFS) will remain open to students who wish to stay on campus, with limited dining services. The UW has said in recent weeks that evacuating dorms would leave international students especially vulnerable without alternative housing in the United States.
"All students who remain in campus housing will be required to stay in residence halls or apartments with private bathrooms to limit shared hygienic spaces and encourage social distancing," an email from the university read.
However, students who wish to move out will be given time to do so. The winter move-out date has been extended to April 5.
"All residents living with us during any part of winter quarter or spring quarter will qualify for returning resident status for next year if they are interested in returning for 2020 –21," David Rey, communications and marketing manager for HFS, said in an email. 
Students who live on campus will be receiving further instructions from the university.
Reach News Editor Jake Goldstein-Street and Science Editor Ash Shah at news@dailyuw.com. Twitter: @GoldsteinStreet @itsashshah
Like what you're reading? Support high-quality student journalism by donating here.