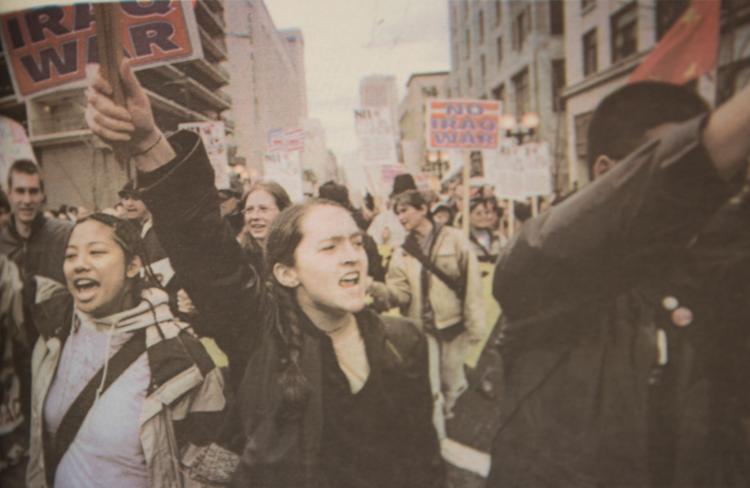 On Feb. 15, 2003, UW students joined the tens of thousands of peace activists who marched through downtown Seattle to the International District to protest the then-looming war in Iraq as part of an international campaign, with marches happening in more than 600 cities across the world. And on Saturday, students will once again be among those gathered in Westlake Park for a Global Day of Action to protest a potential conflict in Iran. 
Though 17 years apart, these two protests are linked beyond just their anti-war message. Almost two decades after the start of the conflicts in Iraq and Afghanistan, American troops are still stationed in both nations and the country faces escalation in another major arena: Iran. 
Jackson School director and Stanley D. Golub chair of international studies Reşat Kasaba, an expert in the history and politics of the Middle East, said that the conflict in Iraq began in the early 2000s when the American government claimed that Iraq was developing weapons of mass destruction, but when U.S. troops actually entered the foreign nation they couldn't find any evidence of such weapons. 
The recent U.S. assassination of Iranian general Qassem Soleimani that sparked concerns of a potential conflict in Iran, Kasaba said, is gaining traction now amongst activists at least partly due to the lack of evidence the American government has provided regarding their claims that Soleimani was planning attacks on American lives.
"This skepticism, I think, is partly rooted in the experience and previous war," Kasaba said. "There is much more uncertainty." 
When war broke out in Iraq in 2003, there was already political tension surrounding the election of President George W. Bush who had won the presidency despite losing the popular vote in the 2000 election. 
Protestors in the early 2000s were quick to blame President Bush for the war, but equally quick to note the inherent problems in America's interventionist foreign policy, an issue not rooted in the election of one man.
These tensions are not foreign to modern-day readers or activists; President Donald Trump lost the popular vote in the 2016 election and has been the subject of many protests. Activists today, however, are holding on to the same sentiments that anti-war protestors in 2003 held about Bush.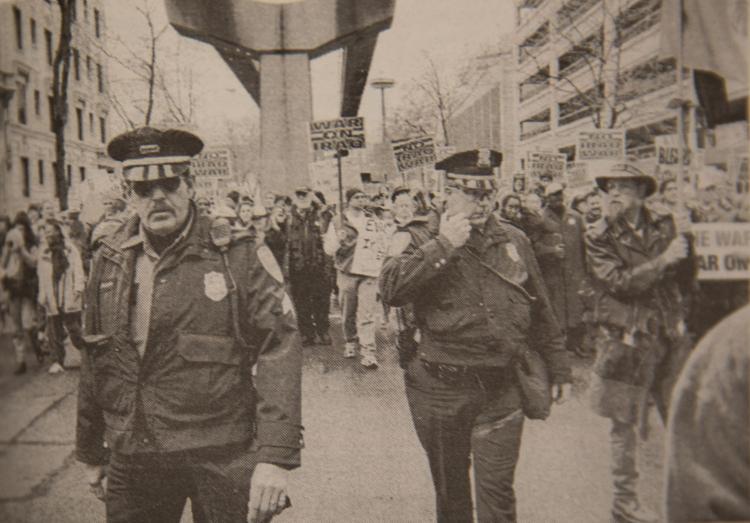 "We can't just put it all on one individual because then we can replace him with another person and that person again can perpetuate imperialism," Mika Magbanua, a senior in public health and an anti-war activist, said. "The call should be broader and it should be a bigger conversation about what America wants to be moving forward." 
Magbanua organizes with Anakbayan Seattle, a Filipinx youth activism group that has based their recent protests on pushing back against imperialism and American intervention in the Middle East.  
"We live in the belly of the beast, we live in the U.S., so we have a direct connection to imperialism and we see it every day," Magbanua said. "Which is why we're participating in this anti-war movement because we recognize that that is a form of imperialism." 
Magbanua said it's important for students to organize for two main reasons. The first is that the funding that is going towards militarization and foreign intervention could be directed towards education and many other social services that benefit young people, including student debt relief. 
Kasaba took that idea a step further, connecting activism and student protests to the quality of education young people receive. 
"I think to have a good education, people need to be able to ask good questions," he said. "And students should demand good answers to their questions."
The second reason Magbanua cited for student protests is the role young people play in imagining a new society. 
"Youth naturally question the world we live in, and so we have a responsibility to think of new ways to approach problems," Magbanua said.
That same spirit of innovation is what drove student protests in the early 2000s.
"People in the past, they were building it, they were building these movements and it's coming from personal experience," Magbanua said. "And we can build on that without having to rely on having to experience all these things to say 'That's bad.'"
Recent activism is building on those earlier protests in more ways than one; calls for removing troops from Iraq and Afghanistan, the same conflicts that drew protests in 2001 and 2003, are mixed with pleas to keep an American presence out of Iran. 
Some apathetic young people might argue that protest doesn't yield results, after all, America still went to war with Iraq. But one UW student from the February 2003 Iraq protest may have put the opposition to that claim best.
"Seeing how many people really care makes me feel more patriotic than anything," Ashley McClure, then a senior studying neurobiology, told The Daily nearly 17 years ago.
Reach reporter Sarah May at news@dailyuw.com. Twitter: @SarahM3204
Like what you're reading? Support high-quality student journalism by donating here.