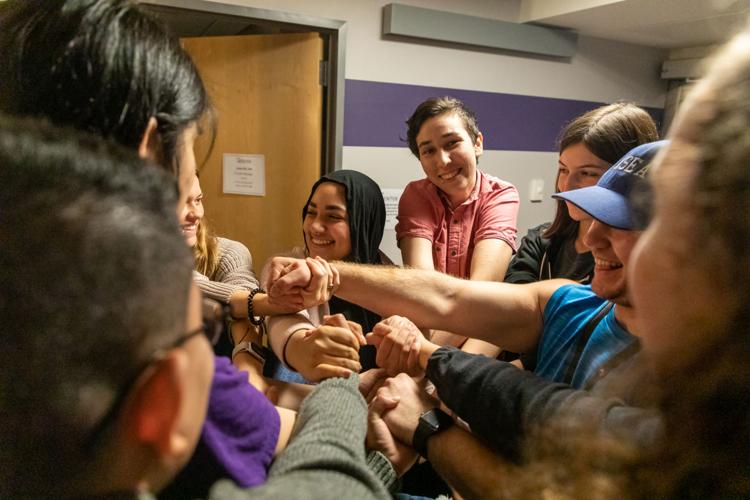 The UW's ASL (American Sign Language) club was founded in 2011 and was originally named "Quiet Riot."
However, the "riot" started long before that. Between 2004 and 2007, Richard Lander, professor emeritus in the computer science and engineering department, drafted a petition that brought ASL classes to the UW. Then, in 2007, the administration hired senior lecturer and ASL language director Lance Forshay to help push the program forward. ASL is now an official minor and has two full-time lecturers. 
Forshay, whose first language is ASL, explained that Deaf people are often miscategorized as people with disabilities. 
"Deaf and hard of hearing is not, not a disability," Forshay signed. "We are a linguistic minority."
President of the ASL club, Sana Altamimi, fell in love with the language after taking her first ASL class. 
"People often don't realize it is a language; ASL is a beautiful and unique language," Altamimi said.  
ASL club aims to help students learn that language. 
Forshay noted that the issue isn't that students don't want to learn ASL. 
"The issue is many will go through UW and graduate with no knowledge of Deaf people or their language or their culture," Altamini said. "They will impact Deaf community in the future." 
ASL club vice president Kyrian Brichoux explained that many students who come to the club originally took ASL classes to fulfill general requirements, only to fall in love with the fascinating language.
Students are not required to have prior knowledge in signing to attend regular meetings. At these meetings, ASL club officers will guide students through a topic and some related signs. At their Halloween-themed meeting last week, students were taught signs such as "trick or treat" and "vampire." 
ASL not only provides accessibility, but it can also open the door to another distinct culture. Even though the ASL club caters toward students who are interested in learning the language for the first time, the club officers hope that the ASL club will ultimately benefit the Deaf community.
There are still many improvements the UW could contribute to the ASL community. Currently, a shortage of faculty is resulting in a long waiting list for ASL classes. According to Forshay, there is a need for more funding for the ASL department. 
ASL club has regular "sign lunches" which are open to all students. Dates can be found here.
Reach contributing writer Joycee Zhou at development@dailyuw.com. Twitter: @JoyceeZhou
Like what you're reading? Support high-quality student journalism by donating here.