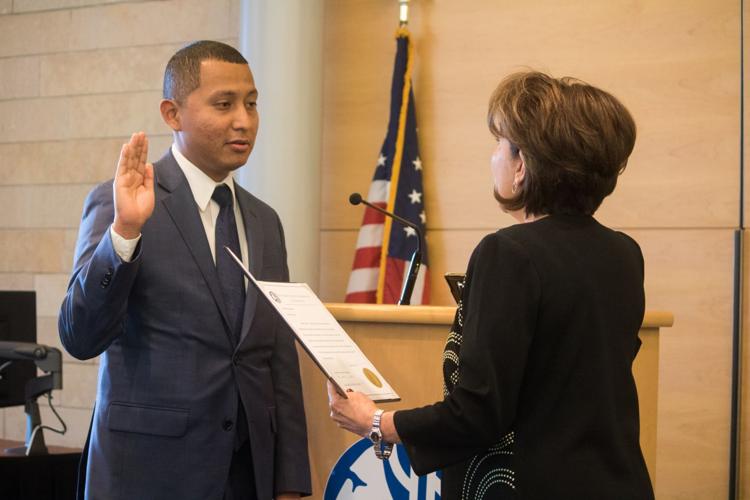 Gathering in a city council ballroom May 2 were family, friends, and fellow lawmakers of newly elected councilmember Abel Pacheco Jr. –– a former instructor and strategic director for the UW's Mathematics Engineering Science Achievement (MESA) program –– who has spent the past week transitioning into his new (albeit temporary) job, and gearing up to enact a slew of ambitious policies for the city.
Until this fall's elections, Pacheco will represent Seattle's 4th District, which encompasses most of the city's northeast region and includes the U-District. The Ravenna resident is taking over for the recently-departed Rob Johnson, a longtime champion of transportation and housing affordability who resigned April 5.
Two weeks ago, the city council elected Pacheco from a pool of 12 candidates considered to fill Johnson's vacancy. Just a month earlier, Pacheco was running for a full term on the council, his second attempt after an unsuccessful 2015 bid for the district four seat. However, council president Bruce Harrell stated in a memo last month that he wanted "an experienced 'caretaker' who agrees not to seek election to the Council this year." Pacheco has agreed to suspend his election campaign.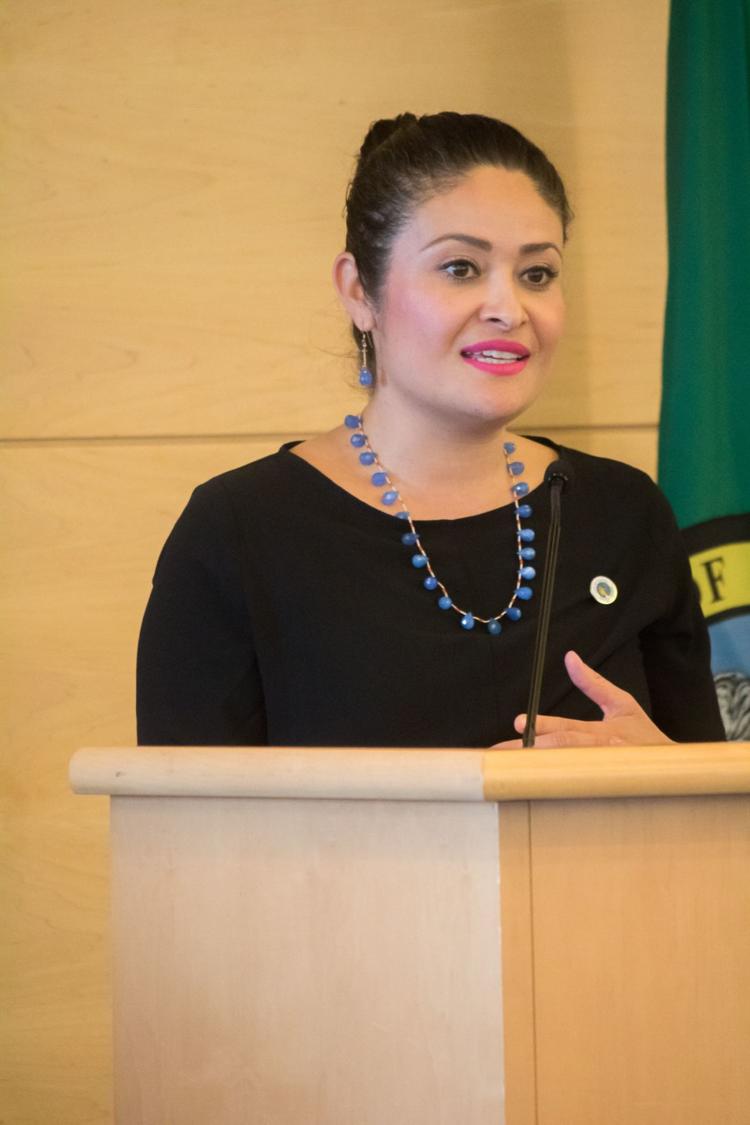 In an interview with The Daily prior to the swearing-in ceremony, Pacheco wouldn't say why he opted for a shorter, temporary position as opposed to running for a four-year term. Election talk stays out of the city council building, he said. However, he did have a lot to say about his background and the various legislative ambitions he has for the city.
"City politics is where rubber meets the road," Pacheco said of his reasons for wanting to join the council. "When we think about any issue, like education or social services, city governments … can ensure that the systems in place are working to provide the best outcomes for people."
Pacheco has inherited a busy post on the council. He's taking over for Johnson as chair of the Planning, Land Use & Zoning Committee, and additionally serves on three other committees which relate to sustainability and transportation, gender equity, criminal justice, civil rights and economic development, among other areas. He is also helping decide the city's next budget.
While this is a lot of ground to cover for just a few months on the council, Pacheco believes that he can lay important foundations for long-term solutions to the problems he's addressing.
"Budgets are a reflection of priorities and values," Pacheco explained. "Whatever policy outcomes we want to achieve, we can also fund studies that tell us what the city needs to do next."
He shares many policy ambitions with Johnson, who, prior to his exit, finalized an upzone of 12 neighborhoods around Seattle that included the U-District. This followed the Mandatory Housing Affordability (MHA) initiative, which passed the council in March under his leadership. MHA is a sweeping reform that expands the size of new buildings while charging developers a fee for building more affordable, rent-restricted homes for low-income families.
However, MHA is not without controversy –– especially regarding the U-District upzone — and it's likely where Pacheco will meet the most resistance. In March, Johnson reluctantly agreed to remove the Ave from MHA's upzone plan after significant pushback from small business owners, who worried that expanded development on the Ave could lead to more demolitions and rent increases.
Pacheco, though, still has faith that MHA will yield beneficial results in the U-District. For him, the issue of affordability is not just about housing, but also transportation. Pacheco, who doesn't own a car, is a strong advocate of building development around public transit, and cites the UW's recent investment in light rail as a step in the right direction.
"We as a community made multi-billion dollar investments in light rail," Pacheco explained. "The largest expense of any individual [in Seattle] is housing, followed by transportation. As a proponent of transit-oriented development, it just makes the most sense to put more housing around multi-billion dollar investments [like the light rail]. That's our guiding principle."
He does, however, understand that there is a difficult trade-off to make between expanding the housing market around transit and minimizing the harmful effects of displacement on small businesses. As a brand new member of the council, this is a dilemma he is only beginning to navigate, mainly via community outreach.
"It's something I've begun to dig deeper into over [the last few weeks]," Pacheco said about addressing the displacement problem. "Because I do hear those concerns about displacement from businesses. I want to spend time saying, 'we hear your concerns, and these are the options we're pursuing to relieve and mediate those concerns as best as [we] can.' But the priority is getting more people out of cars."
Reach reporter Tejus Krishnan at news@dailyuw.com. Twitter: @tejusk100
Like what you're reading? Support high-quality student journalism by donating here.