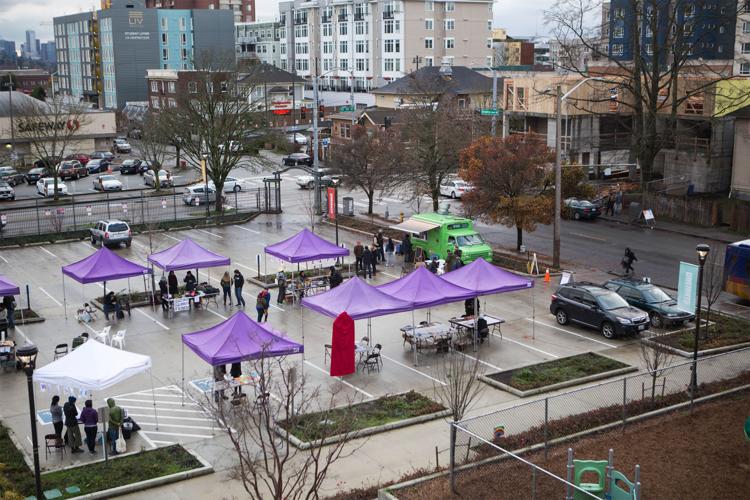 Before the pandemic hit, restaurants, retailers, and institutions like the YMCA offered U-District's unsheltered population reliable places to use the bathroom and wash their hands. When the Stay Home, Stay Healthy order closed many of their doors, the new U-District Social Services Steering Committee knew that hygiene would be a huge issue.
Maureen Ewing, committee member and University Heights' executive director, said the issue was on display in the streets. In April 2019, the community had about 200 biohazards, like human waste and needles, but it increased to over 1,000 in April of this year, Ewing said.
"It's a public health crisis, and that's why the committee formed," she said.
The committee is a collaboration between University Heights, the U District Partnership, the U-District Food Bank, and ROOTS. Although temporary hygiene stations have popped up across the city to provide people with toilets and a place to wash their hands, Ewing said it's not enough, especially at a time when proper hygiene is critical to combat a pandemic.
Last month, The Seattle Times reported that the city's efforts to provide much-needed hand-washing stations and toilets during the pandemic paled in comparison to some other cities. And with the announcement of a phased approach to reopening the state, the committee is concerned the neighborhood's temporary hygiene stations will be scrapped. 
"OK, so the COVID crisis is over, we're back open, we're going to take away these temporary stations, and then what?" Ewing said. "I don't think we have an answer to that question, so I think the committee still had work to do."
The committee is considering advocating to keep the temporary hygiene stations until something permanent can be installed. They're pushing for something resembling the Portland Loo: a metal structure with a public toilet and hand-washing station. They've already been installed elsewhere in King County, but a U-District Loo, or "U-Loo" would be a first. 
"It's a model that's working really well in Portland," Karen Ko, a committee member who formerly worked for Seattle Department of Neighborhoods, said. "They're actually pretty attractive structures. They're self-contained, there's a little tiny sink on the outside where you can wash your hands, and they're handicap accessible."
Katy Ricchiuto, the U District Partnership's built environment community relations manager, pointed out that the needs of Seattle's unsheltered population have been exacerbated not only by the pandemic, but also by the recent hepatitis A outbreak.
"I think long-term, [the U-Loo] is a really excellent solution," Ricchiuto said. 
Several years ago, the plan for a U-Loo fell flat. This year, money for the project was included in the city's budget, according to Ko. But the pandemic has put a major strain on the city's budget, and Ko said it's unlikely the U-Loo will be constructed this year. Last month, Seattle Mayor Jenny Durkan announced the pandemic may cost Seattle up to $300 million.
Beyond finances, another obstacle to longer-term hygiene solutions is stigma. Ewing described community concerns that hygiene stations may be vandalized or attract crime. 
"But I can say, after having one at UHeights, the worst thing that has happened is that our faculty staff have to pick up more paper towels," Ewing said. "Which to me means more people are washing their hands."
The temporary stations were greeted with more support than long-term solutions. It's easy to support the solution, Ewing said, when the problem is as visible as human excrement in the street. But even after the pandemic, the need for public toilets and sinks will still exist. 
"I think we can't fool ourselves that one [U-Loo] is going to meet the entirety," Ewing said. "But it's these baby steps, and if we keep working toward them, eventually we'll have a more equitable neighborhood where people aren't put into these humiliating situations where they have to relieve themselves in the right-of-way."
Ewing hopes to reconvene the committee as the phased re-opening of Seattle progresses. 
Reach Reporter Claudia Yaw at news@dailyuw.com. Twitter: @YawClaudia
Like what you're reading? Support high-quality student journalism by donating here.