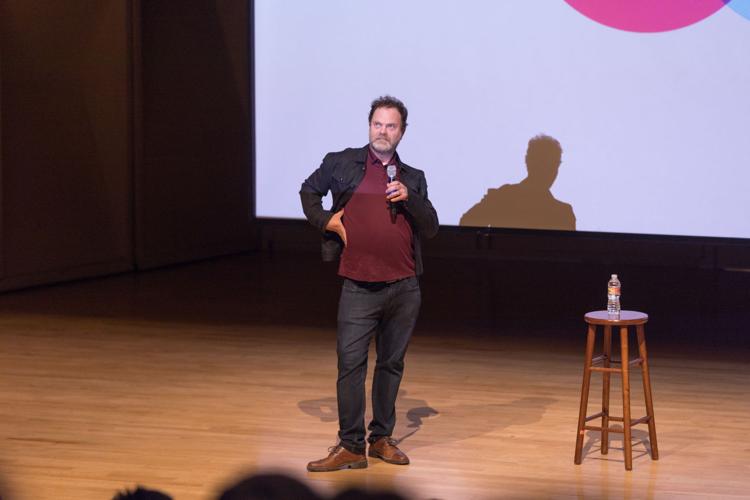 "The individual investigation of truth: What it means for young people today is to super challenge what you're being fed because you're being fed a bunch of s---," Rainn Wilson, actor and UW alum, told a fully packed hall of students Oct. 18.  
Wilson returned to his alma mater Friday to talk in Kane Hall about his spiritual journey as a Bahá'í and the inspiration behind his website SoulPancake.
Sponsored by the School of Drama and the Unity Museum, the event was free and open to all. Kane 130 was filled to the brim, with an estimated 200 overflows who were unable to get in. Wilson, however, waved to the crowd so that everyone had the chance to see him. 
"My goodness, this is a lot of people," Wilson said as he walked on stage. Noticing everyone taking pictures, Wilson began to "strike some very sexy poses" for the cameras, as he called them. 
In light of the bicentenary of the birth of the Báb, one of the founders of the Bahá'í faith, Wilson began his talk by saying one of his goals for the night was to engage in "mind-altering soul-bending spirit-filled conversations about life's biggest questions." 
"Yes, I happen to be one of the world's greatest actors," Wilson said. "But besides that, there are some other aspects to who I am and what I'm about that I want to share with you." 
With his high school yearbook photo on the projector featuring his "sexy" teenage unibrow, Wilson dove into his life story and his experience as a Bahá'í. 
Wilson grew up a member of the Bahá'í faith during a time in the late '60s and early '70s where the Bahá'ís saw an increase in membership due to wide-spread spiritual and religious exploration. It was a time, Wilson recalled, when people viewed spirituality in a different way and were far more open to having spiritual conversations.  
In the Bahá'í faith, all religions are loved and believed in, and Wilson remembers the environment he grew up in as wonderfully religiously diverse. However, when he moved to New York City to pursue his dream of acting, Wilson put his religious beliefs aside as a rebellion against his parents, his anger toward the hypocrisies he witnessed, and the desire to be free from moral laws looming over him. 
"I wanted to live the life of a bohemian artist in New York City," Wilson said. "I took the same passion and fever from my Bahá'í faith and shifted it to my acting." 
But despite his self-perceived success as an actor, his relationship with then-girlfriend and later wife Holiday Reinhorn, and his awesome van, Wilson began to feel unhappy while living his idealized "dream." This prompted him to look inwards at his spiritual path, and he began asking his friends about their beliefs, reading spiritual books, and diving deep into different religions. 
Wilson eventually found his way back to the Bahá'í faith in his 30s and realized teachings from his faith he looked over when he was younger. One of which was the belief that art, creating something beautiful that didn't exist before, is the ultimate form of prayer. Another was a seminal Bahá'í teaching — the individual investigation of truth.
"That's what my life's journey had been," Wilson said. "It had been a search for the truth for myself." 
Both of these beliefs inspired the creation of Wilson's media company SoulPancake, a website that aims to help people explore truth for themselves by prompting the thought of life's biggest questions. 
Wilson shed some light on what he thinks the individual investigation of truth means for young people today. 
With constant bombardment of media platforms, Wilson sees young people being sold false or misleading information around societal systems, such as hope in a broken political system and belief in an indulgent materialist lifestyle. 
Wilson noted that among young people, suicide rates have increased by 56% in the past decade, a result of a "devastating" epidemic of anxiety, depression, and loneliness. Only six years ago, the loneliest generation in society shifted from senior citizens to college students.
Wilson believes that because of the way the world has been built, with systems of competition, status, and self-indulgence, we need to question what actually matters.
"What I would like to encourage young people to do is to question the truth [of society]," Wilson said. 
Reach reporter Andrew Ronstadt at news@dailyuw.com. Twitter: @AndrewRonstadt
Like what you're reading? Support high-quality student journalism by donating here.