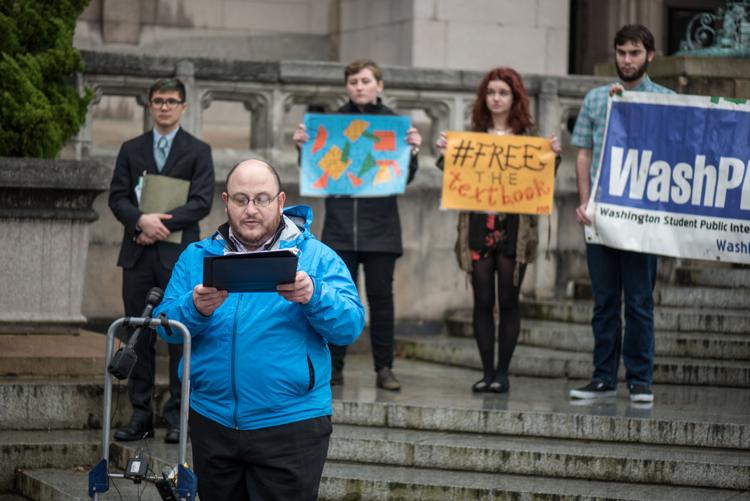 The Student Public Interest Research Group (PIRG) recently published an investigative report revealing the cost benefits to students when teachers use open educational resources as opposed to textbook and access code bundles. 
The report found that when publishers require access codes for textbooks, it prevents students from being able to shop around for resold or used books at a lower price. This often traps each student into paying the full price for a textbook every quarter, especially when a new access code is required for materials like homework and workbooks.
Representatives from Washington's PIRG ­— better known around the UW campus as WashPIRG — took to the steps of Red Square on the morning of Jan. 25 to spread awareness of the report's findings. WashPIRG chapter chair Madison Longbottom explained how students can get cornered into paying full price for textbooks.
"Textbook companies know that they can charge students whatever they'd like and that students have to buy the coursebook," Longbottom said. "If a faculty member doesn't have an option to assign [an OER] then the student won't get to use it."
Open educational resources (OERs) are high-quality and peer-reviewed teaching and learning materials that are free to the public and can be repurposed to suit the needs of both students and instructors. Although OERs are not available for every course and subject, they are a cost-effective alternative for some expensive textbooks, especially in standard, introductory courses. 
As described in the report, entitled Open 101: An Action Plan for Affordable Textbooks, the PIRG study identified the 10 most frequently taken courses across 40 colleges. By tracking the costs of required materials, the study found that "switching the 10 introductory classes in [the] study nationwide would save $1.5 billion per year in course material costs."
While high textbook costs have been a complaint for years from students pursuing a higher education, the report cites that the costs of textbooks have "increased four times the rate of inflation" since 2006. OERs provide a solution for the high textbook costs in some introductory courses, at least.
How is the University of Washington assisting students with these rising prices?
John Danneker, director of Odegaard Undergraduate Library is also a part of the Open Educational Resources Steering Committee, which works to raise awareness, provide access, and maximize the impact of OER resources on campus. 
UW faculty have received grants through the libraries to fund the Rebus Open Textbook Pilot Project, which over the last two years has facilitated the creation of new open textbooks. 
In addition, the UW is part of the Open Textbook Network which provides students with access to the online Open Textbook Library resource. 
Danneker explains that OERs opens up a progressive discussion about texts and how they're used in higher education. 
"OER has been considered cost-saving measure but also a way to really think about different ways to push teaching and learning in new areas," he says. "It allows people to think more broadly about weather a text is an affirmed, fixed thing or whether it can be something that people can contribute to."
To support WashPIRG, check yes to donating when registering for classes. Meetings for the affordable textbook project take place Mondays at 3:30 p.m. in HUB 304. 
Reach reporter Emma Scher at news@dailyuw.com. Twitter: @emma_scherr