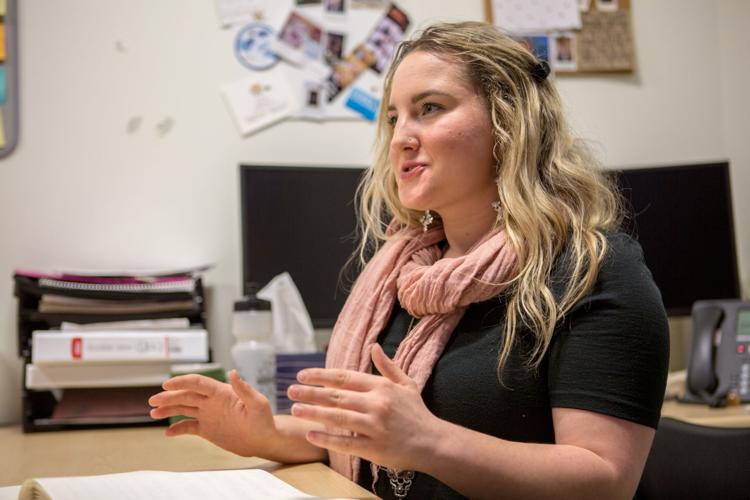 Kelty Pierce's office is tucked away behind the lounge of the ASUW suite in the HUB. Inside, the ASUW president has two leather sofa chairs in front of her small desk, with a bookshelf in the opposite corner. But aside from the colored sticky notes stuck on her desk and her crutches by the door, Pierce has not quite put her personal flair on the office.
"Decorating it is always on my to-do list," Pierce joked. "Clearly it falls pretty low."
That is because Pierce has a long to-do list. In addition to her role as president of ASUW, Pierce is taking 17 credits this quarter. She is majoring in communication with a focus on political rhetoric, and is minoring in drama and diversity.
As an infant, Pierce was diagnosed with bilateral hip dysplasia. Pierce said she has been in and out of Seattle Children's Hospital almost all of her life and has had 13 major hip surgeries. The most recent was during her senior year in high school. Pierce says that she will likely have hip replacement surgery in the next couple of years.
"I have this vivid memory of my cast when I was in third grade and it went from my ankle to my chest," Pierce said.
In September 2015, her senior year of high school, Pierce was diagnosed with Crohn's disease. From then until her freshman year at the UW, Pierce said she visited the doctor over 150 times.
But as scary as Pierce admits the diagnosis was, she knew she was fortunate to be in a family that had access to health care.
Soon, however, things changed when the Trump administration threatened the livelihood of the Affordable Care Act (ACA).
Pierce said that she and her family benefited from the ACA in a number of ways. 
"Whether that's being able to stay on my parent's insurance until I'm 26," Pierce said. "Or the ban of lifetime limits, or the ability to get health insurance when I have preexisting conditions."
For Pierce it became "very personal." She began to share her story with anyone and everyone who would listen.
And someone soon took notice.
Lauren Adler, a friend and mentor of Pierce, reached out to her and asked if she would share her story with Rep. Denny Heck, a Democratic congressman for Washington's 10th District who recently announced his retirement. 
"We really connected," Pierce said of her encounter with Heck. "We talked for about an hour and I kind of thought, 'OK, well, that was cool!'"
Pierce got another call a month later from her friend and was told that Heck had been sharing her story, and that it was really powerful. Pierce was invited to come out to Washington D.C. and be the congressman's guest to the 2017 State of the Union. She spoke with lawmakers and members of the press about why the ACA was so critical.
"Being exposed to that at a young age I really think was an empathy builder for me and helps me be more open with what I was dealing with and my experiences," she said.
So by working to empower herself, Pierce thinks she's found the strength to empower others.
Originally from Puyallup, Pierce is a third-generation graduate of her local high school and a second-generation Husky. Her brother is a first-year student at the UW.
Since her freshman year, Pierce has been working for the ASUW, starting her political path as a student senator. The following year, Pierce worked as a field organizer for Heck's successful 2018 reelection campaign. She worked with community organizations and their leaders to do voter outreach not just for Heck, but other candidates in that election. Her time as a field organizer helped her prepare for her own campaign to be ASUW president.
"I could not see anyone else doing the things she's doing now," ASUW director of diversity efforts Sahra Ibrahim said of Pierce. "And I'm truly honored to be working with someone with so much passion, patience, resilience, and unapologetically being the powerful woman that she is."
Pierce just launched "Coffee Chats with Kelty" every Friday from 11 a.m. to 1 p.m. in the lounge of the ASUW suite (HUB 121), which she envisions as an opportunity for students to talk with her in a more informal setting about anything and everything UW and ASUW.
Reach reporter Ray Alfonso at news@dailyuw.com. Twitter: @AlfonsoRaymondD
Like what you're reading? Support high-quality student journalism by donating here.