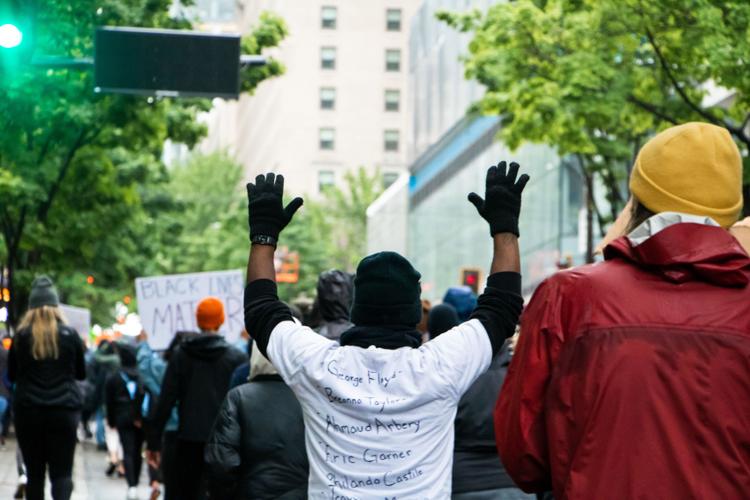 Saturday afternoon, groups of protesters composed primarily of U-District residents gathered at the University Playground to protest for the defunding of the Seattle Police Department. 
The Capitol Hill Organized Protest, or CHOP, has been a primary stomping ground for the ongoing protests against systemic racism and police brutality in Seattle, but even three weeks into demonstrations, Seattleites remain fired up.
"Me and my partner were working at CHOP," Devin Lee, a U-District resident and organizer in Saturday's march, said. "The narrative and people's focus seems to be changing over there, so we decided to 'guerrilla style it' and start organizing in the communities we live in."
Though demands vary across different groups of protesters, the defunding of the SPD as a means to end police brutality against Black people has been a consistent focus in dismantling systemic racism locally. This particular group's aim was to march through Wallingford, bringing attention to the movement in areas of Seattle that are predominantly affluent and white. 
Shaun Scott, former candidate for the Seattle City Council's District 4, was present. Prior to the demonstration, he spoke to the need to defund the police while also remembering Magnuson Park resident Charleena Lyles, a Black woman whose name has echoed throughout Seattle protests after she was killed in her home three years ago by SPD.
"Policing is an institution, policing is a philosophy, and American policing as a political force is inherently corrupt and racist to its core," Scott said. "The road to abolishing the police has been a fight that's been going on since the city was founded."
The crowd quietly listened to Scott's words as he finished with a focus on the protests' demands and bringing awareness to the disproportionate allocation of city funding.
"A third of the city's budget, $410 million, goes into the Seattle Police budget," Scott said. "With no affordable housing, social services underfunded, and a housing crisis, we need to reinvest that money in Black life, community organization, social services, and schools. We're spending more than three times as much on 'homeland security' instead of our office of civil rights — something has to change."
The crowd appeared to hold about 60 people, standing in small groups. Some had signs or banners; others were walking their dogs or carrying bouquets of flowers as the protesters prepared to march to Gas Works Park.
At approximately 3 p.m., the crowd stretched across the intersection of 50th St. and 9th Ave. A marching band made up of U-District locals assembled at the back of the crowd and set a jovial tone, playing various beats to carry the protesters' chants. 
As the demonstration made its way down the Ave, cars pulled over to honk, and people within the small businesses came out videorecording and cheering, some pulling out signs that read "Black Lives Matter" and holding them up as the crowd passed. 
Heading west on 45th Ave, a local activist, Shaina Shepherd stepped in the front of the masses and began chanting, "The people united will never be divided." 
Demonstrators made their way through intersections, being escorted by Seattleites on bikes, to the Wallingford neighborhood, where they called for people to "Come out of your homes, into the streets!"
Throughout this part of the march, people within their homes came out to wave from their porches, with some even joining the crowd.
Upon arriving at Gas Works Park, the protesters made their way to a flat top, where Shepherd spoke.
"It takes a lot of emotional courage and love to support a message that is bigger than ourselves, to sacrifice your face and anonymity," she said.
Speaking on what Scott had mentioned earlier, Shepherd talked about the large disparities in wealth, resources, and education between Black people, other individuals of color, and affluent white people in Seattle.
"So when we think about defunding the police, let's think about what we're going to do with that 1/3 of a budget," she said. "It's important that we all remember the true internal reason we're here, that all men are created equal, and we have an opportunity to honor that creation or to ignore it."
Reach reporter Beth Cassidy at news@dailyuw.com. Twitter: @_BethCassidy_
Like what you're reading? Support high-quality student journalism by donating here.