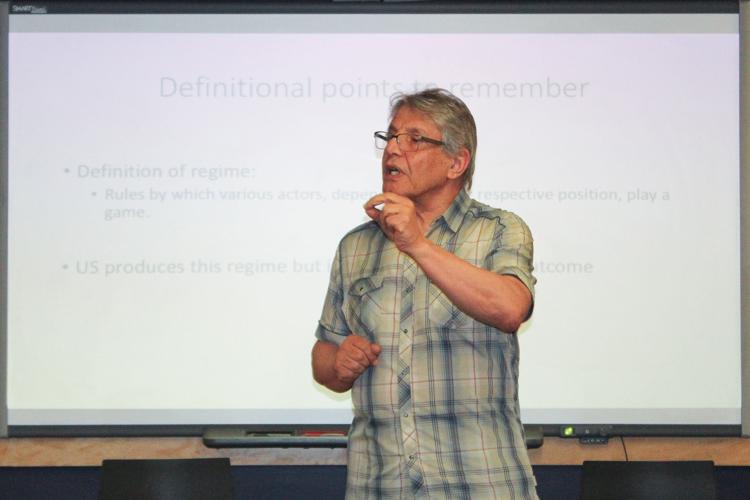 An attentive audience of UW students and community members listened Tuesday, May 28 as Dr. Majid Sharifi, a tenured political science and international relations professor at Eastern Washington University, delivered a searing indictment of U.S. foreign policy in the Middle East.
In an interview with The Daily prior to the talk, Sharifi described himself as a "counter-hegemonic voice" to dominant narratives pushed by the U.S. foreign policy establishment and other mainstream actors perpetuating insecurity in the region.
"I am a critical voice that is marginalized, but the fact that I am marginalized is so very related to power," Sharifi said.  
Ava Sharifi, Dr. Sharifi's daughter and current ASUW Middle Eastern Student Commission (MESC) director, emphasized the overriding dominance of these narratives in conversations about the Middle East, and the importance of marginalized voices like her father's in those discussions.
"Every conversation we have about the Middle East, at least in my political science classes, is almost constantly looking at war strategies, and the ways in which the U.S. could have done better to invade during the War on Terror," Ava said. "That shouldn't be the start of the conversation … but that is where the conversation starts and ends."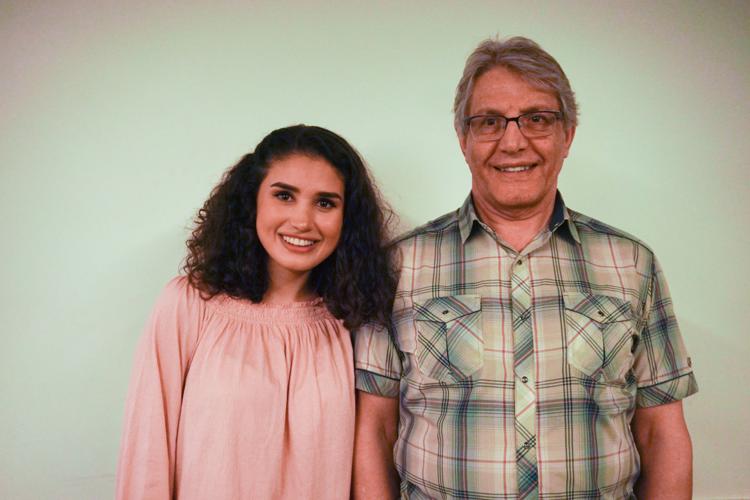 The talk, which took place in the HUB, was based on a book that Majid is currently writing about why there is a lack of security in the Middle East.
Majid argued that systemic insecurity afflicting Middle Eastern states is politically and socially constructed through a "regime" led by what he describes as the "American foreign policy establishment."
"The United States is producing and maintaining what could be called a regional regime of insecurity that shapes the governing rationality of every state in the region," Majid said.
Within this U.S.-led regime of insecurity, according to Majid, "Every regime in the Middle East faces existential threats from within and without . . . [and] thus governs by relying on a small but loyal group of supporters to survive."
Later on in the talk, Majid elaborated upon the U.S. strategy of "multi-balancing" that creates insecurity in the region. According to Majid, this strategy is composed of balancing regimes — such as the rivalry between Saudi Arabia and Iran — against each other while maintaining the supremacy of Israel's military.
"The U.S.-led regime of insecurity, in fact, in the Middle East, is about multi-balancing," Majid said. "The idea of dividing the Middle East into different zones of conflict and balancing them against each other … this is the old colonial idea of divide and rule."
Majid systematically refuted conventional wisdom based on "flawed assumptions" and "ideological blindness" from institutions like Hollywood, the mainstream media, and academia portraying the Middle East as inherently violent.
"I want to de-mythify what is really in the media … and in mainstream academia about why there is so much insecurity [in the Middle East]," Majid said. "Some of our best universities have produced orientalist knowledge, where the understanding of the Middle East is … a place of violence, where your ear gets cut off."
Ava said that she hoped the talk would create an environment where students could openly discuss Middle Eastern politics.
"Something the MESC always wants to support is making sure that people not only feel comfortable celebrating and learning about Middle Eastern culture but also feel comfortable to … question politics, because you can't have one without the other," Ava said. "We haven't done too many political events this year, and that was something difficult to weave around, because people understand politics differently, and a lot of times when you're in a marginalized community you feel scared to open it up … because you're worried that talking about something bad … it's going to perpetuate stereotypes. But I don't think this fear is productive … this fear should be transformed into political understanding."
In response to a question at the end of the talk, Majid, while sitting on a table, expressed his optimism that discourse on the Middle East will change.
"I see a sense of change. I couldn't have had this discussion even 10 years ago," Majid said. "I believe that things are not working anymore. And your generation knows it better than my generation … They naturally know it."
Reach contributing writer Collin Chung at development@dailyuw.com. Twitter: @collinchung
Like what you're reading? Support high-quality student journalism by donating here.