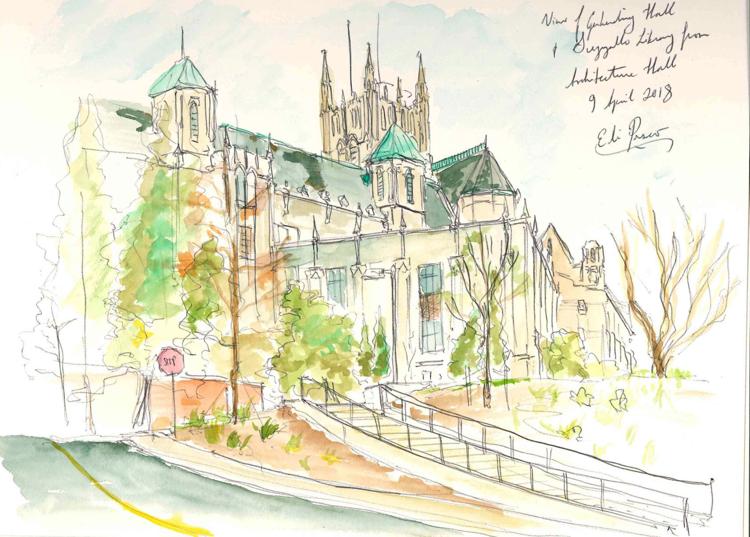 In 2016, incoming freshman Anthony Tang faced over $34,000 in tuition fees. That didn't include the cost of housing, which Tang needed as an out-of-state student. Three years later, he was able to significantly reduce his cost. 
The price? Working two jobs, apply for several scholarships, and save as much money as he could.
For many other students, paying for their college is just as difficult. According to a report by the Integrated Postsecondary Education Data System (IPEDS), 44% of UW undergraduate students received financial aid, and 27% received federal student loans in the 2017-2018 school year. 
Even with financial aid, Tang and many students cannot afford to pay the full cost of attendance and resort to working one or more jobs, applying for scholarships, and saving money in whatever ways they can.
"I think finances limited what I chose in the first place," Tang said. "Coming from an Asian household, this idea of frugalness was always instilled in me. I applied to schools I felt would not put my family at such a great burden; I know my family is very supportive, I didn't want to be in that situation where they have to decide whether to support my dream to go to this school, or to tell me 'no' because they simply can't afford it." 
While Tang's parents initially covered the cost of his tuition and housing his freshman year, he worked as both a tour guide and a tutor to cover his meal plan and other personal expenses.
After working at a summer job, a paid internship, and working part-time during the school year, Tang can fully afford to pay his own rent. 
His parents still cover the majority of his tuition costs, a large part of reducing the remaining financial strain on his family, he says, comes from applying to scholarships.
For Tang, figuring out scholarships is a conversation he thinks students should have before applying. 
But, students who don't have financial assistance from their families face an even more difficult set of circumstances. Panda Standridge, who plans on transferring to the UW next winter with an associate's degree from Green River Community College, has been financially independent since the age of 16. Since age 17, she's had to work at least two jobs.
"As soon as I turned 16, my parents said, 'You're 16 now, you can get a job, we are not paying for anything for you anymore,'" Standridge said. "I had to pay for my own car, rent, food, utilities –– the whole nine yards. Even when I was living with them, in my room, I still had to pay them $300 a month."
Standridge juggles work with school and being a member of the Husky Marching Band. At times, she has had to put work at the sacrifice of her physical, mental, academic, and social well-being.
"Socially, it's a huge strain," Standridge said. "I do not have time, most of the time, for any type of social interaction. Leaving the house early in the morning, not coming home until late at night, barely enough time to sleep, getting up and doing it again, just to survive is not ideal, but it is what it is." 
Although Standridge has been considered financially independent for several years now, the Free Application for Federal Student Aid (FAFSA) does not recognize students as independents unless they fit specific criteria, such as being born before 1996, married, or having children.
"I actually don't qualify for subsidized student loans," Standridge said. "If there were something in place that made getting student loans easier, I wouldn't have to work so much. I could focus on school. But whether that happens any time soon is a whole other situation." 
Although Standridge and other students with similar financial circumstances will have to wait for large-scale changes in the disbursement of federal financial aid, they can look to university resources for assistance. 
Navigating the complex regulations around awarding financial aid to students falls on the responsibility of the Office of Student Financial Aid. Staff and counselors work to help students manage their individual financial circumstances and guide them to the right resources.
"It's really listening to each student that comes into our office and offer as much support and resources as we can," Director of Student Services Tim Wold said, " Financial aid is fairly regulated. We have federal, state, and institutional regulations and laws that we have to follow. So it's determining and balancing all of that with the individual student and their needs."
The university strongly advocates for improving student financial aid, according to Wold. Some tactics include putting out surveys to gain student feedback, instituting a financial aid advisory committee consisting of members from ASUW and GPSS, and lobbying in Olympia.
One of the most recent advancements is the replacement of the Washington State Need Grant with the Washington State College Grant, which will extend aid to roughly 110,000 previously ineligible students over the next two years. 
"We are at that conversation," Wold said. "Not just our office, but the university as a whole."
If you are struggling with affording tuition and living expenses, there are resources on and off campus as well as steps you can take to make the best out of your financial circumstances. 
"Ask for help if you need help," Standridge said. "Just make sure you're taking care of yourself." 
For information on applying for financial aid through the UW and determining which types of financial aid fit your needs, visit the Student Financial Aid website. 
Reach reporter Nicole Pasia at news@dailyuw.com. Twitter: @Nicoleapasia 
Like what you're reading? Support high-quality student journalism by donating here.