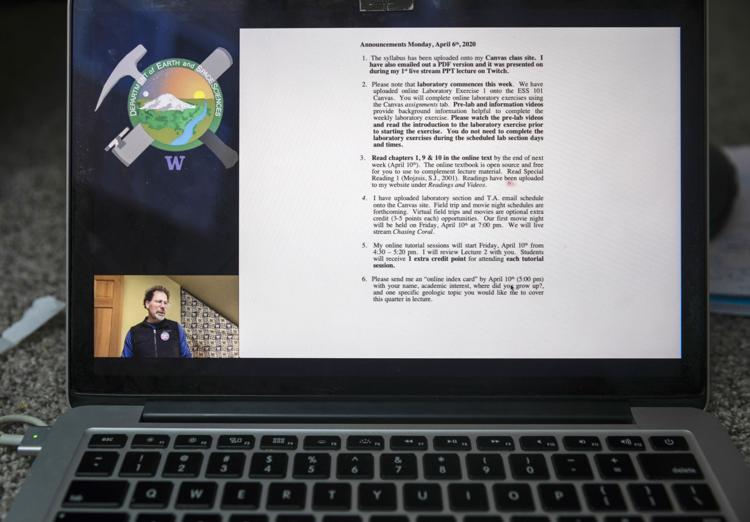 Classes have been online for a week, and principal lecturer Terry Swanson has had to get creative to switch his ESS 101 class online. In an effort to reach all 350 enrolled students, Swanson has supplemented his Zoom lectures with the online streaming site Twitch to publicly live stream his classes and field trips.
Twitch is a service most commonly used by online gamers to livestream their gaming sessions. It's publicly available, has no viewership limit, can easily screen share, and has an interactive live chat. While these features are perfect for a Fortnite stream, Swanson has been using the platform to keep his large lecture class live and interactive.
In early March, the UW paid for a university-wide Zoom Pro membership, but Zoom caps its meetings at 300 participants. Some introductory courses, like Swanson's ESS 101 class, exceed that limit. Although the university's recommendation for these cases is to do Panopto recordings, Swanson didn't want to miss out on the hands-on learning that comes with live teaching. 
His son, who works at Qualcomm Incorporated, a telecommunications company, recommended that he try Twitch. Although unconventional, Swanson said that streaming on Twitch to supplement Zoom has allowed him to reach more people without having to sacrifice a live lecture for a Panopto recording.
"There's no interaction — there's nothing — when recording canned lectures and I just did not want to do that," he said. "I'm a big proponent of being in the classroom."
Since his lectures are available for free online, students are tuning in who aren't enrolled in the course. On April 3, over 2,000 people logged on for his Twitch stream in addition to enrolled students who could log in via Zoom. 
One of these students is Cameron McElmurry, a third year undergraduate student majoring in public health. He said he had used Twitch occasionally to keep up with streamers and YouTubers, and that Swanson's use of Twitch prompted him to watch the lectures. He said geology is a subject that interests him, and the live public lectures gave him the ability to explore the subject, albeit without getting credit for the course.
His experience had led him to believe that more classes at the UW should be offered online.
"If more professors were doing this then more people would have access to higher level stuff that was taught currently," McElmurry said. "I think that's something that would be really good to work towards."
Swanson said that he considered the unfairness to students paying for the course, but still believes that paying students are getting their money's worth. A self-described "open-source person," Swanson gives exams and materials to the entire class so that some students don't gain an unfair advantage over each other. He cited other universities like MIT, who regularly publish their lectures for the general public to access.  
"It's a public university, anyone and their dog could walk into my Kane Hall lecture and sit down and listen to it, and I would not have a clue who was in there," he said. "What they can't do is they don't get to do the laboratories, they don't have the same kind of interaction with their professor."
The switch to online learning hasn't been seamless for Swanson, who has concerns about how his field trips next week will run. And although he hasn't dealt with the more insidious eavesdroppers, like those who "bombed" large Zoom lectures with hateful language in the first week of classes, he has dealt with inappropriate messages appearing on his Twitch chat box.
Streaming from Whidbey Island, he said he enlisted some help from his home office to monitor the public Twitch chat, keep it clean, and field questions from students.
"My wife is with me as my field assistant — and my dog — and my wife can relay the chat questions and that way we can be right there in the field while they're looking," he said. "It's the best we can do without being with them in the field."
ESS 101 streams live on Twitch Monday, Wednesday, and Friday at 12:30 PST at twitch.tv/tswanrocks. 
Reach reporter Emma Scher at news@dailyuw.com. Twitter: @emma_scherr
Like what you're reading? Support high-quality student journalism by donating here.