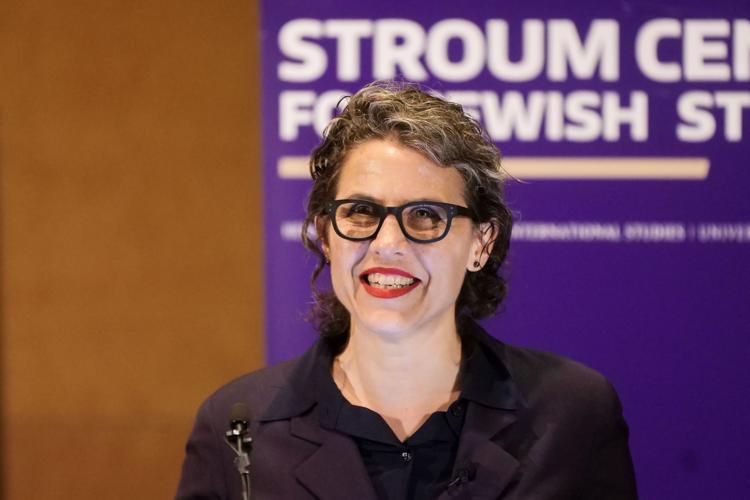 Enthusiasts of Jewish and Near Eastern history gathered last week to learn about the study of medieval Jewish texts in the digital age. The lecture series, hosted in Kane Hall on May 14 and 16, featured Dr. Marina Rustow, professor of Near Eastern studies and history at Princeton University and a Hazel D. Cole Fellow in Jewish studies at the UW.
Rustow was just as excited as the event's attendees for the opportunity to present her lectures.
"The Stroum lectures are really some of the flagship Jewish studies events in North America that people tend to notice from afar, so it was a huge honor to be invited," Rustow said in an interview. "My doctoral adviser gave the lectures in 1980, so there was absolutely no way I was going to say no."
Rustow's lectures focused on her studies of the Cairo Geniza, a cache of sacred texts that offers scholars a glimpse into Jewish life in the medieval Arab world. In her first lecture of this series, Rustow explained that the Cairo Geniza contained almost 400,000 pages of text when historians took interest in it over one hundred years ago, the lion's share of them dating back to the 10th through 13th centuries.
However, exploring these ancient texts is no simple process. Whitewash, sand, and moisture have eroded the manuscripts over the centuries, and reconstructing the fragments is a nearly insurmountable task for even the most adept jigsaw enthusiasts.
To complicate matters further, the hundreds of thousands of loose fragments have been distributed among a variety of institutions, from Princeton to Oxford to the University of Haifa in Israel. Two scholars on opposite ends of the globe could feasibly each have half of the same manuscript.
In the second lecture of the series, however, Rustow shared how digital technology is equipping historians with the tools needed to face this challenge. Based on facial recognition technology, new software can match a scanned fragment with a few hundred possible pairs, Rustow explained. Compared to the alternative of manually sifting through hundreds of thousands of disintegrating fragments scattered across the globe, this technology could expedite the process of deciphering a manuscript by decades.
Rustow explained that contrary to what one may guess, the software does not consider the shape of a fragment, as most have decayed too severely to be matched in that respect. Rather, the software analyzes the density of ink on the page, aiming to match fragments of similar content and penmanship.
This technology presents another hopeful trend for the future of historical research: improved collaboration. The dispersal of the fragments and the need for many sets of eyes have encouraged communication among scholars as few historical projects have in the past, and modern technology connects scholars with their colleagues faster than ever before.
"All of the different institutions that have these shards have contributed them to be digitized because everybody benefits if somebody can transliterate what's on the documents," Kara Schoonmaker, the digital media coordinator for the Stroum Center, said. "It really makes sense with a huge data set like this, where you do need a lot of eyeballs on it to be able to make sense of it."
However, career historians are not the only people collaborating on this work. Zooniverse, an online platform built for crowdsourced research, empowers anyone with a computer and an internet connection to offer scholars real, practical help.
While most of the site's projects are oriented around the natural sciences, the Scribes of the Cairo Geniza project launched on the site in August 2017, enabling internet users from around the globe to identify and transliterate Hebrew and Arabic documents themselves.
In an interview with The Daily, Rustow shared that an "opportunity of having direct contact with the ancients" like this is what gets her out of bed in the morning.
"If you're a person like me who's all prone to existential angst — that kind of dizzying anxiety of, 'what is the purpose and meaning of life?' and, 'why am I here on this earth?' — reading what people were talking about a thousand years ago and feeling connected to the human race in that particular way is one of the biggest soothers you can possibly imagine," Rustow said. "So to give people who don't have the specialized skills that kind of opportunity feels like an obligation to humanity."
Reach contributing writer Eric Moeller at development@dailyuw.com. Twitter: @EricMoeller8
Like what you're reading? Support high-quality student journalism by donating here.