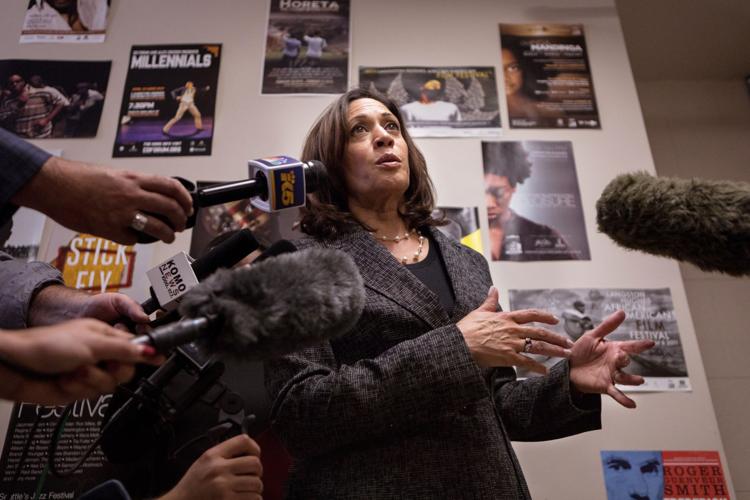 Kamala Harris is mad as hell and she's not going to take this anymore. 
"It doesn't make me sad, it makes me mad because all of us who parent — an auntie, an uncle, a grandparent, a neighbor, a big sister, brother — the first instinct is to protect and anyone who was trying to harm that child, I'm prepared to fight," the California senator and Democratic presidential candidate said on Friday at a gun safety roundtable in Seattle.
Harris came to Seattle Sept. 27 for the panel with local officials and activists at the Langston Hughes Performing Arts Center. She also attended a couple of local fundraisers, including one in Capitol Hill, as she tries to regain momentum for her campaign.
The former prosecutor was quick to attack what she sees as a lack of bravery from the federal government in taking on ambitious gun reform, even in the face of consecutive mass shootings that left a combined 32 people dead in early August in El Paso, Texas, and Dayton, Ohio.
"When our kids come home, the children of our community come home, and ask us ... 'why did we have to have that drill' of course our response is, in large part because there are supposed leaders in Washington D.C. who have failed to have the courage to reject a false choice which suggests you're either in favor of the Second Amendment or you want to take everyone's guns away," she said.
Harris says that, if she were elected president, she would give Congress 100 days to bring comprehensive gun safety legislation, including universal background checks and the reinstatement of an assault weapons ban, to her desk. If nothing is passed, she says she will take executive action to, for example, ban the importation of AR-15 assault weapons. She also supports repealing a law that shields gun dealers and manufacturers from lawsuits over guns used in criminal offenses.
Harris, who served as California's attorney general from 2011 until 2017, also argued against the conflation of the issues of mental health and gun reform.
"Often the issue of mental health and mental illness is brought up by people who do not want to see us pass laws that are about reasonable gun safety laws," Harris said. "They bring it up with the intention to deflect and distract from the fact that we need to do both."
Harris called out the inequity she sees in how people of different races have been treated in the movement toward gun control.
"There are whole communities, particularly young men of color, who have been experiencing and dying from gun violence for generations without public outcry," Harris said to applause. She added: "This is part of reality if we're going to be candid about the issue, which is that we have to also agree we have not been treating all communities equally on this."
Harris sat at the roundtable with Attorney General Bob Ferguson, Thomas Köhnlein of March for Our Lives Seattle, the American Muslim Empowerment Network's Aneelah Afzali, Robin Little Wing Sigo of the Suquamish Tribe, and the Puyallup Tribe's David Z. Bean, who donned a shirt with the words "stand up for future generations." The panel was moderated by state Rep. Kristine Reeves, a Federal Way Democrat.
After a lauded June debate performance that earned her a brief bump in the polls, Harris hasn't been able to break out of the single digits. In the RealClearPolitics polling average, she currently sits in fifth place with about 5%.
Washington will hold its primary March 10 after the state Legislature passed a new law moving the vote up more than two months from late May in hopes of making the Evergreen State's election more meaningful. The state Democratic Party also voted to ditch its usual caucuses in favor of a primary with mail-in ballots.
With the earlier primary this cycle, several presidential candidates have visited Seattle in recent months. Massachusetts Sen. Elizabeth Warren held one of the biggest rallies of the campaign at Seattle Center in August and entrepreneur Andrew Yang hosted an event at Gasworks Park last May. Former Vice President Joe Biden and South Bend, Indiana, Mayor Pete Buttigieg attended fundraisers this summer.
The former vice president's wife, Dr. Jill Biden, was in town for a couple fundraisers over the weekend and Minnesota Sen. Amy Klobuchar is scheduled to attend a fundraiser in Seattle and have a meet and greet with locals at Zoka Coffee in the U-District this Monday, Sept. 30.
Reach reporter Jake Goldstein-Street at news@dailyuw.com. Twitter: @GoldsteinStreet
Like what you're reading? Support high-quality student journalism by donating here.