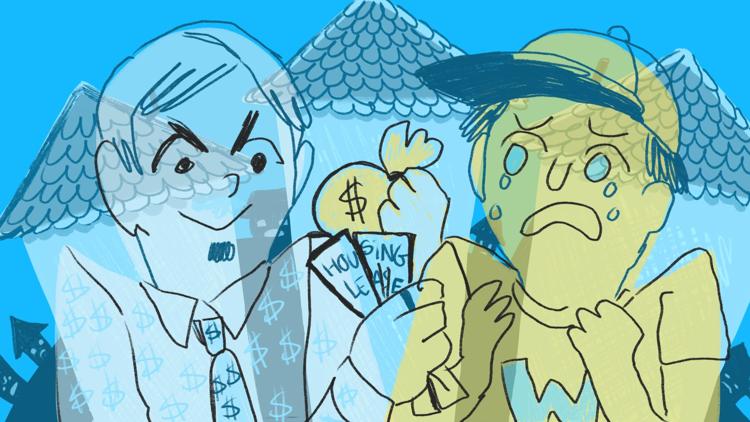 If you're shocked by how much rents have gone up in the U-District over the past nine years or so, you're not alone. According to Zillow Rent Index data, the median rent in the 98105 ZIP code, which includes the U-District, increased 33% between November 2010 (the first month for which data is available) and April 2019. Only half that increase can be linked to inflation.
It's not just the U-District. The 98103 ZIP code, which includes much of nearby Wallingford and Fremont, experienced a nearly 40% increase over the same time period. The area around the UW is just experiencing the same pressures as the rest of Seattle, according to UW real estate professors Arthur Acolin and Gregg Colburn.
Acolin and Colburn both said that the main cause behind rising rents was a supply and demand mismatch. According to Acolin, the two main drivers for housing demand are population growth and income growth. Seattle has experienced both of these drivers in the past few years as Amazon and various tech companies have brought in new workers with high salaries.
Meanwhile, housing supply hasn't increased fast enough to make up for these changes. Even with all the new buildings being built in areas like South Lake Union and now the U-District, there isn't enough new housing to make up for the 114,000 people who have moved to Seattle since 2010.
"We have a system that largely relies on basically market provision of housing," Colburn said. "When you have this really, really strong demand and strong economies in a particular area, and insufficient supply response, it shouldn't surprise anyone that this is the effect that we're getting."
Colburn and Acolin both believe that more housing is needed to keep rents from ballooning out of control in this situation. Not everyone agrees that more housing is the best solution, however.
"The news, market trends, and reports all seem to keep hammering the same point that we need more 'housing,'" Anson Lin, manager of Lavender Apartments, said in an email to The Daily. "But it's such a broad term to just be building more apartments, and the units they tend to build are very overpriced for students and the local community."
Lin also said he thinks there's more competition among housing suppliers to attract renters than the data shows. He noted that many expensive housing options offer incentives to new renters so the landlord can avoid vacancy. These incentives might include free rent for the first month or gift cards.
"The data [real estate researchers] are using is overly optimistic and inflated, in my opinion," Lin said. "Much of the data is saying the vacancy rates are low and the units can be rented at the absurd rates they are charging, but in reality, with all the new units available now, most of those expensive units are probably having a tough time being rented out."
Like Lin, many Seattle residents are not convinced that new luxury housing units will help keep rent prices in check, especially when they replace older, more affordable units. While Acolin agreed that this is an issue, he cautioned that not building new housing wasn't a solution either.
"When those [older units] get cycled out and taken away from the market and replaced by higher rent buildings, you will lose some of that naturally occurring affordable housing," Acolin said. "That argument is right. At the same time, as long as you're replacing, let's say, a 25-unit building with a 50- or 100-unit building, you will still be overall providing more opportunities for people to move into that location than you would otherwise."
Regardless, Lin, Acolin, and Colburn all agree that there needs to be more affordable housing for people who can't afford market rate rents.
"I really believe both arguments, that we need to build more, and we need to have mechanisms that ensure that certain segments of the population are provided with nonmarket rents that are allowing them to stay," Acolin said.
Colburn feels the citywide need for more public housing, tax credits, or other options to keep housing affordable for low-income residents.
"I just don't believe that purely private provision in a market environment like this is going to provide the stock that we need for people," Colburn said.
There are two main programs that promote affordable housing in Seattle. One is the Multi-Family Tax Exemption (MFTE) program, which allows property owners to not have to pay property taxes on improvements to new buildings for 12 years if 20% of the units are rented out to lower-income residents at an affordable cost. The other is the Mandatory Housing Affordability (MHA) zoning changes, which require developers to either include a certain number of affordably-priced units or pay a fee that goes to fund affordable housing.
Unfortunately, even these programs do not seem to be enough of an incentive to develop more affordable housing.
"Many developers seem to just be paying this fee rather than allocating affordable units," Lin said.
For example, the developer behind the 24-story high-rise currently under construction next to the U-District Safeway opted to pay the fee rather than include affordable units.
There are many reasons why developers choose to build more high-end units rather than affordably priced ones, most of them boiling down to recouping the costs of building.
Property taxes have also contributed to rising rents. Recent tax structure changes caused King County property taxes to rise 43% in just four years. The biggest factor in this change is a recent boost in spending on public schools.
High rents affect university employees as well as students. According to Colburn, many UW employees can't afford to live here, so they live far away and have an extremely long commute.
"Either you don't have any money to spend, or you've got a terrible commute which has huge lifestyle implications," Colburn said.
Many tech companies based in Seattle pay extremely high wages for software engineers and other substantial segments of their workforce. Unfortunately, UW students, employees, and their families do not all benefit from these high-wage jobs and may not be able to afford the rising cost of living near the UW.
Students who cannot afford standard housing options may end up living in "really substandard conditions with overcrowding and other issues that have effects on mental health," or else potentially running out of money for food and other basic necessities, according to Acolin.
"That has a really big impact on overall well-being and ability to remain enrolled in classes and be successful," Acolin said.
It's hard to predict what will happen with rents in the future. Colburn said that it largely depends on factors within the local economy, like whether or not Amazon stays and continues to hire people in Seattle.
Acolin said that upzoning and new construction could ease some of the supply pressure in the U-District after a few years. However, the new light rail station coming to the intersection of Brooklyn Avenue Northeast and Northeast 43rdStreet might draw new residents looking for quick commutes downtown to this neighborhood.
Regardless, Acolin thinks it may be impossible to maintain semi-affordable housing without building more rental units.
"The argument that if you don't build, you will be able to maintain affordable housing is not really supported by evidence," Acolin said. "If you have high income and high population growth … in places where you build more, you will have less of an increase in prices of rent. In places where you build less, you will have more of an increase in rent."
Lin suggested that low-income students and other residents may be able to find affordable housing in the meantime by asking managers of new buildings if they offer MFTE units. The City of Seattle has resources for residents searching for affordable housing on its website.
Reach reporter Leslie Fisher at news@dailyuw.com. Twitter: @lesliefish3r
Like what you're reading? Support high-quality student journalism by donating here.