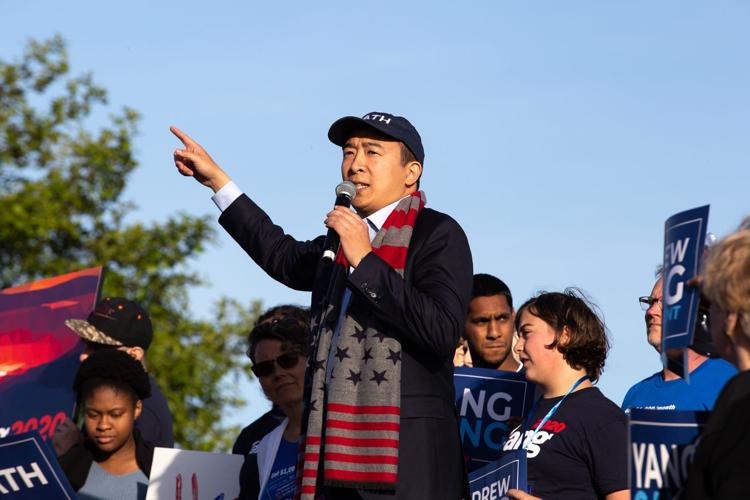 Democratic presidential candidate Andrew Yang made an appearance at Gas Works Park in Seattle on May 3 as part of his Humanity First campaign tour to talk about his three main policy proposals: universal basic income, health care for all, and a new form of capitalism focused on human welfare.
A former lawyer and tech entrepreneur, Yang has qualified for the first Democratic debate later this June. At the forefront of his platform is his proposed solution to the widespread fear of massive unemployment as a result of automation: universal basic income (UBI).
Yang's proposal, which he calls "The Freedom Dividend," would provide every American over the age of 18 a dividend of $1,000 per month. He contends that this would enable all Americans to protect and enrich their livelihoods by being able to pay their bills, pursue education, start businesses, and take care of their loved ones. According to Yang, a UBI at this scale would permanently appraise the economy by roughly 13% — about $2.5 trillion by the year 2025 — and would increase the labor force by 4.5 million people.
"This $1,000 a month, again, as soon as you dig into it, you realize, 'Wait a minute; this would be tremendous for our society,'" Yang said. "It is one of the only meaningful things we can do in the face of the fourth industrial revolution, and there's nothing stopping a majority of citizens in a democracy from voting ourselves a dividend. Nothing at all."
As a self-declared "numbers guy," Yang is known for his emphatic utilization of data and statistics to support his arguments.
"GDP is going up and up, meanwhile more and more Americans are getting left behind. How many of you knew that our life expectancy has declined for the last three years? Yeah, and why is that? Suicides and drug overdoses have both overtaken vehicle deaths as [the] leading cause for the first time in American history," Yang said. "Do you all want to know the last time our life expectancy declined for three years in a row? The Spanish flu of 1918 … What good is celebrating record-high GDP when our people are dying younger?"
Yang used other data-driven facts to support his arguments, such as how health care expenditures currently account for roughly 18% of the national GDP and how millions of American women lacking the economic means to escape abusive and exploitative workplace settings. Possibly most prominent among his arguments was his criticism of Amazon's forward-driven agenda of automation and its complete lack inpayment of federal income tax in the last two years.
"Amazon's like this giant vacuum sucking up $20 billion in commerce every year out of our mainstream economies," Yang said. "Now, it is not Amazon's fault; Amazon's just really good at what it does. And it's not even Amazon's fault that they're paying zero in taxes, that's also their job. But it's our fault if they're paying zero in taxes. We must have messed up if we've designed a system where a trillion-dollar tech company can pay less in federal taxes than everyone here in this park tonight."
The last of Yang's criticisms focused on Donald Trump's presidency, in which he asserted the need for a different perspective on some of the nation's most salient issues.
"Donald Trump got where he is today because he got the problems essentially correct, but his solutions are the opposite of what we need as a country. What are his solutions? His solutions are to build a wall. To turn back the clock. To bring the jobs back, and we need to do the opposite of those things," Yang said.
Critiques aside, Yang was not one to dwell on the past; permeating throughout his address at the rally was a bold sense of optimism, self-awareness, and humor.
"We need to turn the clock forward. We need to accelerate our society and our economy, and I'm the man for that job because the opposite of Donald Trump is an Asian man who likes math," Yang said.
Reach reporter Daniel Ko at news@dailyuw.com. Twitter: @__danielko
Like what you're reading? Support high-quality student journalism by donating here.