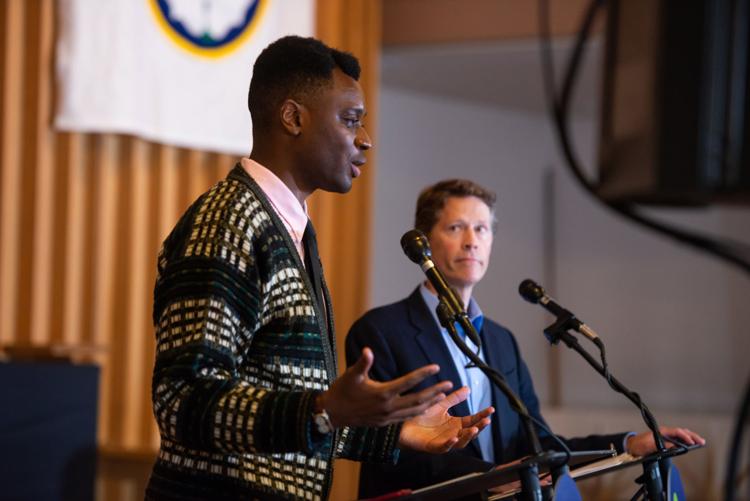 Shaun Scott, former Seattle City Council contender and UW alum, has been named Washington field director for Sen. Bernie Sanders's 2020 presidential campaign. 
Scott, a Democratic Socialist, is coming off a narrow loss to represent the U-District on the Seattle City Council after an intense, almost yearlong campaign for the position. 
Scott has supported Sanders since he made his first presidential run in 2016, and he has appreciated him for as long as he's been in the Senate as an Independent.
"The campaign was really excited to bring me on, but their excitement was no match for the excitement I had to accept the position," he said.
As The Daily previously reported, "Scott, who said he voted for Green Party presidential nominee Jill Stein in 2016, has served as a Bernie Sanders delegate, an organizer for the Seattle Democratic Socialists of America since early 2017, and as a youth mentor at Washington Middle School."
Scott appreciates Sanders' ideological consistency, as the senator has been pushing progressive policies for decades.
"Pick just about every position he's got and you can go back in history and see that he has been consistent in his stance," Carin Chase, the newly named state director for the Sanders campaign, said.
For example, Scott agrees with Sanders' strong stance on moving the economy away from relying on fossil fuels to help preserve the environment.
Scott believes that's why Sanders has a good standing with young voters, including the Sunrise Movement, a youth-led grassroots organization focused on political action on climate change that endorsed the Vermont senator. 
Seeing him as the best candidate to help rally people to go out and vote, Scott believes Sanders is the most equipped candidate to defeat President Donald Trump in the November election. He also believes that he's the one candidate able to swing some of Trump's conservative voters in this election.
Scott spoke plainly when talking about his plans in his new position. 
"It's about delivering as many of Washington's delegates to Bernie as we can, that's really the big vision," he said. 
Scott and his constituents have plans to help Sanders be the Democratic nominee and eventually elected to the presidency, but they can't focus on that until they've conquered the Washington primary.
The campaign's most effective way of advocating for Sanders in his presidential run is to share their stories of why he is their favorite candidate, Chase, also a UW alum and an Edmonds School Board director, said.
In previous years, Chase says some Democratic voters have been politically disengaged, and she believes Sanders is the best candidate to get them to the polls. The ultimate goal to Chase is to remove Trump from office and replace him with a Democrat, and Chase and Scott believe Sanders is the best one to do that.
"We want to take this to a fight against one of the most corrupt and dishonest American presidents we've seen," Scott said. "We want to win this election for all the people that need to see a real fighter in the White House."
Registered voters in Washington State will be getting their ballots in the mail in late February, and the Democratic primary will be held March 10 after being moved up by the state Legislature last year. 
Reach contributing writer Stevie Riepe at news@dailyuw.com. Twitter: @StevieRiepe
Like what you're reading? Support high-quality student journalism by donating here.