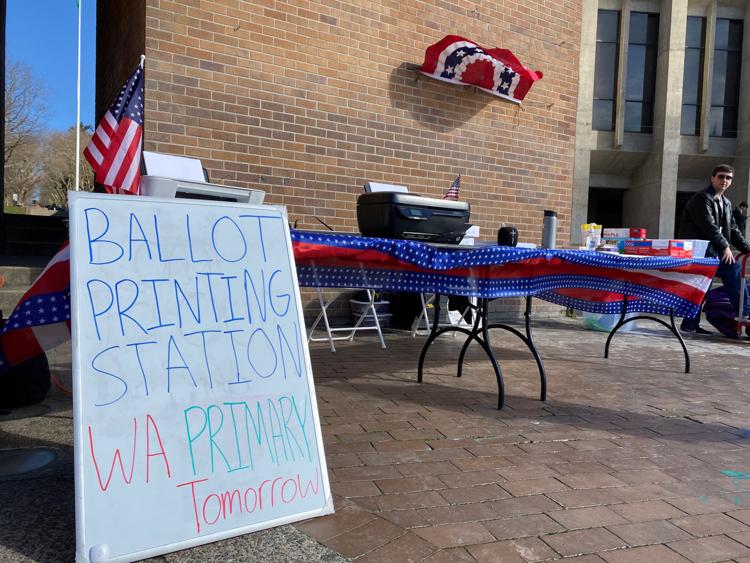 When UW students Kylie Knowles and Mina Hassani first joined the voting justice group Common Power, they never thought they'd have to register voters without leaving the house. 
A few months and a global pandemic later, activist organizations that previously relied on face-to-face interaction have had to scramble to adapt to lockdown and social distancing protocol. But even as the methods have changed, Common Power has tried to stay consistent in its effort to fight voter suppression.
"It can be frustrating wanting to make a difference in lockdown," Hassani said. "But a lot of the problems we want to address stay the same or get worse when people can't leave their houses."
Organized by David Domke, professor and former chair of the UW department of communication, Common Power aims to increase voter registration and fight laws that disenfranchise people and decrease voter turnout. Now the COVID-19 pandemic has made some of the organization's long-term goals even more pressing.
"Even before, expanding vote-by-mail has been a huge priority," Domke said. "In places where in-person voting is mandatory, people who don't live near polling stations and people who have jobs are often unable to hit the narrow windows in which the polls are open." 
Combined with the often deliberately complicated voter ID laws that exist in 35 states, this makes voting so disproportionately difficult for some people that it constitutes suppression, the group argues. Now, with the possibility of disease potentially keeping people home from the polls, vote-by-mail is a more consequential issue than ever.
Supporting legislative solutions to voter suppression is just one of the primary avenues of Common Power in its fight for voting justice. Since Washington citizens currently can vote by mail, Knowles and Hassani have been working toward another goal of the organization: increasing voter registration. But getting out the vote requires adaptability in a time in which person-to-person outreach efforts could threaten public safety. As a result, Common Power has had to switch to remote communication.
"Our whole thing used to be that we would travel," Knowles said. "We used to go door to door and sign people up in person, especially in places where registering might be more difficult. Now, we've had to go online to keep everyone safe, and we do letter-writing, email, and phone calling … we're putting in a lot of effort to make sure people know if they're registered to vote."
Knowles says that even as the methods of communication change, enough effort can help create similar results.
The Pew Research Center found in 2017 that 62% of surveyed unregistered voters had never been asked to register. With COVID-19 limiting people's exposure to the outside world, this number has the potential to increase. Common Power's voter outreach effort seeks to empower more citizens to participate in democracy by increasing awareness in spite of the pandemic. And, since Common Power allows its interns organizational responsibility, UW students are helping to lead the charge.
"Even though we're students, we're treated with the same respect as other members of the staff," Hassani said. "Whenever we're given a project, like working with voter registration in isolation, they don't tell us that we have to do this or that; they let us make it our own. It's a very rewarding and empowering opportunity."
Hassani and Knowles say they understand the frustration of social distancing in a time of social unrest. Many internships and volunteer opportunities have been curtailed or cancelled due to the worsening pandemic. But the two remain confident that students who want to make a difference still can.
"I think you can find a lot of places that are looking for more people power on social media," says Knowles. "It can be hard to see everything that's going on and feel like you can't be a part of it, but I'm constantly seeing links to organizations that are offering volunteer opportunities. Even though we're all locked down, there are lots of ways for students to get involved."
For more information on Common Power and its "Action Days" (opportunities for volunteers to participate in civic fieldwork every other Friday), students can visit www.cpfuture.org.
Reach contributing writer Oscar Zahner at news@dailyuw.com.
Like what you're reading? Support high-quality student journalism by donating here.