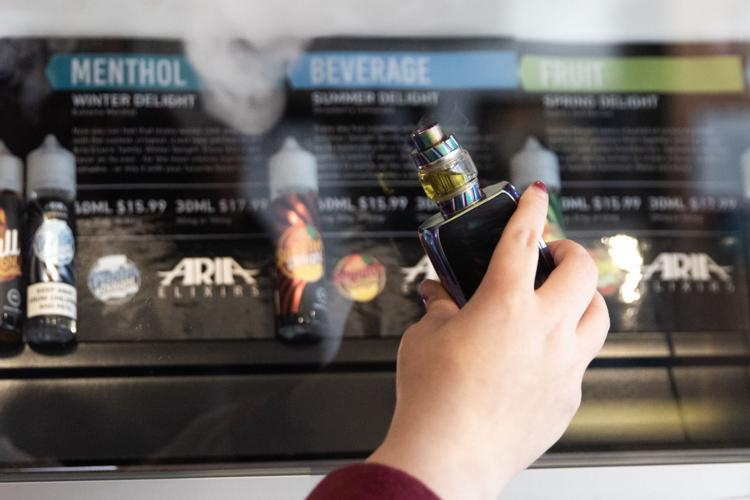 Gov. Jay Inslee requested Friday morning that the State Board of Health ban all flavored vape products, including flavored THC products, at its next meeting Oct. 9.
The order suggests that the ban may be a short term one: The state will work to identify the specific ingredients in vape products that have made people sick and these products will be banned once they are identified, according to the order.
The order cited the statewide 2018 Healthy Youth Survey, which showed that nearly 30% of high school seniors in Washington vape, a figure up about 10% from two years prior. 
Two students from nearby Roosevelt High School took a break from skateboarding on Red Square to speak with The Daily about vaping. 
"We set off the fire alarm four times last year from vaping in the bathrooms [at school]," one student said. According to the students, who said they did not vape, it's commonplace to see students vaping in school bathrooms or in the parking lot. School employees don't usually go outside or into student bathrooms and intervene.
Both the "epidemic" in vaping among young people and the outbreak in severe lung infections among those who vape contributed to the decision to ban flavored e-cigarettes.
"E-cigarette use and vaping are hazardous for your health and no one should be doing it at this time, until the cause or causes of the ongoing outbreak of severe pulmonary disease is established," Dr. Jeff Duchin, UW professor and health officer at Seattle and King County Public Health, said. 
Members of the community, however, are concerned the ban may simply be a knee-jerk reaction to the seven cases of severe lung infection reported in Washington and the 12 deaths nationwide so far.
"It's a pipe dream that [vaping] is not dangerous," one UW staff member who wanted to remain anonymous said. But he didn't think the ban would be effective. 
One Ave vape shop employee mentioned that she and some of her friends had already switched back to cigarettes from vaping out of fear of the widely-publicized vape-related lung illness. 
Students have seen other students vaping all over campus. One student on Red Square recalled seeing people vaping in dorms, libraries, and lecture halls. "I remember this one guy taking a rip and blowing a whole f---ing cloud [in Suzzallo]," he said.
Another skateboarder on Red Square, who graduated five years ago, said he vapes. 
"I think it's terrible for you. But there are worse things," he said, noting that those affected by the ban might look to buy pods online or smoke unflavored vapor.
His friend, however, seemed more optimistic about the ban. She said she began vaping years ago to try quitting smoking cigarettes. She believes the ban will be effective in curbing and preventing teen use of vape products because the flavors may attract kids. "They taste like candy," she said.
Separating fact from fiction
According to Dr. Vin Gupta, a UW professor and pulmonologist, a long term ban would be ineffective and may induce a black market response. 
A short term ban, however, will give medical experts time to determine the causes of severe cases of lung disease and to properly assess the impacts of vaping so people can decide for themselves if the risks associated are worth it. But currently, "nothing that exists right now on the market for vaping, whether it's menthol or tobacco flavored, has ever been evaluated for health or safety," Gupta said.
Both Gupta and Duchin, along with most public health officials around the country, took a hardline stance against vaping. 
"You need to stop vaping right now, regardless of how old you are and what you vape," Gupta said.
Juul and other mainstream vape products entered the market in 2017, after which the FDA gave these companies until 2022 to provide information on the health effects of their products. Americans would have to wait five years before the FDA collected information on whether the products were safe for human consumption.
But the products quickly began a new smoking epidemic among teens, something many were quick to blame on the marketing of vape products as safe and even healthy. 
According to Sarah Ross-Viles, director of the UW Tobacco Studies Program, this may be in part because states didn't keep up with the market when it came to youth nicotine addiction. 
"The sleek advertising and PR face the industry shows us depicts a product that is safe and normal to use, and even a benefit to your life," Ross-Viles said.
While students may believe vaping is safer than smoking cigarettes, Ross-Viles indicated that this is an extremely low standard. "Cigarettes lead to death for half of their regular users," Ross-Viles said. "That is the most deadly commercial product."
Ross-Viles advocated for more resources to be put into smoking cessation and addiction research. 
In Washington, "We collect over $500 million in tobacco tax and settlement revenue every year, but only spend about $1.5 million at the state level on trying to help people quit or [to prevent] youth addiction," Ross-Viles said. "The Centers for Disease Control recommends that we spend 40 times that amount to successfully reduce the death and disease from tobacco in Washington."
A lack of federal THC regulation
Cannabis vaping makes up a large portion of vape products on the market today. This is why future research should probably also include cannabis, rather than treat it like an extremely dangerous drug, according to Gupta. 
Recent reports have identified vitamin E acetate as one source of the mysterious lung illnesses associated with vaping. The chemical was found in several cannabis vape product samples from patients exhibiting the illness.
He said people need to demand that the FDA take on an activist role and regulate cannabis with enlightened health policy. 
"Our federal marijuana policy, we've known for a while now, has been a failure," Gupta said. "What we're seeing here today may have been less likely if we had more enlightened central marijuana policy … Would we be having these issues if marijuana was not considered a schedule I illegal drug?" 
For Gupta, this epidemic raises many questions, including: Why is the vaping lobby able to successfully pressure the federal agency that should be charged with protecting public health and public safety? He suggested that the cannabis black market may have helped create the circumstances in which people are vaping homemade pods and getting sick in doing so.
"We have an FDA for a reason," Gupta said. "Because this is in the purview of the FDA, they should take leadership."
For help
Gupta wanted students to know that despite this ban, they still have control and autonomy to manage their health decisions. "No one is trying to take away a habit or lifestyle decision that people enjoy, we're just trying to save your lives," Gupta said.
Ross-Viles had a clear message: "The companies that make vaping products have not been direct about how addictive the nicotine in vape products is. Nicotine is very addictive, but you can get over a vaping addiction and there are really good supports to help you." Students and faculty can turn to Hall Health to stop nicotine addiction. The state Department of Health also offers an app as well as a quitline: 1-800-QUIT-NOW. 
Reach senior investigations reporter Manisha Jha at investigations@dailyuw.com. Twitter: @manishajha_
Like what you're reading? Support high-quality student journalism by donating here.