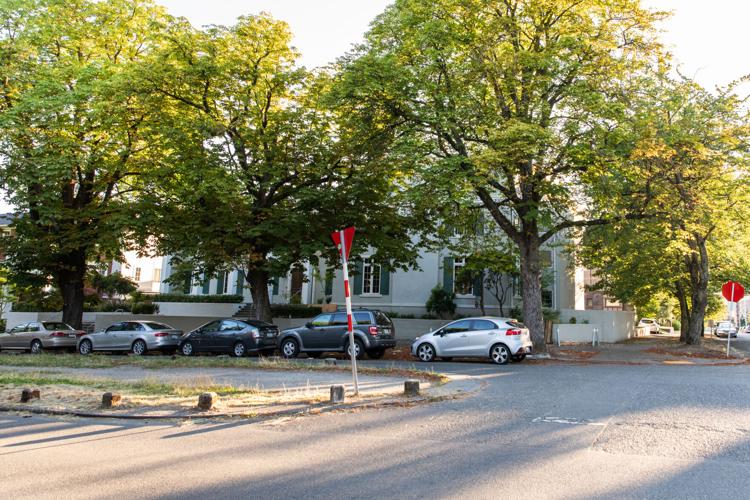 The coronavirus outbreak in the UW's fraternities and sororities continues to grow as the university announced 167 students have tested positive, as of Monday afternoon.
The outbreak has also spread to yet another Greek Community chapter, as 12 have now been affected, according to the UW. On Saturday, 144 students in 11 fraternities and sororities had tested positive.
More than a dozen cases have been added almost every day since the beginning of classes, almost all of which are being taught remotely. There were 88 cases Wednesday in four fraternities and four sororities, according to Interfraternity Council President Erik Johnson: 117 Friday; and 144 Saturday.
The first cases were announced Sept. 11. 
Not all of the students who have tested positive live in chapter houses, and some reside in live-out facilities. 
This is the second coronavirus outbreak on the UW's Greek Row to reach 150 cases, as one in June and July hit 154 cases despite reduced occupancy in fraternities.
Students moving into campus housing as well as those living in the Greek system were encouraged to get tested upon moving in. Some 1,256 fraternity and sorority members were tested for COVID-19, and four of those students tested positive, the university wrote in an announcement. 
Student occupancy in Greek Community housing has dropped from about 3,400 to under 2,000 across 42 Greek houses this fall, according to UW Fraternity & Sorority Life director David Hotz. Over the summer, about 1,100 students lived across 25 Greek Community houses.
Rules were implemented by the Panhellenic Association, which governs most of the UW's sororities, when coronavirus first hit the school "explicitly prohibiting any and all social events" through the remainder of 2020. Under the rule, community service and philanthropy endeavors could continue if they followed social distancing guidelines.
In a message to the campus community, medical director of the university's environmental health and safety department (EHS) Geoffrey Gottlieb urged all students who have been in contact with members of the Greek Community to get tested through the UW's Husky Coronavirus Testing Program as the outbreak in the Greek system spiked. 
"Please encourage others you live with and those you have spent time with to join you in enrolling and getting tested," Gottlieb wrote in the message Thursday. The same message was sent to all students Friday afternoon.
The program has tested 2,380 students as of Monday, with 341 testing positive, amounting to a 1.7% positivity rate. 
As of Sunday, 522 members of the UW community had tested positive for the coronavirus across the UW's three campuses, according to EHS. The Seattle campus makes up a vast majority of these cases where 435 students, 57 staff, and nine faculty members have tested positive. More than half of the student total is made up of fraternity and sorority members between the two outbreaks.
The university has added 154 positive tests in the past seven days, as of Monday.
The Greek Row outbreak has in part fueled a rise in cases in King County, where public health officials are urging residents to continue to follow social distancing and wear a mask as an incoming flu season could strain the region's hospitals.
Reporter Annie Denton contributed to this report.
Reach News Editors Jake Goldstein-Street and Ash Shah at news@dailyuw.com. Twitter: @GoldsteinStreet @itsashshah
Like what you're reading? Support high-quality student journalism by donating here.