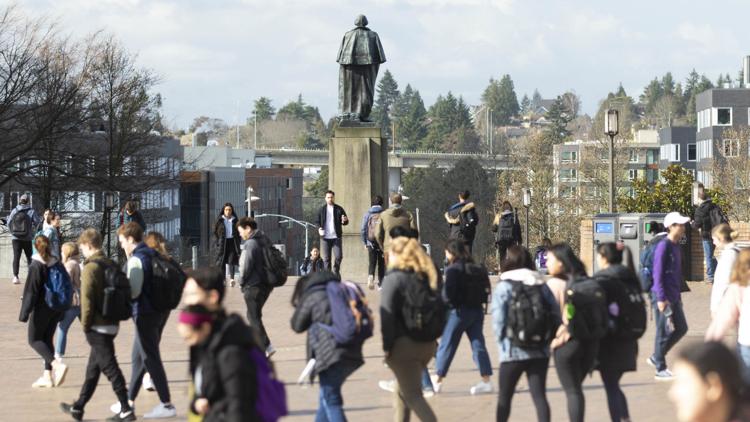 University officials remain unsure about how to approach a spring quarter amid the ongoing COVID-19 pandemic peaking locally. Even if coronavirus cases decrease sufficiently, they say a hybrid model may not be what is best for students.
"We don't have a final approach figured out yet for spring quarter," UW spokesperson Victor Balta said in an email. "I think it's too early for us to have anything definitiveto say about the spring quarter at this point. We are going to continue following the guidance of our local public health agencies and our own experts, but no decisions have been made at this point."
In light of rising COVID-19 cases in King County, the guidance of local officials and public health agencies will be integral in the decision-making process for spring quarter to help combat the spread of the virus and protect students and faculty. However, there are a lot more factors to take into account. One big one? Equity.
"I think, in my opinion, spring is a lot more complicated of a situation than just whether or not the COVID outbreak has improved," ASUW President Camille Hattwig said. "Because even if we get to a spot where, let's say, the pandemic is over, magic has happened — there's still a lot to consider about spring quarter beyond the pandemic".
If UW officials decide to have a hybrid spring quarter with more in-person instruction, there is a very high chance that not everyone will be able to return to campus. Many students face financial struggles, are immunocompromised, or do not live in the country. For these students, the choice to participate in in-person classes is much more difficult and may not even be an option.
"Obviously any potential ... hope for in-person course options needs to be counterbalanced with the needs of disabled students [and] international students," Hattwig said. "We need to consider that faculty has a wonderful representation, but a lot of faculty are in high-risk groups, and we don't want to be a part of putting our professors at risk."
For some professors, in-person classes would be too high of a risk; others may not be comfortable with in-person instruction with the pandemic still raging. 
The same goes for students. Some may be itching to get back to campus, but others may want to stay where they are and finish out the school year without the extra stressors of campus life in the midst of a pandemic.
"I think most people can agree, COVID is still going to be around, and an amount of COVID restrictions," ASUW director of university affairs Clara Coyote said."So, in a best-case scenario, even when students are healthier and perhaps more able to attend in-person classes — not saying that necessarily will happen in spring — a huge barrier is going to be students who never came to live on campus."  
In short, not everyone has had the same experience with the pandemic and online classes, and undoubtedly, some have had it easier than others. While many students hope to return to some semblance of normal as soon as possible, a hybrid spring quarter may not be the equitable choice for all students.
"Even if COVID gets fixed, there would be a lot of barriers to having fully or mostly in-person classes for spring, so our options appear to be somewhat limited," Hattwig said.
While the UW has not said anything definitive in relation to spring quarter, the administration has a much bigger task than deciding whether coronavirus cases have sufficiently declined to permit a transition back to in-person instruction. They must take varying students' needs into account when making their final decisions.
Hattwig expects the spring quarter decision to come around the time the university publishes the course time schedule, similar to past quarters.
Reach contributing writer Taylor Bruce at news@dailyuw.com. Twitter: @Tay1or_marie9
Like what you're reading? Support high-quality student journalism by donating here.