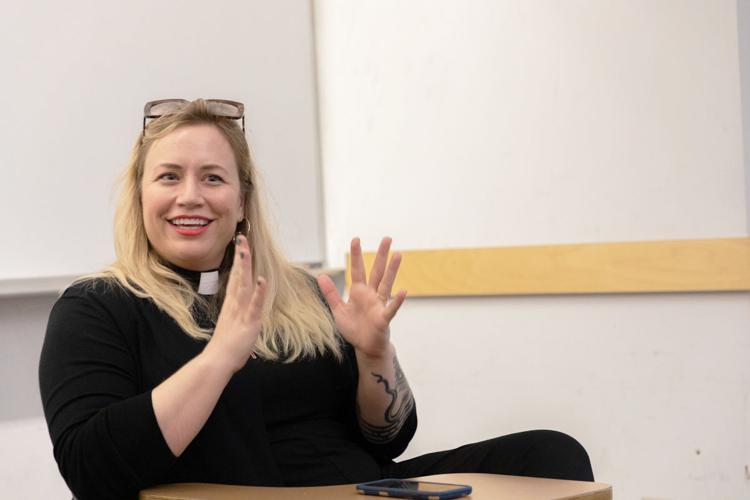 "My donor was a trans woman, so the entire process involved no men," Rev. Shelley Fayette said. "Just like Jesus."
Fayette was a panelist on the So Queer, So Christian panel held Monday, Sept. 23, as a drop-in Dawg Days event for those who want to learn about intersectional Christianity. 
Throughout the panel, the mood bounced from sentimental to jovial at times, keeping the sincerity of addressing the real-life troubles many queer people face in Christianity, while also presenting tongue-in-cheek ways of connecting queerness with Christianity. 
The panel was held by The Table with the UW Lutheran and Episcopal Campus Ministry, which describes itself as "an open, affirming, and welcoming campus ministry at the University of Washington." 
The ministry explores "what it means to be a follower of Christ in the 21st century, a community that is open and welcoming to all questioners, advocates for social justice, lovers of God and neighbor, and people who enjoy the occasional impromptu dance party." 
The moderator of the panel was Liz Besser, the program assistant for the organization, who said that she found the organization through recommendations of her friends. 
"I came from out-of-state and was raised Lutheran," Besser said. "I was looking for places that offered a sense of community and after hearing about the ministry from some friends, I found that here."
During the panel, Rev. Brian Hutchison, Fayette, Rev. Elizabeth Rawlings, and Hope, a parishioner at Christ Episcopal Church, answered questions about what it means to follow Christianity that intersects with queer identity in the modern context. They explained how Christianity and queerness can be symbiotic in practice.
"Joy, queerness, and the divine are non-separable," Rawlings said. "God doesn't have to look one way or another."
Much of Hutchison's interpretation of the Bible requires taking the literal text and examining how it follows the societal rules of that era, taking the teachings and adapting them to a different modern context. 
Hutchison's approach to the Bible centered around finding support and community for those who still want to have a relationship with God.
"We are a healing station for people leaving toxic Christianity," Fayette said. "Then they can figure out for themselves what they do from there." 
An attendee asked what panelists would say to people who felt victimized by Christianity and whether they would try to reintroduce them to the faith. All of the panelists assured that they would not impose anything upon those who have had traumatic experiences and would only serve to provide community and support for those in need. 
"I don't think that is ethical," Hope said. "Traumas must be respected and we must respect people's experiences."
Rawlings echoed this sentiment.
"We focus on being open, present, and available," Rawlings continued. "There are spaces where that can be done, I would never press anybody." 
Fayette helped close the panel by explaining how she came to be a part of the ministry despite having been an atheist prior, and understanding the structural issues that the church had regarding queerness. 
"The church would exist there regardless," Fayette said. "I can interfere. I can provide a new space that did not exist before for support and community from inside." 
Hope emphasized how powerful it was for Fayette to create this space. 
"She stuck a big ol' hole in the side of the church and pulled Christ's blood out for those who need it," Hope said.
The overall message of the panel was one of understanding and providing support as well as telling the attendees that faith can be observed in ways unique to the individual and does not hinder on preset definitions of Christianity.
"In whatever way you approach faith, be sure to use all of you lenses," Hutchison said. "When you intersect these things you find your answer." 
The Table is housed at the Christ Episcopal Church and provides a lounge for students seeking community rest, with Bible study on Wednesdays and worship on Sundays. 
Reach reporter Charlie Kappes at news@dailyuw.com Twitter: @cjkapp
Like what you're reading? Support high-quality student journalism by donating here.