Upon Washington state Solicitor General Noah Purcell's desk stands a card with the words "not all superheroes wear capes," given to him by young children affected by his successful argument in the Ninth Circuit court of appeals that stopped President Donald Trump's first travel ban order.
Purcell ('02), along with fellow UW graduate and Washington state Attorney General Bob Ferguson ('89), spearheaded the state's effort to block Trump's executive order barring entry to the United States from seven predominantly Muslim countries.
The importance of this case was obvious to Ferguson and Purcell, but neither expected such a rise in their personal notoriety across the nation.
"I've been at this job for four years now," Purcell said. "I've done cases before that I felt were important … and it still boggles my mind how much national interest there's been in this case and in myself." 
As strange as it sounds, Ferguson said, this was just another case in regards to how he, Purcell, and their legal team approached it.
"I don't want to understate it … but if you were sitting here while we were talking, I don't think anybody would sense the case was as big as it was," Ferguson said. "We were having a conversation about the law and about the facts in a very normal way." 
Purcell isn't as taken with his newfound fame as one might expect. He laughed about comments from around the country or from within his own team calling him a superhero or superstar, saying they make him uncomfortable. Purcell wishes the attention was directed on the whole team of the solicitor general's office and civil rights unit, not just on him. 
For Ferguson, the issues and significance of this case have been emphasized by several experiences which brought him face to face with those implicated in the case.
"These folks are speaking to me in a very moving way and that comes through in the letters we've received as well," Ferguson said. "You can't read those without being moved." 
When asked his thoughts on working with Ferguson, Purcell spoke highly of his intelligence, humility, and thoughtfulness. Purcell felt it took a lot of moral courage for Ferguson to bring forward this case the way he did.
"We didn't do this because we thought it'd be popular, we did this because we thought the order was harming a lot of people in Washington and it was the right thing to do," Purcell said. "We didn't know it would have this much public support, so it took a lot of courage for [Ferguson] to take this case."
Ferguson praised Purcell for his composure throughout this case and all the others throughout their four years working together. In fact, Ferguson said he was not sure if he has ever heard Purcell raise his voice in all their time working together. 
The decision to appoint him as his solicitor general was not complicated for Ferguson because of the qualities he admires in Purcell.
"I wanted to hire a lawyer who was smarter than I was, and a better lawyer than I am, and Noah is both of those things," Ferguson said. "I trust his judgement implicitly."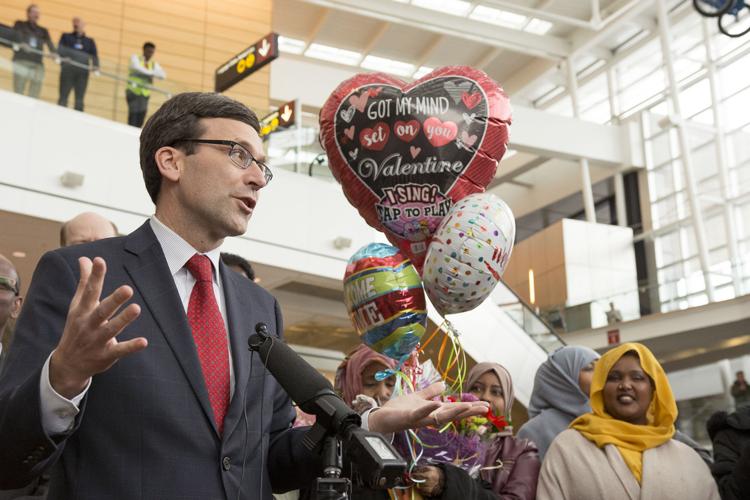 Ferguson feels that students aspiring to be attorneys or political figures could look to this case as a source of inspiration, citing how many of the attorneys on the team have been out of school fewer than 10 years. 
After the UW, Ferguson went on to earn his law degree from NYU, but he maintains that it was his involvement at the UW that first introduced him to his career aspirations. The attorney general feels the UW offers many opportunities for students to become involved and capable of making a difference. 
"The things you are learning and being exposed to at the University of Washington can and will have a very formative influence on you throughout your career," Ferguson said. "[University students are] already at an age where one can make a significant difference."
Purcell earned his law degree from Harvard University, but reiterated Ferguson's sentiment that the UW offers many opportunities for students like himself who are interested in activism and potential careers in politics.
"You can get a world class education at UW," Purcell said. "There really are incredible opportunities at UW if you take advantage of them."
One experience Ferguson and Purcell both spoke highly of was the opportunity to spend winter quarter interning at the Washington state legislature while it was in session. 
Ferguson remembers working with and lobbying then-state representative Gary Locke. He was memorable to Ferguson and admired because he was always better prepared and had fully read up on the bill Ferguson was coming in to discuss.
"I remember thinking to myself, 'If I am ever in politics, I want to be like that,'" Ferguson said.
Purcell's time interning in Olympia and lobbying there on behalf of the university taught him how much a student can impact local and state government before even graduating.
Both Ferguson and Purcell's aptitudes for politics and the law began early on with high school debating, and their time at the UW provided them both with a number of opportunities to explore these interests beyond their time at the state legislature.
Ferguson was elected student body president for his class in 1988 and distinctly remembers the level of work demanded. He also considers it his introduction to politics. 
"I loved it. I remember it being a pretty intense experience, I took the work seriously," Ferguson said. "[It] no doubt shaped my future decision and career."
Purcell spent a year on the ASUW board of directors the year before his then-girlfriend, now-wife, Jasmin Weaver served as the ASUW president from 2000-01 after a contentious underdog victory in which she won by just 25 votes. 
During that same year, Purcell assisted Weaver in a case where, while serving as ASUW president, she was the plaintiff in a case suing the university. The couple won their case and eliminated a tax being added to students' tuition statements deemed unfair. Purcell remembers this as one of his most memorable moments at the UW outside of the classroom.
Inside the classroom, Purcell took a number of philosophy of ethics and law courses and both he and Weaver were participants on the UW Ethics Dawgs debate team, which won nationally in the Intercollegiate Ethics Bowl in 2000.
Purcell spoke of the many great professors he had during his time at the UW, one of which was philosophy professor Jean Roberts. Roberts said she remembers Purcell and Weaver as students who did very well in her class and took advantage of her office hours to supplement their learning. 
"Both Noah and Jasmin were very visible and successful during their years here, so, no, nothing that's happened since is a surprise," Roberts said of Purcell's successes since his time here. 
Ferguson's most memorable out-of-classroom moment was when he won the Washington state chess championship at age 19. Ferguson had taken a gap year to play chess abroad between high school and deciding to further his education at the UW. He remembers taking a senior level Russian literature class during his freshman year because it gave him the opportunity to study and write about famous chess masters.
When asked about his confidence in beating President Trump in a hypothetical chess match, given the multiple defeats delivered in the courtroom, Ferguson laughed but replied with confidence.
"I don't know if he plays chess, so I would need to know a little bit about him to know," Ferguson said. "But I'd be confident that no matter his ability, I could beat him in 20 moves."
Reach reporter Devon McBride at news@dailyuw.com. Twitter: @DevonM98