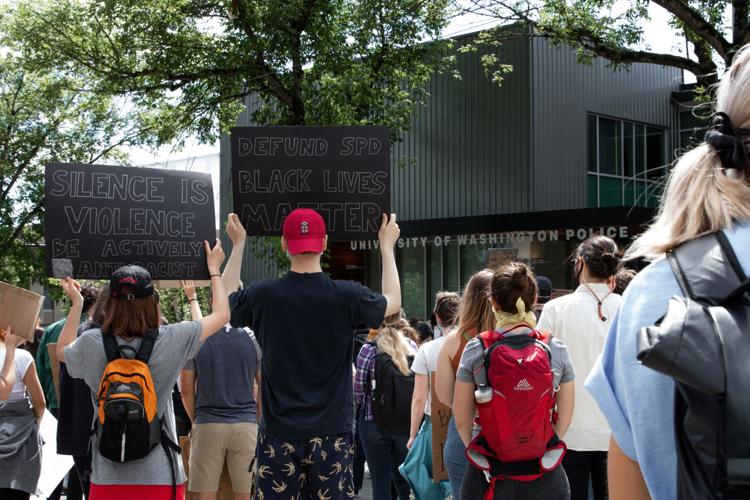 The combination of the coronavirus, this summer's Black Lives Matter protests, and the upcoming presidential election has made 2020 a year that has left the nation exhausted and asking "how did we get here?"
"The many problems that we see today did not begin with COVID-19, nor did they begin in May with the murder of George Floyd," associate political science professor Megan Ming Francis said. "They didn't even begin with Trump."
How the country has arrived at its current circumstances and what can be done to move forward as a nation were the main themes of an Oct 21 lecture Francis gave called "Protests for the Soul of a Nation."
Francis emphasized that if the nation hopes to achieve serious change, it must face difficult truths.
"The thing that people have been running from the most is the structuring role of violence in American society," Francis said. "The violence that led to the establishment of this country, the violence of genocide of indigenous nations, the violence that led to the end of slavery, and, of course, the persisting violence of racism 
Despite this long history of violence, there are reasons to be hopeful, Francis thinks. 
As examples, she cited more support for the BLM movement — which now has support from a majority of Americans — and a huge increase in donations from organizations and the public to BLM-affiliated causes, such as $90 million being donated to bail funds in the two-week period following the death of George Floyd. 
"The present may not be the world we want, but it's clear that people still got a lot of fight in them for something different," Francis said. "We need a politics of liberation rooted in the experience of oppressed peoples; we need to understand that true freedom has always been about people on the margins, exposing the contradictions in who we purport to be and who we actually are."
These are exactly the kinds of ideas UW's Black Student Union (BSU) is working to make a reality. This summer, BSU organized several protests on the UW campus and is currently focused on raising awareness of the group as a place for Black students to engage with peers and mentors.
"I think BSU in the past has had trouble gaining a lot of traction, especially around political advocacy, and just like being out there and working with communities," Mahilet Mesfin, a senior and the president of BSU, said. "So, this year, we're doing a lot of rebranding work where we're gonna just let people be more aware that we exist as an entity on campus, and we exist for Black students and faculty and graduate students."
BSU now has over 100 members, which Mesfin estimates is double the membership the group has had in her previous years. 
"The people who desperately wanted to be allies but were just kind of misplaced on where the energy should go, we were able to engage with them," Mesfin said. "Then we worked with faculty, which is something we haven't done in years, and they were able to contribute to the protest and participate."
Francis concluded her lecture with a simple vision for the country:
"I hope that we want to be a nation that protects the ability of people to live a full life, to have quality education, to have access to health care and mental illness care, to not live in fear of the police," Francis said. "I think these are majoritarian ideas. I think that these are winning ideas for all of us."
This vision may seem far off now, but organizations like BSU with young activists like Mesfin are working toward it with increasing energy.
Reach reporter Patric Haerle at news@dailyuw.com. Twitter: @patrichaerle
Like what you're reading? Support high-quality student journalism by donating here.