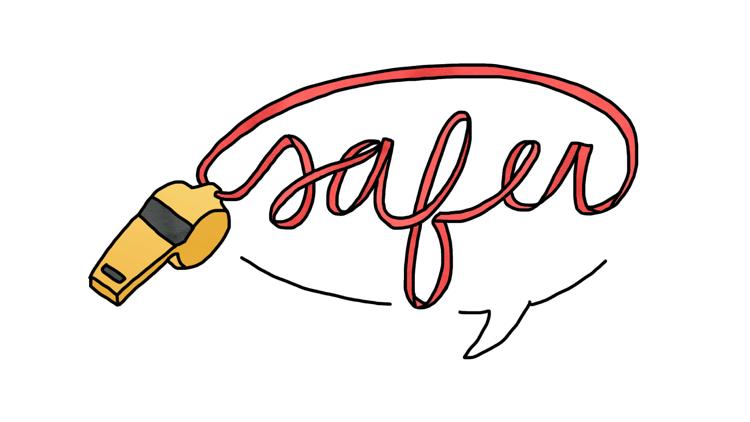 The Campus Accountability and Safety Act (CASA) –– officially reintroduced to the U.S. Senate on April 1 –– seeks to reform the way colleges handle sexual assault and prevention.
One way is by changing the process for campus disciplinary proceedings regarding sexual violence to a uniform one. Universities would no longer be able to handle complaints themselves. However, the act has received complaints for leaving out people of color and the LGBTQIA+ community, as well as giving few rights to the accused.
Currently at the UW, students have the option to report incidents of sexual assault to the police, the university (through the Title IX office), or both. If they decide to go forward with a report, an investigator will gather evidence, interview all parties involved, and decide if the university policy (according to the provisions of the student conduct code) has been violated. Then a hearing may take place, and if the accused is found guilty, the university will carry out a disciplinary action based on whether they are a student or employee.
Part of CASA hopes to reform campus security policies by establishing a network of sexual assault response coordinators to assist survivors and ensure training standards for all other on-campus personnel involved in a university's sexual violence prevention.
The bill would also initiate a confidential biennial survey for students to take about sexual violence at their colleges, the results of which would be posted online so that prospective students could review them to compare results at various schools. The Department of Education would also have to publish any schools with pending investigations.
Along with more openness, CASA would require colleges to enter a memorandum of understanding with local law enforcement to be clear what duties each has when a crime related to sexual violence occurs. That way the crime can become the focus, instead of jurisdictional disputes between the school and law enforcement.
The act would also increase stricter fines for violations of the Clery Act, which requires universities to disclose information on crimes that occur on or around campus.
At a 2015 congressional hearing to reform higher education to combat campus sexual assault (where CASA was first introduced), Dana Bolger, co-founder of Know Your Title IX, a project that teaches youth about their rights under Title IX, testified about her experience at Amherst College before she graduated in 2014.
"When I reported abuse to my school, I was told I should drop out, go home and take care of myself, and return when my rapist graduated," Bolger said. "All of us were denied our right to learn free from gender violence. We as Amherst students were not alone."
Students at the UW have shared similar stories through various events on campus, such as the Anonymous Survivors' Panel hosted by Greeks Take Action, a campaign that works to raise awareness on the issue. Within Greek life particularly, women are four times more likely to experience sexual assault than students who are not Greek-affiliated.
Danielle Christenson, the Policy Director for Students Active for Ending Rape (SAFER), a nonprofit organization that supports student-led movements combating sexual assault, says the organization supports CASA because they believe the bill would shift the focus back to helping victims of sexual assault, rather than focusing on the exaggerated narrative that assumes students are often falsely accused of sexual assault.
"What we know based on research and data collected by the Department of Education is that this is far from the truth," Christenson said via email.
For its own operations, SAFER is most looking forward to the possible implementation of the survey requirement and the increase in penalties for violating the Clery Act under CASA. Christenson says that since there is currently little up-to-date research on sexual violence on college campuses, this act would provide additional information that would allow SAFER to provide students at universities with better services and policies.  
Ideally, the Clery Act is meant to address this very problem of the lack of transparency on sexual violence among universities, yet administrators still under report and cover those incidents up, according to Christenson.
"Many people don't see colleges as a business, but colleges are in the business of recruiting students, turning alumni into donors, and ultimately to make money," Christeson said via email. "Colleges need to maintain a certain reputation in order to succeed, and a report of sexual violence can threaten this framework. CASA is important because it would change this dynamic and hopefully force universities to take reports seriously."
When the effort to pass CASA first started in 2015, the bill died in the Senate Committee for Health, Education, Labor, and Pensions. There was criticism from some groups that CASA would impede on the accused's right to due process, Christeson said.
Joe Cohn, the legislative and policy director for the Foundation for Individual Rights in Education (FIRE), says that CASA does not take the rights of the accused into account.
Cohn believes the act does not ensure that all students involved would have resources dedicated to them to get through the process. For example, it doesn't give rights to students to have lawyers present in the process for both sides. He says CASA wouldn't change the status quo and that policies today have not been fair to both the plaintiffs and the accused.
"No bill is going to pass unless it takes both sides into consideration, but most lawmakers are interested in one side or the other," Cohn said.
Phoebe Suva, the public policy fellow at End Rape On Campus, is excited about CASA despite this opposition because it introduces a uniform process for all schools and departments to comply with and also works toward ensuring that voices of survivors would be heard.
However, she says, it could also harm certain communities of students, such as students of color, LGBTQIA+ students, and undocumented students who don't want to get involved with law enforcement.
Cohn says that the only way a bill will be passed to address sexual assault on college campuses is if both sides can come to a compromise.
"Congress has its work cut out for it, but really people need to be mindful of rights of all involved students," Cohn said.
Reach reporter Julia Dallas at news@dailyuw.com. Twitter: @juliaaadallas
Like what you're reading? Support high-quality student journalism by donating here.