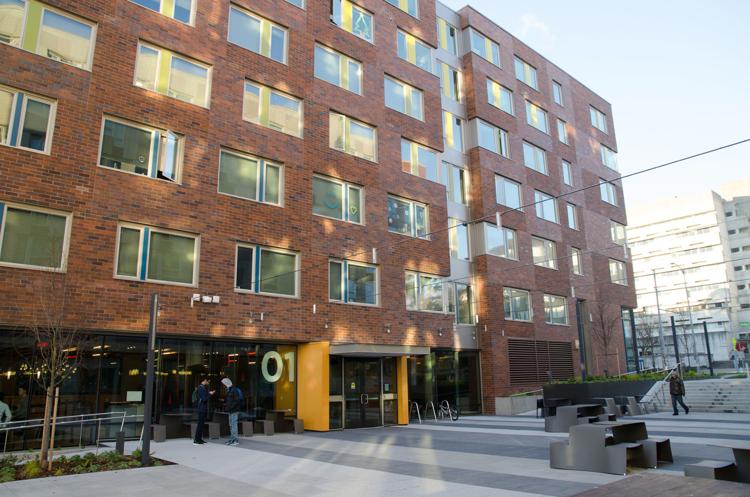 As the university prepares to partially reopen in the fall amid the novel coronavirus pandemic, new and returning students grapple with the decision to return to on-campus housing. With aggressive sanitation, isolation spaces, socially distanced lounges, and fewer amenities, campus residence halls will look very different in the fall. 
To be in line with social distancing guidelines, the UW's Housing & Food Services (HFS) will be de-densifying all the residence halls. Occupancy will be limited, and almost all rooms will be turned into doubles or singles depending on their size and the type of bathroom in the building. 
Cleaning practices will be modified in the fall as well. Communal bathrooms in Hansee, Haggett, and Madrona halls will be disinfected twice a day, as will high-touch areas in all buildings.
To reduce density in housing areas with communal bathrooms, occupancy will be limited to one student per room, according to HFS. Additionally, students with pre-existing conditions that place them at a higher risk of COVID-19 can request a single room through Disability Resources for Students.
"Right now, our occupancy percentage is about 75%, but that is very likely to shrink a bit," HFS spokesperson David Rey said in an email. "We asked applicants whether they intended to still live on campus even if all of their classes were online, and over 60% of them responded they still would be interested in living in the residence halls or our apartments, so it looks like we will have a significant on-campus community this year."
Most new students will likely make a final decision about residing on campus after their advising appointments — which take place throughout the summer — where they will find out if their classes are online.
Certain buildings will be designated as isolation spaces for students waiting on a COVID-19 test or those who have tested positive. 
Originally, Haggett Hall South Tower was going to be assigned as an isolation space, but according to Rey, this will no longer be necessary, and the university will move forward with its plan to close Haggett completely, relying on other buildings for isolation spaces. 
HFS has a food delivery program in place for students who have to isolate and quarantine while they await results, Rey said. For the rest of the residents, the dining halls will be open for both dining and takeout, a decision that is subject to change.
Plexiglass barriers installed to protect employees and residents, in addition to 6 foot markings on the floor, will direct physical distancing in the dining halls. 
"Staff are wearing masks, wiping down baskets after every use, and dining locations encourage customers to swipe their own cards to reduce handling by staff," HFS executive director Pam Schreiber said in a video. 
In an effort to stay in line with social distancing guidelines, there will be occupancy limits on all indoor public spaces — including lounges, meeting rooms, and amenity spaces — and furniture will be reorganized to allow for social distancing. Public spaces that cannot meet these requirements will be closed.
Social distancing measures will be put in place throughout the residence halls. HFS officials are developing "traffic pattern plans and likely will implement some entrance and foot travel guidelines." 
The number of students allowed in elevators at once will also be limited, and there will be markers on the floor to guide distancing. 
The university's regulations on masks and social distancing will apply to all HFS locations, and students must wear masks in all common areas and elevators. Guests will be prohibited until King County reaches Phase 3. 
"Even though our on-campus housing and dining program will look a little different than what many of us were expecting," Schreiber said. "We still believe that creating a community is an invaluable part of the residential college experience, and have kept that as our focus."
Reach General Sections Editor Ash Shah at news@dailyuw.com. Twitter: @itsashshah
Like what you're reading? Support high-quality student journalism by donating here.